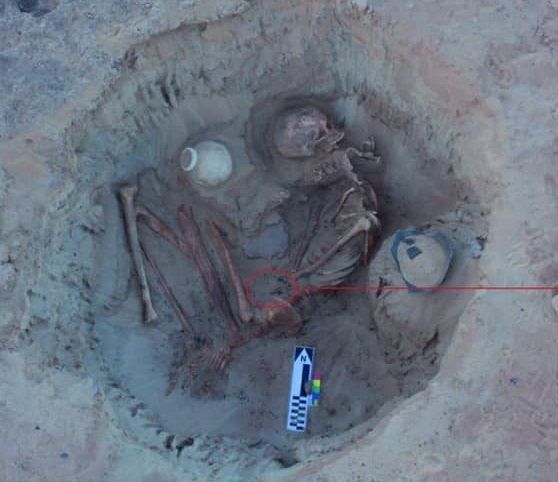 Archaeologists have uncovered the ancient remains of a woman who died towards the end of her pregnancy, Egypt's Supreme Council of Antiquities reported on Facebook.
Scientists also found beads made from the shells of ostrich eggs, as well as pottery and jars in the tomb thought to date back some 3,500 years.
Preliminary examinations of the woman's pelvis revealed the woman—thought to be about 25—may have suffered a fracture that ultimately killed her when improperly treated. The position of the fetus in her body suggested she had been due to give birth relatively soon.
The tomb was found in a cemetery used by people traveling through the deserts to the south of Egypt said Mostafa Waziri, Secretary-General of the Supreme Council of Antiquities. It is thought to date from 1750-1550 B.C.E.
The remains were discovered during a joint Italian-American archaeological project investigating Kom Ombo. This agricultural town is known for its ancient "double" temple: where two sets of rooms including courts and hallways were built in honor of two gods.
Kom Ombo lies about 30 miles north of the southern city of Aswan, which sits to the east of the River Nile.
Artifacts in the tomb resembled pots from Nubia—a region that stretched from the south of Aswan down to the middle of modern-day Sudan.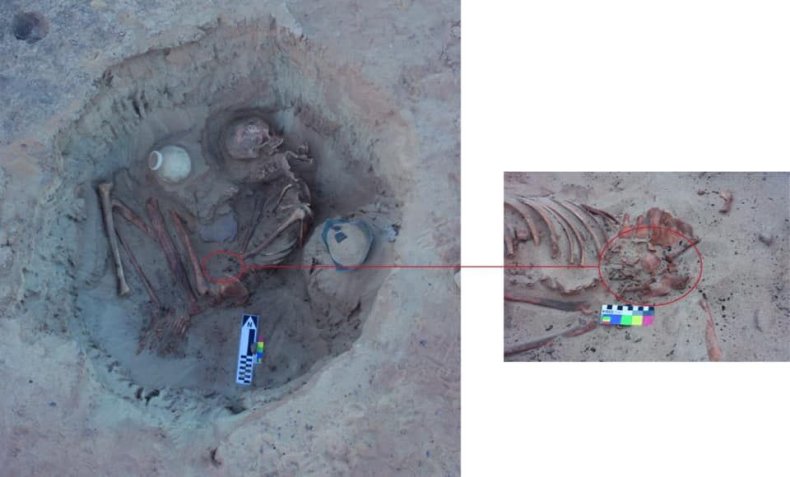 From 1650 to 1550 B.C.E., Egypt went through the Second Intermediate Period, a time when the country descended into a state of disorganization. People from foreign countries—known as "Hyksos"—are thought to have entered Egypt, eventually conquering certain territories and bringing innovations like the horse and chariot in warfare, Encyclopedia Britannica reports.
Egypt's New Kingdom emerged around 1550 B.C.E. This is often considered the most prosperous period in the country's ancient history.
Egypt's government has been keen to share archaeological news as part of an effort to attract tourists. Visitor numbers fell in the wake of the Egyptian Revolution of 2011 and subsequent political unrest.
Recent announcements include the discovery of a sphinx statue, a collection of some 800 ancient tombs and an ancient village about two thousand years older than the Pyramids of Giza.
In other archaeological news, researchers in Russia recently found a medieval board game hidden in a secret chamber beneath a castle. Meanwhile in Peru, archaeologists have dug up some 3,000-year-old burial sites complete with ancient bones, gold and obsidian artifacts and even a llama.