Ancient Egyptian Statues of Lion Goddess Sekhmet Discovered in 3,500-Year-Old Burial Temple of Pharaoh Amenhotep III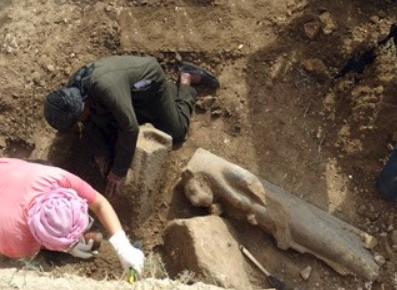 Archaeologists in Egypt have uncovered pieces from 27 fragmented statues of the lioness goddess Sekhmet at a dig site in the country's southern city of Luxor.
The experts found the black granite statues at the funerary temple of Amenhotep III. The legendary Egyptian pharaoh, also known as Amenhotep the Magnificent, was the ninth Pharaoh from the ancient nation's Eighteenth Dynasty.
Related: Ancient Egyptian Mummy Buried Wearing Golden Sky God Mask Discovered in Long-lost Sarcophagus
Dr. Mostafa Waziri, secretary-general from the Supreme Council of Egyptian Antiquities, explained in a statement that the tallest of the 3,500-year-old statues would have measured some six and a half feet.
The anthropomorphic sculptures differed in their composition and state of preservation. Some that appeared to have been buried higher in the earth were found to have better survived the centuries before they were uncovered, whereas those lower down seem to have smashed.
Sekhmet, the deity of war and healing, was depicted with the symbol of life in one hand, holding a scepter (a regal staff) made of papyrus reeds in the other. On her head she wears a crown made with a sun disk, and her forehead is decorated with a serpent headdress, a symbol of ancient royal power in Egypt.
Dr. Hourig Sourouzian, head of the joint Egyptian-European mission in Luxor, said she and her team were further excavating the site and preparing the findings for display.
Archaeological work at the site, located on the west bank of the Nile near the ancient city, has been ongoing since 1998. Over the last two decades, 287 statues of Sekhmet have been recovered in the area.
In recent years, Egypt's Ministry of Antiquities has been working to publicize the ongoing archaeology work in the country in a bid to attract tourism. Following Egypt's 2011 revolution and the extended period of instability that followed, tourist numbers to the North African nation had dwindled.
In November, experts uncovered an ancient sarcophagus containing a startlingly well-preserved mummy wearing an intricately painted gold-and-blue burial mask.
Egypt's Ministry of Antiquities said in a statement that a joint Russian and Egyptian team of excavators uncovered the mummy in the governorate of Fayoum, some 50 miles south of Cairo.
Earlier in November, archaeologists reopened a so-called cursed tomb containing the remains of the people who built the Great Pyramid of Giza. It was the first time it had been opened since its discovery almost 30 years ago.