Tech companies, government representatives and civil society experts will gather in the Norwegian city of Bergen next week for a conference that organizers hope will put down a marker in the battle against online extremism and "broadband terrorism."
The "22 July 2011 at Ten: Commemoration and Commitment" event will draw on the landmark "Christchurch Call"—a commitment by governments and tech companies to eliminate terrorist and violent extremist content online issued in the aftermath of the Christchurch, New Zealand, mosque shootings in 2019.
Among the organizers are survivors of Norway's July 22 attacks, when far-right extremist Anders Breivik bombed Oslo's government quarter before shooting dozens of young people dead at a left-wing summer camp on Utoya island close to the city.
Next week's conference comes just after the tenth anniversary of the attacks, but survivors who spoke with Newsweek warned that Norway—and the international community—have failed to answer the most difficult questions posed by Breivik's rampage and his influence on subsequent terrorists at home and abroad.
And for all the condemnation of the neo-Nazi terrorist, Breivik's conspiracy theory-laden manifesto—which has inspired several other mass killings around the world in the years since—remains available online.
Erik Kursetgjerde was 18 when Breivik attacked Utoya. At one point during the attack, Kursetgjerde and others were hiding in woods when Breivik—dressed in a fake police uniform—urged the young people to approach him claiming he would protect them. Breivik executed several as they emerged from cover.
Kursetgjerde was among those who eventually swam to safety. "I was thinking that I would rather drown than let that son of a bitch shoot me," he told Newsweek.
Kursetgjerde now works for the Norwegian Institute of National Affairs and has been active in local and city councils in Norway.
"There is a major issue of how we are developing our society," said Kursetgjerde. "We have an awful lot of issues in our country that we haven't been able to discuss properly...We need to start to understand what are the triggers that make this possible."
Much attention was paid to Breivik's troubled childhood and abusive mother in the immediate aftermath of the attacks. The police, too, were broadly criticized for a catalogue of mistakes in the lead up to the attacks and in their response to the bombing, and two hours later the shootings at Utoya.
But survivors have consistently complained that Norway's politicians and civil society leaders—particularly those on the right wing—have failed to assess the role of national and regional xenophobia, racism, and misogyny in shaping the massacre and helping Breivik dehumanize his victims.
Bjorn Ihler was 20 when Breivik attacked Utoya. Ihler and others moved around during the shooting, gathering lost children terrified by the gunshots. At one point Ihler just escaped Breivik as he fired on confused youths gathered on the southern tip of the island. Ihler eventually hid in the water under overhanging bushes until Breivik surrendered to police.
"The parties on the right side of things are not really acknowledging the relationship with their ideology and Breivik's ideology, and acknowledging their responsibility," said Ihler, who is the co-founder of the Khalifa Ihler Institute and the chair of the Global Internet Forum to Counter Terrorism's Independent Advisory Committee.
"No one wants to be compared to Breivik," Ihler added. "His political views and ideology, didn't come out of nowhere...we really need to look at our society—what racism exists there, what far-right ideology is embedded into the culture in different ways."
"Norway is a fairly conservative country, a fairly homogenous country, and is fairly reluctant to deal with diversity," Ihler added, noting historic abuses against Jews, Muslims and the area's indigenous Sami population.
Mette Wiggen, a lecturer at the U.K.'s Leeds University and an expert on the far-right in Scandinavia, told Newsweek that Breivik drew on existing extremist sentiment.
"Breivik is a product of the far-right rather than some kind of genius mastermind," Wiggen said. "He grew up in a country that is actually fiercely anti Muslim and has been for a long long time."
Some of the immigrant survivors of Utoya and their families have since been deported from Norway. People who lost loved ones now cannot visit their graves. Survivors have been accused of playing the "Utoya card" when complaining about the national response to the massacre.
"This is not something that politicians and the media have managed to deal with or put on the agenda properly," Wiggen said.
Norwegian problems shaped Breivik's extremism, but he also drew from foreign sources. Breivik's manifesto is one example of the extremist content still available online that the "22 July 2011 at Ten: Commemoration and Commitment" organizers want to restrict.
The document plagiarized work of the American Free Congress Foundation and the Unabomber. The manifesto cites American anti-Muslim writer Robert Spencer, Egyptian-born British anti-Muslim writer Bat Ye'or, and anti-Muslim American writer Pamela Geller.
Far-right terrorists in New Zealand, Canada, Austria, and the U.S. have all been either directly or indirectly influenced by Breivik's attacks and his manifesto. In Norway, a 2019 attempted mass shooting at a mosque by a far-right extremist was foiled by bystanders, though only after the shooter killed his Chinese-born step-sister.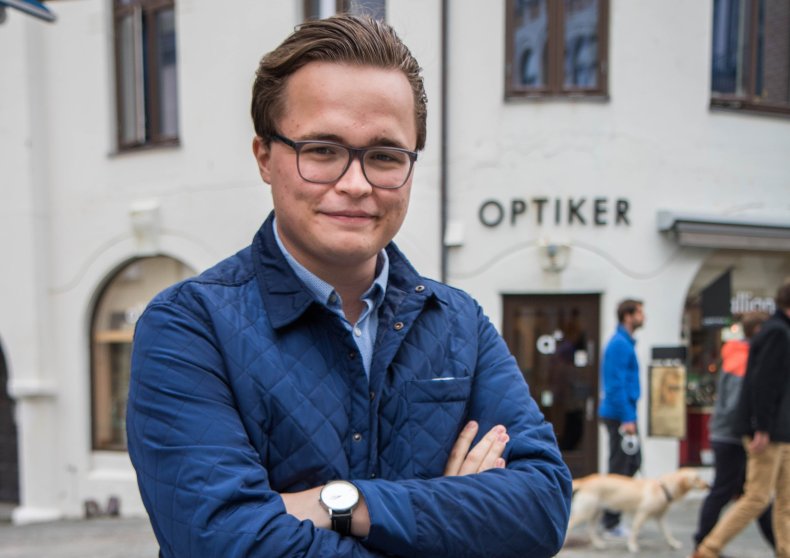 "Very few people actually wanted to interact with the manifesto and actually see that it is cut and pasted from an international network of people with similar ideologies, who are inspiring each other," Ihler said.
"We have been treating these as isolated events...I believe that is where we have failed in Norway," Kursetgjerde said.
There was "so much introspection and focus on him and his childhood mental health, but not enough on his influence beyond Norway," Wiggen explained. "As soon as they start talking about the ideas, they're not interested...Ideas are global, but there's really not enough interest in discussing that in Norway."
Breivik was sentenced to the Norwegian maximum of 21 years in prison. The court warned that "many people share Breivik's conspiracy theory, including the Eurabia theory," laid out in his manifesto, claiming that Europe was being overrun by Muslims in a plot to replace white communities, assisted by leftists.
Pivotal Moment
Far-right conspiracy theories have been on the march since 2011. They helped deliver the U.K.'s Brexit vote in 2016. They were exploited by former President Donald Trump on his way to the White House and throughout his term. They politicized responses to the COVID-19 pandemic and are undermining efforts to combat climate change caused by humans.
The "22 July 2011 at Ten: Commemoration and Commitment" comes at a pivotal moment for Western societies. Disinformation and conspiracy theories are rife while economic stagnation and climate chaos leave many with no hope of a better future.
"I believe that we have several debates that we have tried to jump over," Kursetgjerde said. "One of them is the understanding of the hate and the conspiracy theories that terrorists account for."
"If you don't understand the functions that make people kill other people or other structural problems, then we will not learn at all," Kursetgjerde added. "There is a difference between understanding and accepting."
"We need to understand and look at the background for why some get recruited more easily than others," he continued.
This is especially true for young men, whether being recruited into violent movements like the neo-Nazi far-right, extremist Islamist groups abroad, or others. "The feeling of being powerless—I think that feeling is very underappreciated," Kursetgjerde said.
"We tend to go into the trenches every time this comes up...You need to examine yourself, and that hurts."
The fight against extremism will be a long—and ultimately unwinnable—battle. "You will never be 100% secure from terror attacks, but you can take some measures—both security measures, but also in social politics," Kursetgjerde explained.
Such a project requires buy-in from every part of society, and cross-party agreement in the halls of power about its necessity. "I believe that all of society needs to come together in order to address this," Ihler said. "We are getting closer and closer."
Online spaces transcend national borders, and carry potent ideas for good or ill. That, Ihler said, is where much of the battle needs to be waged. "We are really building a new infrastructure for governing national global spaces," he said.
"The online world is a national and global space, existing at a scale that we haven't seen before in the history of mankind."