New Zealand PM Jacinda Ardern Still 'At a Loss' Over Christchurch Massacre 2 Years On
New Zealand Prime Minister Jacinda Ardern has said she hoped that a "more inclusive nation" would be a legacy of the Christchurch mosque killings, as the country marked the second anniversary of the tragedy.
A service at the Christchurch Arena on Saturday commemorated the traumatic day when 51 Muslim worshippers were killed in a mass shooting that traumatized the South Pacific nation of around five million people.
On March 15, 2019, self-declared white supremacist Australian citizen Brenton Tarrant walked into Al Noor mosque in the South Island city during Friday prayers and killed 44 people. He then drove to the Linwood mosque, where he killed seven more.
Ardern said that when she tried "to prepare words to accompany our presence in this place, I was at a loss." She referred to how the Muslim community had experienced prejudice and that "while words cannot perform miracles, they do have the power to heal. That means we must use them wisely."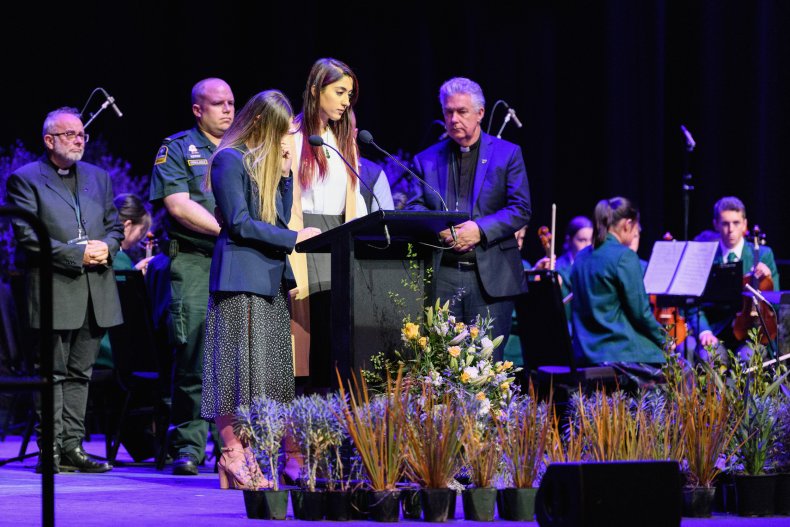 "To our Muslim community, that means using our voices and words to acknowledge the loss that was yours," said Ardern, who won plaudits for her response to the tragedy and has since been re-elected.
"There will be unquestionable legacy from March 15, much of it will be heartbreaking. But it is never too early or too late for the legacy to be a more inclusive nation," she added.
Around one thousand people gathered at the venue for the remembrance service, which was overseen by tight security. A similar service planned for last year was canceled due to the coronavirus.
Other speakers included Kiran Munir, whose husband, Haroon Mahmood, was killed in the attacks. She said: "That day my heart broke into a thousand pieces, just like the hearts of the 50 other families."
Temel Atacocugu, who survived despite being shot nine times, wept as he described waiting for treatment with the father of three-year-old Mucaad Ibrahim when the toddler died.
"Suddenly, my pain seemed insignificant," he said, describing the shootings as "attacks on all of humanity."
A portrait of remembrance remembering those who died was displayed and the names of the 51 people killed were read out.
Tarrant, 30, pleaded guilty to 51 counts of murder, 40 counts of attempted murder and one count of terrorism. He has been sentenced to life in prison without the possibility of parole, the first time such a term has been handed down in New Zealand.
In the aftermath of the killings, New Zealand banned the most deadly kinds of semiautomatic weapons in a move that spurred a global debate about gun control.