Anders Breivik, Neo-Nazi Who Killed 77, Should Be Paroled to Prove He's Reformed: Attorney
A Norwegian attorney said in a court hearing Thursday that Anders Breivik, a neo-Nazi who killed 77 people over 10 years ago, should be released on parole to prove to the public he has reformed.
This week, Breivik, 42, has had his first parole hearing after serving 10 years of his maximum 21-year prison sentence, in accordance with Norwegian law.
On the third and final day of Breivik's hearing, his lawyer said he should be released from prison to show the public he's changed, the Associated Press reported.
"I've been crushed into atoms for the last 10 years," Breivik previously told the court. "I have changed so much that it is not possible to change anymore."
His lawyer Øystein Storrvik told the court in his closing statements that Breivik should have the chance to prove to the public he is no longer a threat to society but that's not something he can do while isolated.
Storrvik called it "a paradox that a person is treated so badly in prison that he never gets better. He never gets out," the AP reported.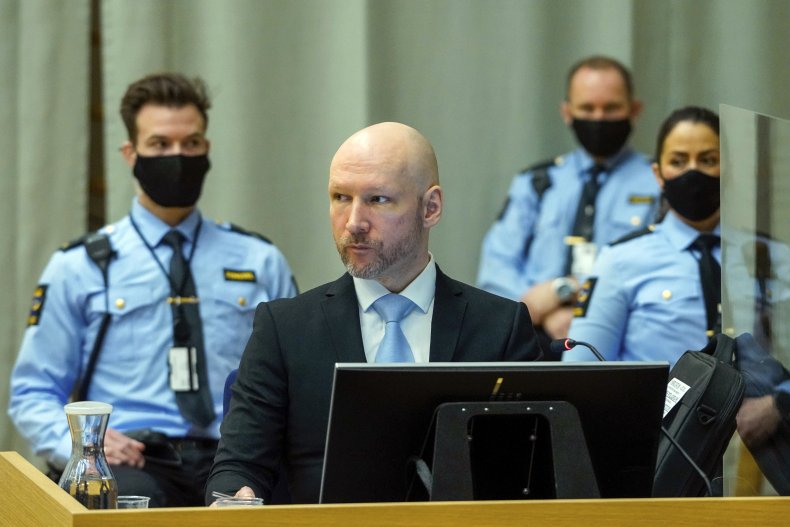 During closing arguments, prosecutor Hulda Karlsdottir said Breivik is still dangerous and should not be granted parole, according to Reuters.
"He has demonstrated no empathy or genuine regret," she said. "He continues to glorify his own role."
Breivik, a far-right extremist, was convicted in 2011 after carrying out one of the deadliest peacetime attacks in Norway. He first set off a bomb in a truck parked outside of government offices in Oslo. The explosion killed eight people and injured several more.
Following the blast, Breivik drove to a summer camp for left-wing youth activists and killed 69 people, most of them teenagers, in a shooting massacre.
Psychiatrist Randi Rosenqvist, who has been observing Breivik since 2012, testified Wednesday that he can't be trusted. She said "there is an imminent danger" he would commit a serious crime again if he was released, according to the AP.
Rosenqvist told the court Breivik still suffers from "asocial, histrionic and narcissistic" personality disorders.
"He still has narcissistic traits. He still tends to construct scenarios. It is not psychotic, but he could in several contexts live out fables in reality," she said. "He is not consistent, and you cannot trust him."
Breivik said he has renounced violence but gave the Nazi salute during the first day of his parole hearing. During his testimony, he blamed his crimes on online radicalization by far-right extremists.
"I was brainwashed," he said, according to Reuters.
The three-judge panel is expected to rule this month on granting Breivik parole.