Russia's first foreign minister following the break-up of the Soviet Union has said that Moscow's foreign diplomats should quit their posts in protest of the war in Ukraine.
Andrei Kozyrev, who was Russia's top diplomat between 1990 and 1996 under President Boris Yeltsin, told Newsweek that Russian envoys had a responsibility to oppose the invasion ordered by President Vladimir Putin.
He believed the resignation of diplomats and parliamentarians would pressure Putin more than any sanctions could.
"Like the military, diplomats have a responsibility to their country to defend and to promote the interests of their country," Kozyrev told Newsweek by phone from Washington, D.C.
"The interest of the country is opposite to the interest of the Putin regime. To unleash a war on a brotherly country is totally against the interests of Russian people. Ukrainians are our brothers and sisters, diplomats should not participate in that," Kozyrev said.
Kozyrev said that there is the chance that some Duma parliamentarians might "believe their own propaganda," in what might be a "conviction of convenience," but diplomats who were abroad are not isolated from the truth of the Ukraine war.
"They watch daily what we watch, television, radio stations, they know the truth. If you could suspect that some of those in the Duma are disoriented by the propaganda, these guys have daily access to free media. They cannot not claim for their conscience that they don't know, they do know," Kozyrev said.
He condemned new laws rubber stamped by Russia's parliament, the Duma, which prohibit media outlets using the words "war" or "invasion" and jail terms of up to 15 years for spreading "false information" about the military.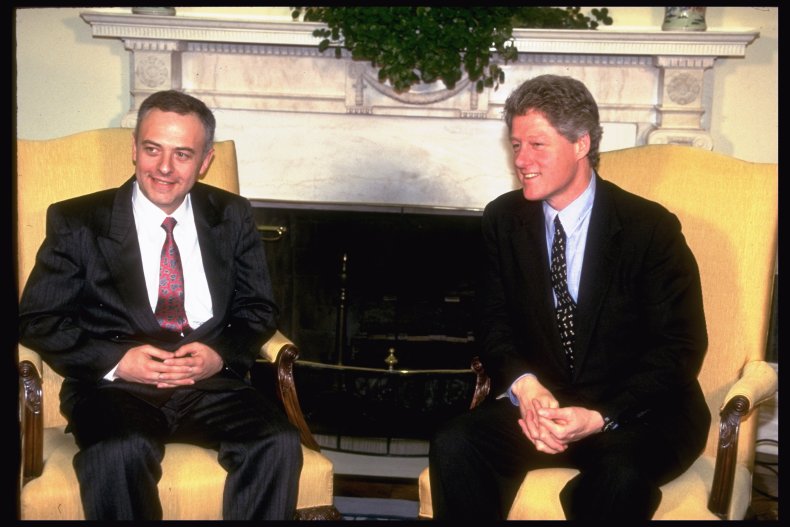 Regarding the media clampdown in which there are virtually no independent outlets outside of state propaganda about the war dubbed a "military operation," he said: "Orwell never even reached that deep."
Kozyrev said if Duma politicians "resign en masse, the regime would be absolutely paralyzed. It would be much more powerful than any sanctions you could imagine."
On March 1, Kozyrev shared on Twitter a clip of diplomats walking out of a session at the U.N. Human Rights Council being addressed by the current foreign minister, Sergei Lavrov. He tweeted that Russian diplomats "should do the same."
Seeing Lavrov try to argue the case for Putin's war on the world stage has been particularly difficult for Kozyrev. They have known each other since they both attended at the same time the prestigious Moscow State Institute of International Relations (MGIMO).
"I am depressed. it is beyond my understanding why he is doing this. It is a total disgrace," said Kozyrev, whose memoir The Firebird details the first years of a post-Soviet Russia when they worked closely together.
"He has access to the true information, he knows better. He is too smart not to understand.
"I appointed him my deputy and then representative to the United Nations," he said. "He is different from some general who has no idea what the real world outside is. He has no excuse for that. That is very painful for me because he was my friend for many years."
Newsweek has contacted the Russian foreign ministry for comment.
Follow Newsweek's live blog for updates on the Russia-Ukraine conflict.