Marina Ovsyannikova Urges Russians to 'Stop Believing' Putin Propaganda
Russian journalist Marina Ovsyannikova, who staged an on-air anti-war protest, urged fellow Russians to "stop believing" President Vladimir Putin's propaganda, warning that they are "zombified" by the state-controlled news.
Ovsyannikova on Monday ran onto the live set of her Russian state-run employer Channel 1 news holding a sign that said: "Stop the war. Don't believe the propaganda. They're lying to you here." She was detained and reportedly interrogated for 14 hours before being fined 30,000 roubles (about $280).
In an interview with BBC broadcast on Thursday, Ovsyannikova discussed her decision to protest Putin's internationally condemned invasion of Ukraine. She explained that interrogators believed she was working with someone else to carry out the demonstration, saying that many Russians have spread conspiracy theories about her actions.
"To the Russians, I wanted to show to show them they're zombified by this Kremlin propaganda," the Russian journalist told the BBC. "Stop believing it," she said.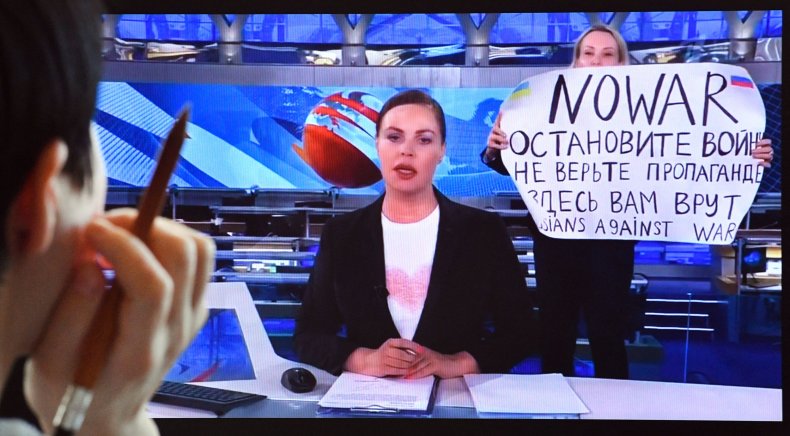 "I feel of course some responsibility lying on me. I was an ordinary cog in the propaganda machine. Until the very last moment I didn't think about it too much," the journalist said. She explained that she was fully aware she would face arrest and punishment for her actions.
Ovsyannikova said that the authorities that questioned her were convinced she was not acting on her own.
"Nobody believed it was my personal decision. They suggested it could be conflict at work, relatives who were angry about Ukraine or that I was doing it for Western special services," she said.
Russia's parliament passed new legislation in the wake of Putin's internationally condemned invasion of Ukraine—prohibiting people from "discrediting" the Russian military. The newly enacted laws also bar media from using the words invasion orassault to describe the war in Ukraine. Those violating the laws could face up to 15 years in jail.
Meanwhile, independent media groups and anti-war protesters have continued spread the truth about Putin's unprovoked invasion of Russia's Eastern European neighbor. More than 14,000 people have been detained across Russia due to anti-war activism, according to the independent monitoring group OVD-Info.
Russian officials continue to claim that they are telling the truth about the conflict, accusing Western media of spreading propaganda. "The Western media are forming an absolutely distorted picture of current events. They disinform their own population. They are a propaganda tool in the hands of their politicians," Russian Foreign Ministry spokesperson Maria Zakharova claimed during a Thursday press briefing, according to Russia's state-run Tass news agency.
Newsweek reached out to the Russian embassy for comment on Ovsyannikova's remarks but did not immediately receive a response.
Ovsyannikova told the BBC that she has face criticism even from her own family due to her actions.
"My eldest son said that I have ruined the life of the whole family," she said. "Probably he doesn't understand now, but I hope in the future, my children will understand this sacrifice was not for nothing."
This story was updated with additional information and background.