Marina Ovsyannikova Could Still Face Jail for Anti-Russia Outburst
A Moscow court on Tuesday handed down a fine of 30,000 rubles ($280) to Marina Ovsyannikova for storming a live television broadcast on Monday with a sign that contained anti-war messages. However, a report from a Russia state news agency suggests she could still be subjected to more consequences, including a jail sentence.
Ovsyannikova made headlines across the world after she interrupted a broadcast on Channel One, Russia's largest state television station. The news anchor attempted to speak over Ovsyannikova, who made statements protesting Russian President Vladimir Putin's military attacks on Ukraine. Following her protest, Ovsyannikova's name was uncovered by media outlets, who also found she worked at the station and had recorded a video message on social media earlier in the day denouncing the war.
The fine she received was based on an administrative charge, similar to a misdemeanor in the U.S., for violating the country's protest laws. But the Russian news agency TASS reported she could potentially face more charges.
TASS cited a law enforcement source as saying the Russian Investigative Committee had opened a preliminary inquiry on Ovsyannikova to determine whether her actions broke a new law passed after the Ukrainian invasion in which "fake news" reporting could be punished by stiff penalties. Anyone found guilty of breaking the law could be subjected to up to 15 years in prison.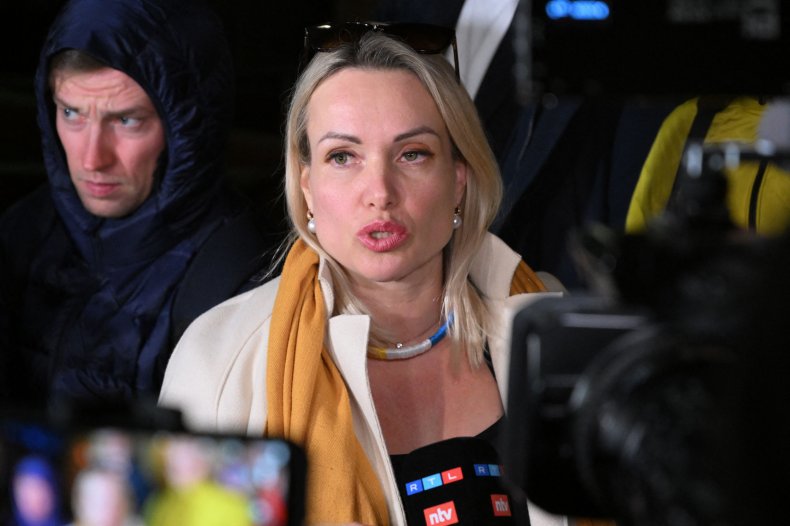 Sergei Badamshin, a human rights attorney overseeing Ovsyannikova's case, told The Wall Street Journal that the other investigation is ongoing and more charges could come. NPR reported that Badamshin said the administrative charge that resulted in her fine did not come from her interrupting the TV broadcast but rather from her earlier social media video.
Russia's new law regarding censorship criminalizes the spread of information that counters the government's narrative about what it calls the "special military operation" in Ukraine. According to the law, words such as "war" and "invasion" are banned when used in reference to the attacks in Ukraine. Penalties for those found guilty of breaking the law include stiff fines and up to 15 years in prison.
Though Putin himself has not commented publicly about Ovsyannikova's protest, his spokesman Dmitry Peskov was asked about the incident by reporters on Tuesday. He said, "Regarding this girl, this is hooliganism."
She's been praised by others, though, including Ukraine President Volodymyr Zelensky, who thanked Ovsyannikova on Monday for her actions during his daily video address.
"I am thankful to those Russians that do not cease trying to get the truth out, who fight against disinformation and tell the truth, tell real facts to their friends, relatives. And personally to the girl who entered the studio of Channel One with a poster against the war," Zelensky said. "To those who are not afraid to protest, before your country closes totally from the rest of the world, turning into a very big North Korea. You need to fight, you shouldn't miss your own chance."
In Ovsyannikova's video message recorded before her on-air protest, she seemed willing to accept the consequences for what she was about to do, including a jail sentence.
"We Russians are thinking and intelligent people. It's in our power alone to stop all this madness," she said in the recording. "Go protest. Don't be afraid of anything. They can't lock us all away."
Following her hearing Tuesday, Ovsyannikova thanked her supporters outside the courtroom while speaking with reporters.
"It was my anti-war decision," Ovsyannikova said, according to the BBC. "I made this decision by myself because I don't like Russia starting this invasion."
Newsweek contacted the Russian Investigative Committee for comment but did not hear back in time for publication.
Follow our live blog for updates on the Russia-Ukraine conflict.