Who is Marina Ovsyannikova? Fears Grow for Missing Russian Reporter After TV Protest
Colleagues of Marina Ovsyannikova were reportedly taken by surprise when she stormed a Russian news program to protest the war in Ukraine, because they had never before heard her talk about politics.
There is concern about the fate of Ovsyannikova, who could face criminal charges following the stunt on Monday in which she held up a sign that said "stop the war" and "here they lie to you."
Ovsyannikova only managed to hold up the sign for a few seconds during a bulletin read by Ekaterina Andreeva, but the repercussions of her action seen by millions of viewers of the Vremya (Times) program could be far more long term.
New legislation has been passed by the Russian parliament prohibiting the spread of "fake" news and outlaws "discrediting" the Russian military. The new laws also ban media from using the words "invasion" or "assault" to describe the conflict in Ukraine
Her actions could mean that she faces up to 15 years in prison.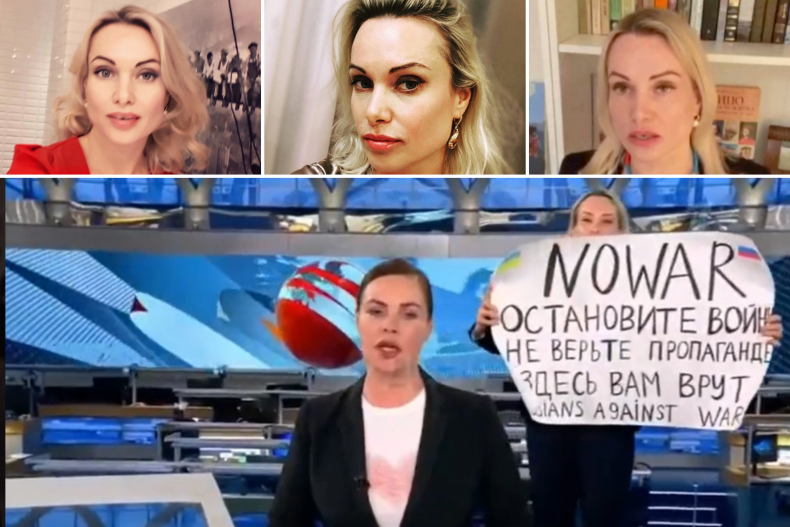 However, acquaintances of Ovsyannikova suggested that the action came out of the blue at the channel where she had worked as an editor in the international department.
Independent journalist Farida Rustomova wrote in a blog post that was shared by independent outlet Meduza that her colleagues had told her they were "very surprised by her act, because they have never heard her talk about politics."
One said that she spoke "mostly about children, dogs and the house."
It appears that Ovsyannikova did not write the presenters' script but translated into Russian the texts of foreign politicians, businessmen and others.
Ovsyannikova also released a pre-recorded video in which she expressed regret for working on Channel One and this played a part, however small, in "just silently watching this anti-human regime.
"And now the whole world has turned away from us and the next 10 generations won't be able to clean themselves from the shame of this fratricidal war," she said in the video made before the protest and posted by Meduza.
"What is happening in Ukraine is a crime and Russia is the aggressor," she said. "The responsibility of this aggression lies on the shoulders of only one person: Vladimir Putin."
Meanwhile, many of her colleagues speaking on condition of anonymity told the news outlet Republic.ru how they were "dumbfounded and at the same time admired her courage."
OVD-Info, a Russian independent human rights group, reported she was being held at the Ostankino Police Department in Moscow although her lawyer, Dmitry Zakhvatov, told CNN he could not find her.
Lawyer Anastasia Kostanova told the BBC that Ovsyannikova being incommunicado meant that the authorities are trying "to deprive her of legal assistance and, apparently, they are trying to prepare the most stringent prosecution."
Ukrainian president Volodymyr Zelensky was among many who praised the bravery of her action.
Putin spokesman Dmitry Peskov said the incident was not a question for the Kremlin, telling reporters on Tuesday, "Regarding this girl, this is hooliganism."
He said it would be dealt with by the channel and "those who are supposed to deal with it," news agency Tass reported, "and this is not a question on our agenda."