Marina Ovsyannikova, who made headlines for interrupting a Russian state media television broadcast on Monday to protest the invasion of Ukraine, appeared in court on Tuesday. She had previously been reported missing by several outlets and a lawyer, Dmitry Zakhvatov, who claimed he represented her.
The BBC reported that Ovsyannikova was detained after she ran onto the set of the Russia state media Channel One broadcast on Monday with an anti-war sign. The BBC further said she appeared in court Tuesday and was charged with organizing an unauthorized public event. The offense is an "administrative charge," which is comparable to a misdemeanor in the U.S. The Russian news agency RIA reported Ovsyannikova was fined 30,000 rubles ($280) by the court.
Zakhvatov told CNN on Tuesday he had not been able to locate Ovsyannikova, who was working as an editor at Channel One during the time of her protest. However, images and reports have emerged of her appearing in Moscow court with lawyer Anton Gashinsky.
The BBC reported Ovsyannikova spoke to reporters outside the courtroom. The agency quoted her saying, "It was my anti-war decision. I made this decision by myself because I don't like Russia starting this invasion."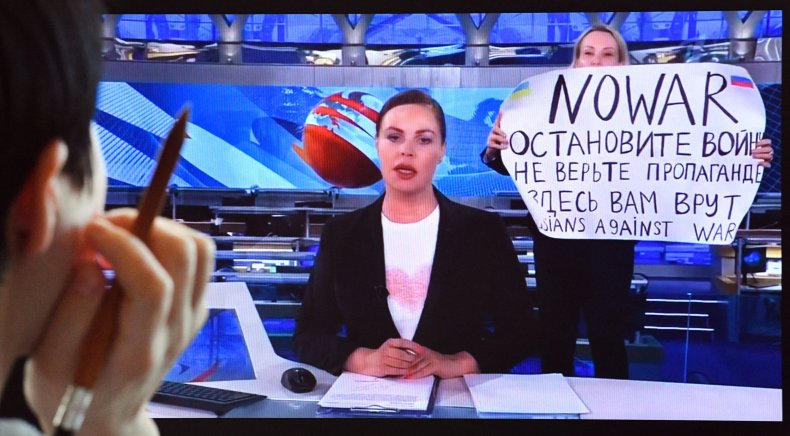 There had been concern that Ovsyannikova would be charged under a new law Russian President Vladimir Putin passed after the Ukrainian invasion in which "fake news" reporting—such as calling Russia's military operation a "war"—could be punished by up to 15 years in prison. She was instead handed the administrative charge, though it's unclear if she could face further repercussions later.
Putin spokesman Dmitry Peskov was asked about the incident by reporters on Tuesday. He said, "Regarding this girl, this is hooliganism."
Meanwhile, Ukraine President Volodymyr Zelensky thanked Ovsyannikova on Monday for her actions during his daily video address.
"I am thankful to those Russians that do not cease trying to get the truth out, who fight against disinformation and tell the truth, tell real facts to their friends, relatives. And personally to the girl who entered the studio of Channel One with a poster against the war," Zelensky said. "To those who are not afraid to protest, before your country closes totally from the rest of the world, turning into a very big North Korea. You need to fight, you shouldn't miss your own chance."
Kevin Rothrock, the managing editor of Meduza, a Russian- and English-language independent news website, posted a photograph on Twitter Tuesday of Ovsyannikova in court.
On Monday, Rothrock shared a video Ovsyannikova recorded prior to her television protest. In it, she said "[w]hat is happening in Ukraine is a crime" and revealed her father is Ukrainian.
Ovsyannikova also spoke of being ashamed of working at Channel One, calling it "Kremlin propaganda." She ended her video message by saying, "We Russians are thinking and intelligent people. It's in our power alone to stop all this madness. Go protest. Don't be afraid of anything. They can't lock us all away."
Follow our live blog for updates on the Russia-Ukraine conflict.
Update 03/15/22 3:15 p.m. EDT: This story has been updated to include details regarding Ovsyannikova's fine and comments she made outside the courtroom.