Trump Gave 'Present' To Putin In Syria Says Ex-Russian Foreign Minister: 'It plays right into his hands'
A former Russian foreign minister has called the move by President Donald Trump to withdraw troops from northern Syria a "present" to Vladimir Putin, as Russian influence had previously been waning in the region.
Andrei Kozyrev served as foreign minister under post-Soviet Russia's first president, Boris Yeltsin, between 1991 and 1996. He recently published a book, Firebird, that outlines the democratic development of his country following the breakup of the Soviet Union.
In an interview with MSNBC, he said Trump's latest actions showed there was no doubt the Kremlin was right to celebrate his election in 2016.
Of the Syria withdrawal, he told host Andrea Mitchell: "It plays right into his hands and I think now he understands why his cohorts were celebrating when Trump was elected."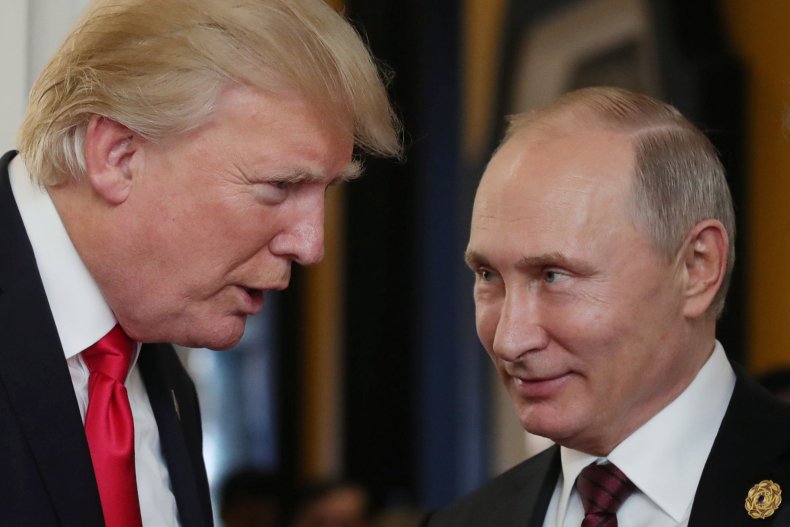 Upon Trump's election, he said "they had champagne in the Duma [Russian parliament] openly and said, 'our guy is in the White House', that was the champagne toast. Putin was not there himself but now he appreciates it very well.
"Maybe they will [now] have champagne every day," he continued. He added Russia had been in a "desperate position, the Russian economy is in stagnation and it is involved in the support of [Bashar al-] Assad who is losing and is isolated and there is no end.
"There is a dead-end war they are waging and, all of a sudden, this kind of present is coming his way from the American side," he added.
He described how there had been a seismic shift in the expectations that Russia had towards the U.S. as a global power broker, and that in his time as foreign minister, like the Ukrainian president Volodymyr Zelenskiy, he had to ask the U.S. for help to "consolidate democracy."
"At that time, it was inconceivable that either the American president or any of his representatives would blackmail us with aid they were giving. That aid was not quid pro quo, it was to help to build democracy.
"That's what Zelenskiy and the Ukrainians need now. That was always the role of America and it was not [about] commercial bargaining," he added.
This week, Russian newspapers sympathetic to the Kremlin described how Putin was the main winner from Trump's Syria move.
The tabloid Moskovskij Komsomolets described Trump's move as "reckless," in a piece headlined "Putin has won the lottery, the unexpected triumph of Russia in the Middle East," which went on to state "those who are certain that Trump is of no use to Russia, should think again."
Meanwhile the Kremlin was left surprised by letter sent by Trump on October 9 to Turkish President Recep Tayyip Erdogan, in which he threatened to punish the Turkish economy and not to "be a tough guy" over bombardments of northern Syria.