New York Governor Andrew Cuomo has been accused of office hazing by former aide Charlotte Bennett, while the governor's current top aide, Melissa DeRosa, has stepped up to defend herself.
Debra Katz, Bennett's attorney, said to investigators Cuomo handed the ex-aide a copy of the lyrics to the Irish ballad "Danny Boy" and told her to memorize them. Bennett was then ordered to sing the song to the administration's senior staff members, including DeRosa.
"It's a bizarre request, but he says, 'I want you to memorize these lyrics,'" Katz said to investigators leading a probe into sexual harassment allegations against the governor.
"She says, 'I don't want to sing 'Danny Boy." [Cuomo] says, 'Sing 'Danny Boy,'" Katz said. "At that point, Melissa DeRosa says ... 'You're hazing her.' ... The governor then starts booming the song 'Danny Boy' and he's singing himself and saying, 'Sing with me.'"
Bennett, one of several women to accuse Cuomo of sexual harassment, told investigators that DeRosa saw how embarrassed she was in the situation but continued to watch with "horror and amusement," Bloomberg reported. DeRosa reportedly saw the incident as mere "hazing."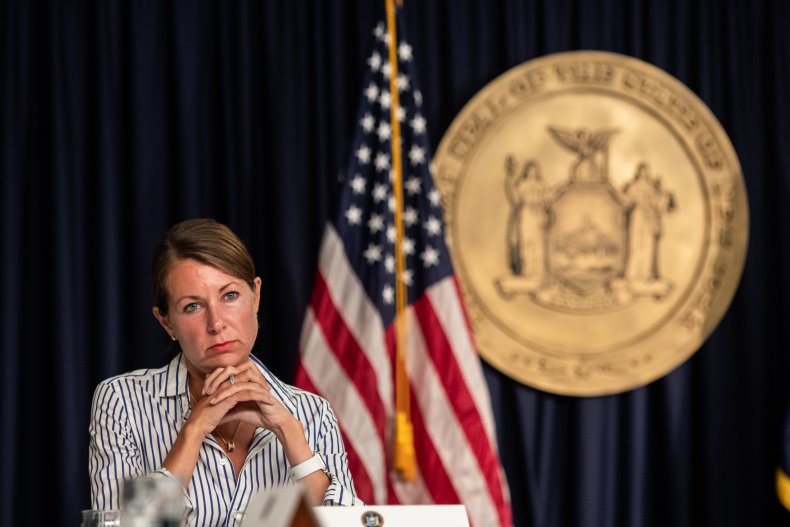 Meanwhile, DeRosa defended herself in an new interview with Bloomberg Friday, responding to media reports that she pressured New York health officials to conceal data on COVID-19 related deaths in nursing homes.
"Media accounts have reduced me to a caricature, but I'm a human being who truly believes in and cares deeply about government and public service," DeRosa said.
Lindsey Boylan, one of Cuomo's accusers, wrote in a Medium blog post last month that the governor "exploited...my desire to do good work" and forced women to hide their experiences of "intimidation, harassment and humiliation" at his hands. Boylan wrote that DeRosa was a key factor in perpetuating that culture of silence.
"It was all so normalized — particularly by Melissa DeRosa and other top women around him — that only now do I realize how insidious his abuse was," wrote Lindsey Boylan, one of Cuomo's accusers, in a Medium blog post last month.
In the Bloomberg interview, DeRosa stood by her work for the state of New York during the COVID-19 pandemic. Earlier this year, reports alleged DeRosa of admitting to state lawmakers that Cuomo's administration had concealed data requested by a Department of Justice probe into nursing home deaths during the pandemic. DeRosa said the governor "froze" and withheld the data to avoid a "political football."
DeRosa told Bloomberg of the emotional toll responding to the pandemic took on her mental health.
"I've worked incredibly hard throughout my career and especially during the pandemic," DeRosa said. "I didn't sleep. The last thing I would do in my day is call family members of health-care workers who died and tell them I'm sorry for their pain, and then close the door, lay on the floor and cry."
She added that media reports of her role in the nursing home scandal and subsequent sexual assault allegations have not humanized her: "I am not the one-dimensional person that has been portrayed in the press."
Newsweek has reached out to Cuomo's office for comment on Bennett's new allegation.