Andrew Cuomo, Hailed as Hero of the Pandemic, Feels Chill From Fellow Democrats
New York Governor Andrew Cuomo, who was initially hailed as a hero of the coronavirus pandemic, is now being criticized by his fellow Democrats from his state for suppressing the COVID-19 death toll in New York nursing homes.
On Thursday, the New York Post reported that one of Cuomo's top aides privately apologized to Democratic lawmakers about the figures on a call, saying that the governor's office "froze" out of fears that the correct numbers could be used against them by federal prosecutors.
State Senator Andrew Gournardes called it a "betrayal of the public trust," tweeting, "There needs to be full accountability for what happened, and the legislature needs to reconsider its broad grant of emergency powers to the governor."
New York City Council Member Brad Lander also shared the story from the Post on social media, pointing out that even after the damning report came up, Cuomo had an aide make the admission rather than doing so himself.
When the pandemic hit the U.S. and New York became the national hot spot of COVID-19, Cuomo was heralded as a leading figure for his handling of the outbreak. In the fall, he published a book about the state's battle against the virus titled American Crisis: Leadership Lessons from the COVID-19 Pandemic.
However, last month, state Attorney General Letitia James released a report that estimated the death of nursing home residents was more than 50 percent greater than the figures released by the state.
In response to the new allegations of a cover-up by the governor's office, Rich Azzopardi, a senior adviser for Cuomo, said, "We explained that the Trump administration was in the midst of a politically motivated effort to blame Democratic states for COVID deaths and that we were cooperating with federal document productions, and that was the priority; and now that it is over, we can address the state legislature."
"That said, we were working simultaneously to complete the audit of information they were asking for," Azzopardi added.
Like Cuomo, the adviser's response also faced backlash from New York Democrats including, state Senator Alessandra Biaggi who called Azzopardi's use of the term "politically motivated" a "premium-grade red-herring spin."
"Your admin made a decision to lie about the numbers, and you're out of excuses so you're pointing at Trump. It's nonsense, and you know it," Biaggi tweeted on Thursday. "Tick tock, Rich."
State Assemblywoman Yuh-Line Niou also called Azzopardi out over social media, writing, "So you didn't want to have the feds investigating you.… So you just…withheld the data purposefully…of thousands of deaths of New Yorkers.... This is unreal."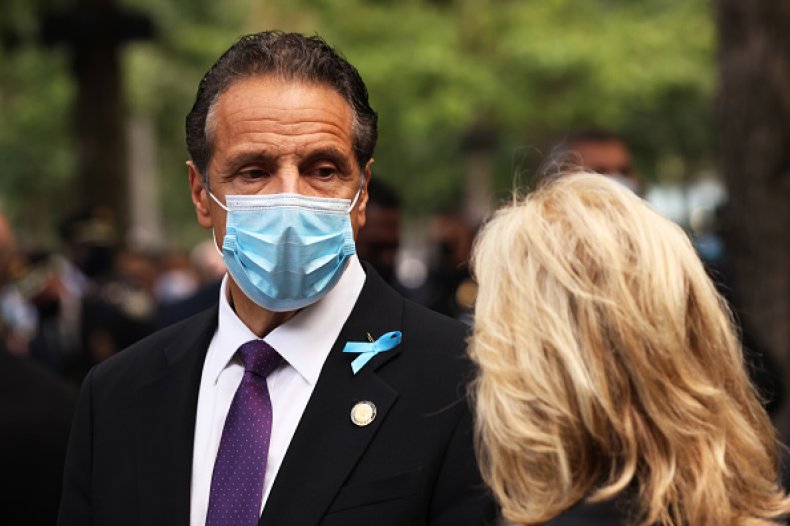 Democrats were also vocal in their objections to the explanation from the governor's office during the call from Cuomo's office.
Assembly Health Committee Chairman Richard Gottfried, who demanded the death-toll data in August, told Cuomo's aide, "I don't have enough time today to explain all the reasons why I don't give that any credit at all," according to the Post.
State Senate Aging Committee Chairwoman Rachel May reportedly chimed in, saying, "The biggest issue of all is feeling like I needed to defend—or at least not attack—an administration that was appearing to be covering something up."
After the investigation by James, the state's health department was forced to make public more than 3,800 previously unreported deaths of nursing home residents who died outside a facility—bringing the toll up to 12,743 on January 19.
Since then, the death toll of New Yorkers in nursing homes has risen to roughly 15,000 confirmed and presumed deaths this week.
Newsweek reached out to Cuomo's office for comment but did not hear back before publication.
Correction 02/12/21 12:27 p.m. ET An earlier version of this story said state Senator Biaggi was a Representative of New York.