President Donald Trump's approval rating has plummeted amid the COVID-19 pandemic while his political adversary New York Gov. Andrew Cuomo maintains a positive standing among the public.
Recent polling has suggested the majority of Americans disapprove of Trump's actions as president, with a tracker from FiveThirtyEight suggesting 55.9 percent feel this way.
The president's approval rating has also declined in 500 counties experiencing rising COVID-19 deaths, while polling from Rasmussen Reports recently showed its lowest ever levels for Trump—including a slip in support from Republicans.
Latest polling for Democratic governor Cuomo outlined a more positive outlook of his actions, with 66 percent of New York state adults asked stating they approve of the job he is doing as governor, rising to 73 percent among adults in NYC.
The Marist Poll, in partnership with NBC 4 New York, was conducted among 718 adults in New York State between July 6 and 8.
Cuomo also received high ratings in regards to tackling COVID-19, with 72 percent of respondents stating they approve of his handling of the coronavirus pandemic.
Previous polling indicated the amount of New York voters who approved of Cuomo's handling of the pandemic was more than double that of those who approved of Trump.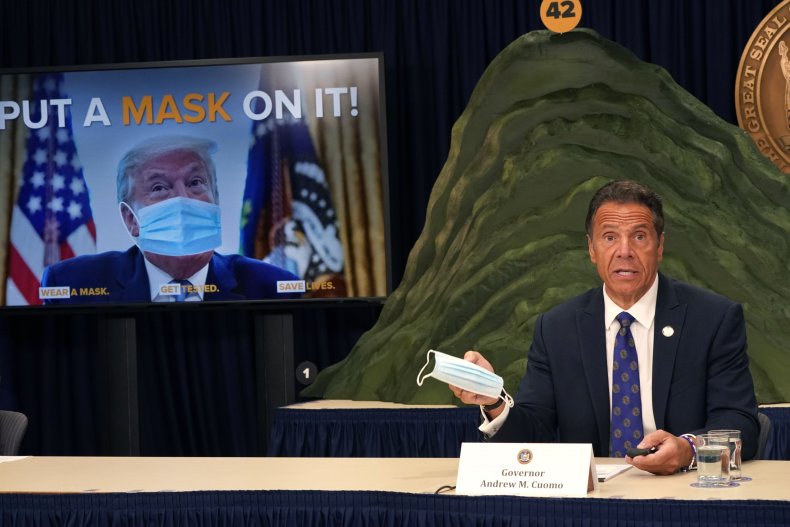 Cuomo's favorability ratings hit record highs earlier this year, with polling putting him at 77 percent, according to a Siena poll, conducted among 803 registered voters in New York State from April 19 to 23.
This level matched a high he had only previously hit in 2011.
These slightly took a slight dip in May, with questions having been raised over the handling of the pandemic in New York care homes.
Cuomo has been critical of Trump's handling of the pandemic, recently hitting out at his longstanding refusal to wear masks publicly.
At a press conference he told the president not to be a "coconspirator of COVID," telling him to tell the American people it is a "major problem."
He also urged the president "just wear the mask," as he raised one in his hand and asked "how did this become a political statement?"
Further to this he hit out at statements Trump had made which he said were aimed to deny the virus and led people to ignore guidance therefore "enabling the virus."
"The president says a lot of things, they're not necessarily facts, they're not necessarily true," he said. "He makes up facts, he makes up science, he wants to deny the COVID virus. He has from day one.
"Why? I have no idea."
He also took umbrage with Trump and his administration's push for the return of schools, stating this was a state decision.
Cuomo, at a press conference Wednesday, said: "School reopenings are a state decision, period. That is the law, and that is the way we're going to proceed.
"The federal government has no legal authority when it comes to school openings."
In turn, Trump has taken swipes at Cuomo, in a since deleted tweet from March suggesting the governor needed to "do more."
Asked by Newsweek about the polling and Cuomo's comments, a White House official said the New York governor had made "incompetent decisions" over the outbreak, while defending President Trump's actions.
The official said: "Governor Cuomo forced seniors who tested positive for Coronavirus back into his state's nursing homes. His reckless response did not follow CMS and CDC guidelines devastating the senior population – and no amount of revisionist history can erase his grossly incompetent decisions or the fact that President Trump's bold, aggressive actions saved millions of lives."
Melissa DeRosa, secretary to the governor, hit out at "cheap politics."
"The public doesn't want cheap politics or pandering," DeRosa said. "Make decisions based on data & science & in the best interest of public health -- and the people will respond."
New York has seen more coronavirus cases than any other state in the U.S., with more than 399,000 confirmed.
The below graphic, from Statista, shows the curves of COVID-19 infections in several states.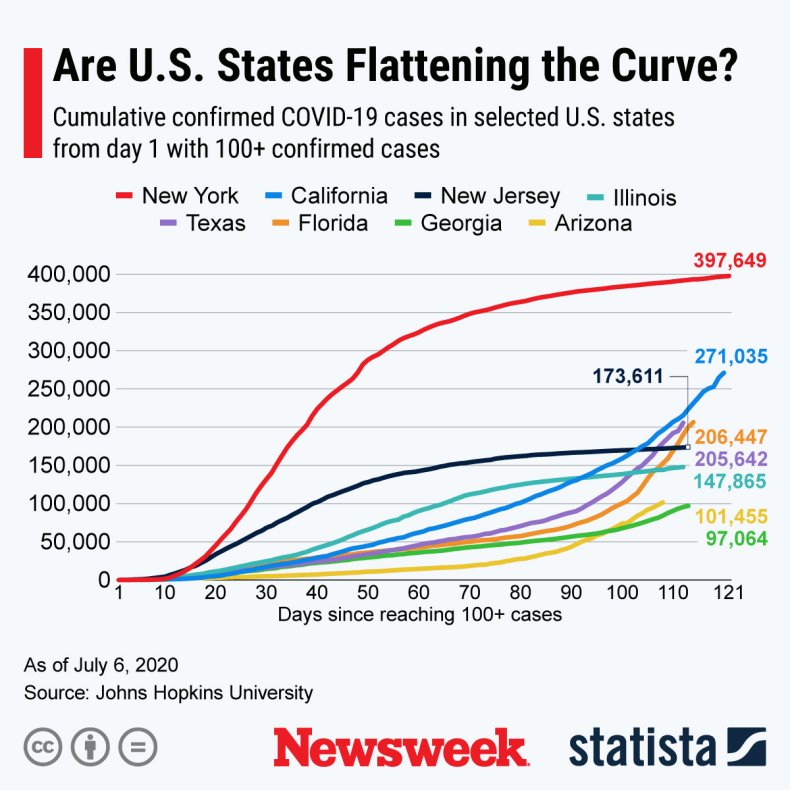 This story was updated to include a comment to Newsweek from a White House official and comment from the secretary to the governor.