Why Andrew Cuomo Faces Lawsuit Over New York's Abortion Law
Governor Andrew Cuomo is among eight New York officials being sued over the state's 2019 abortion law.
The Reproductive Health Act, which codified abortion rights in Roe v Wade into state law, allows doctors to perform an abortion after 24 weeks, but only in cases where there is "an absence of fetal viability, or the abortion is necessary to protect the patient's life or health."
The act was designed to ensure New Yorkers could make personal health care decisions and medical professionals could provide services without fear of prosecution, the governor's website said.
It mirrors laws in others parts of the world, including England, where abortions can be carried out after 24 weeks in very limited circumstances—for example, if the mother's life is at risk or the child would be born with a severe disability.
Cuomo's act received the backing of groups including the New York Civil Liberties Union, which said it was cause for "long-overdue celebration."
But it was vehemently opposed by religious conservatives, with some Catholic bishops calling for the Democratic governor to be excommunicated and Cardinal Timothy Dolan describing the legislation as "ghoulish" in a New York Post op-ed.
Now, a group of five women have launched legal action against the act, saying: "New York officials have converted a woman's liberty interest in terminating her pre-viable pregnancy into a novel 'right' to kill viable unborn children."
They claim the act "extends this putative 'right' to kill beyond pregnant mothers to third-party criminal assailants."
The complaint states: "In a change that alters nearly two hundred years of penal law, a murderer can no longer be prosecuted under New York law for the killing of a wanted, viable unborn child."
Christen Civiletto, an attorney representing the plaintiffs, said the complaint had been filed "on behalf of victims of domestic violence and others."
The complaint states that the passage of the bill two years ago "put women in danger" and that "physical attacks on women, as well as the number of women undergoing forced abortion, may increase due to the extension of the time within which an allegedly legal abortion can be obtained."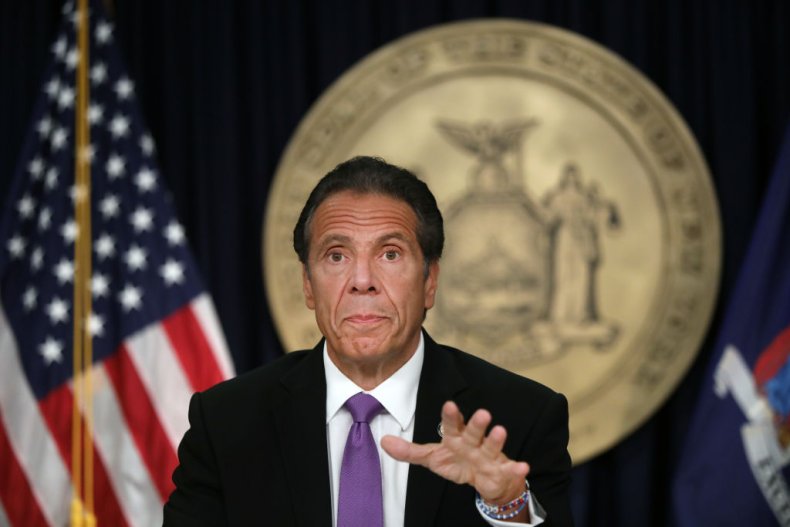 However, the legislation has the backing of senior health officials—some of whom were named as defendants in the case.
Cuomo, a Catholic, said in January 2019 that he was obliged to separate his religious views from his work as governor. "I have my own Catholic beliefs, how I live my life. ... That is my business as a Catholic," he said. "I don't govern as a Catholic. I don't legislate as a Catholic."
Defending the act in the weeks after it was signed, State Senator Liz Krueger said previous New York law put pressure on doctors to wait for a medical condition to worsen and become life-threatening before being able to provide appropriate care.
The law, Krueger said, had not changed the fact that a baby born alive during an abortion procedure would receive all the necessary care, just as they would in any live birth.
She added: "When abortions are performed later in pregnancy, it is because they are medically necessary due to the fetus not being viable or the woman's health or life being at risk.
"Each pregnancy is different and these are complex medical situations. Abortion is part of reproductive health care. Therefore, a woman must be able to make the appropriate health care decision for herself based on the medical circumstances."
Krueger also warned about "misinformation" around the law that led some to claim wrongly that abortions can be performed up to the moment of birth.
"This is simply not accurate," she said. "Furthermore, this is a false representation of medical standards of practice, as well as the ethical guidelines and laws that medical providers must follow."
That did not stop President Donald Trump claiming that lawmakers in New York had "cheered with delight upon the passage of legislation that would allow a baby to be ripped from the mother's womb right up until delivery."
The lawsuit filed on Tuesday in U.S. District Court for the Northern District of New York names Cuomo, Letitia James, the state's attorney general, and Howard Zucker, New York's commissioner of health, among eight defendants.
It was filed by Women's Alliance Against Violence, an initiative formed to challenge the 2019 act and other laws relating to women and children.