Andrew Cuomo Still Beats Out AOC, Letitia James in 2022 Polling
Despite the latest report from New York Attorney General Letitia James—which found that Governor Andrew Cuomo sexually harassed 11 women—Cuomo is still poised to beat out top contenders like James and Congresswoman Alexandria Ocasio-Cortez in the 2022 governor's race, according to new polling.
A new poll conducted by Slingshot Strategies last week shows that a majority of Democratic voters would still support with Cuomo if he ran for a third term.
The poll of 600 likely New York state voters found that 26 percent of Democrats said they would vote for Cuomo in the primaries. Nine percent said they would vote for James and eight percent said they would vote for Ocasio-Cortez. Another 19 percent said they were unsure who they would vote for.
The survey revealed that while roughly only one-quarter of voters would vote for Cuomo, the governor is still well liked by more than half of voters.
Almost 60 percent of voters said they have a favorable view of the governor and 72 percent of voters said they approved of his job performance, despite the new report and a string of other controversies Cuomo has faced over the last year.
Aside from the numerous allegations of sexual misconduct, Cuomo has also been criticized for his handling of the coronavirus.
Although he was initially lauded for his response efforts in the state that was hit the hardest by the pandemic, Cuomo was scrutinized after it was discovered that his administration under-reported—which he termed a "void" in reporting full statistics—the number of COVID-19 deaths among the state's nursing homes and that the governor was set to make over $5 million from a book deal about his COVID-19 response.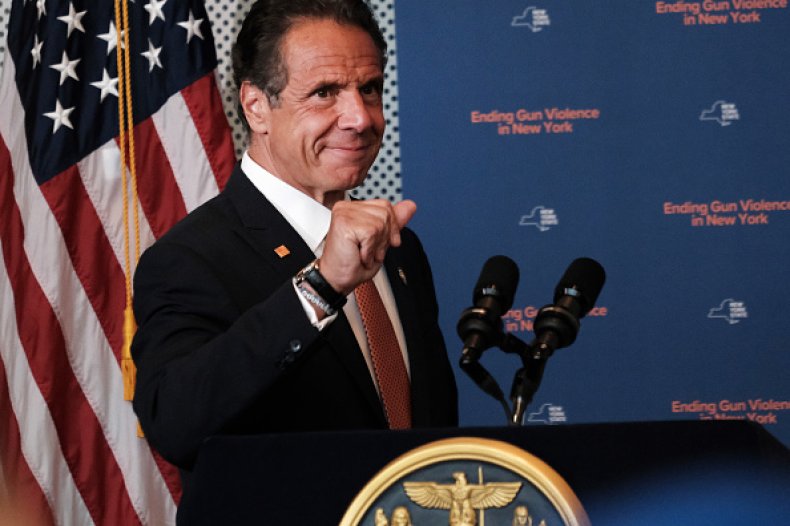 While most Democratic voters seem to still approve of Cuomo's job as governor, New Yorkers seem divided when it comes to whether or not he should be impeached.
In the poll conducted on August 6 and 7, 46 percent said Cuomo should remain governor while another 40 percent said he should be removed from his post.
On Monday, the members of the State Assembly's judiciary committee met to begin working toward impeachment proceedings to remove Cuomo from office. If he is charged by the Assembly, Cuomo will be removed from office while the impeachment trial continues. If convicted, he would be removed from office for good.
Although Cuomo has denied touching anyone inappropriately, he has lost the support of many of his fellow Democrats, with top officials, including President Joe Biden, calling on the governor to step down.
The poll also indicated that voters would be able to get behind James and Senator Kirsten Gillibrand if they choose to run against Cuomo.
However, voters said they could not see themselves supporting New York City Mayor Bill de Blasio for the role. Only 11 percent of voters said they could back De Blasio, compared to the 41 percent who said they could not.
Cuomo and Ocasio-Cortez received split support for a potential governor's bid.
Twenty-eight percent of voters said they could support Cuomo, while 32 percent said they could not. Twenty-two percent of voters said they could support Ocasio-Cortez, while the same percentage of voters said they could not.