Andrew Tate Hospital Defends Doctor Caring for Him Amid Prison Time
The hospital where Andrew Tate received tests for a "concerning" lesion on his lungs has defended treating the controversial influencer.
Tate, 36, underwent tests at the King's College Hospital London in Dubai, which has confirmed to Newsweek that a "leaked letter" detailing his medical condition was authentic and that he was treated by Dr Ali Razzak.
Dr Razzak is "Tate's primary care physician" and the medical director of King's Dubai Marina Medical Center, one of the clinics where he received treatment.
A letter and medical report sent to Romanian authorities where Tate is currently in custody on allegations of rape and human trafficking was leaked last week, leading many on social media to speculate he might have lung cancer. Tate has denied the allegations against him.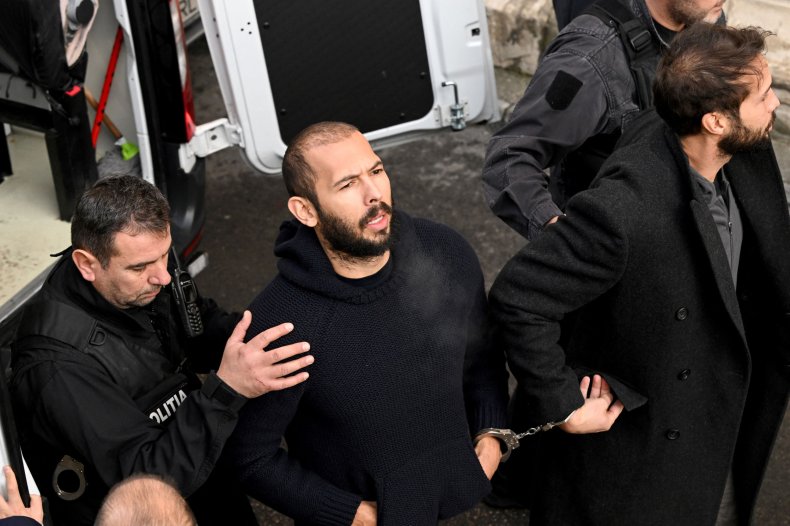 Along with the charges in Romania, Tate has a history of controversial comments and has been accused of rape by three women in the U.K., but local prosecutors dropped that investigation, according news website Vice.
"Dr Ali Razzak, who is Mr Tate's primary care physician, joined King's Dubai back in 2017, and is a dedicated and compassionate caregiver," King's Hospital wrote in a statement to Newsweek.
"Doctors take an oath to ethically do what is best for the patient, regardless of their background, race, gender or social standing. This is what Dr Ali did when he issued the letter for Mr Tate."
In the statement, the hospital reiterated: "Our doors are open to anyone and everyone requiring medical care. It is our duty to uphold the oath taken by our doctors and other caregivers, and it would be unethical to turn anyone away."
The hospital went on to "strongly condemn the leakage of Mr Tate's medical letter, which details private information of his health and wellbeing.
"We can strongly confirm that the leakage did not occur from our end, and that we, without a doubt, uphold doctor-patient confidentiality to the highest standards," it added.
The leaked letter sent to Romanian nationals said that Tate had a "concerning" lesion on his "right upper lung."
"It is my professional medical recommendation that Andrew is urgently repatriated to the United Arab Emirates to undergo these medical investigations without delay. Time is of the essence and any further delay in the above investigations may have a serious negative implication for Andrew's physical health," read the letter.
Tate himself took to social media over the weekend to deny he had lung cancer and that the lesion was nothing more than a scar from an "old battle."
The former kickboxer posted a photo of himself on Twitter in front of a mirror at a gym and claimed to have the "vital signs of an Olympic athlete."
"I do not have cancer. My lungs contain precisely 0 smoking damage. In fact, I have an 8L lung capacity and the vital signs of an Olympic athlete. There is nothing but a scar on my lung from an old battle. True warriors are scarred both inside and out," he wrote in the caption.
Tate later added that he estimates he will "survive for at least 5000 more years" thanks to his "current strength levels."
"As one of the most influential men on the face of the planet. It is important for the good of humanity that I live as long as possible... With this in mind, I take my medical care extremely seriously," he tweeted.
Tate added of his medical reports: "I had a regular checkup organized in Dubai pre-detention. The doctors were extremely interested in the scar on my lung.
"They do not understand how I survive without treatment. They do not know the secrets of Wudan. But this battle has long passed."
Wudan refers to Tate's self-invented philosophy that he teaches at his Tate University and in which he claims to have lived for 5,000 years in a past life atop the Wudan mountain in China.
Romanian Investigation
Tate and his brother Tristan, 34, had their time in custody extended by a further 30 days earlier this month as Romania's anti-organized crime agency, the Directorate for Investigating Organized Crime and Terrorism (DIICOT), investigates the charges of sexual assault and exploitation.
DIICOT is investigating the Tate brothers and two Romanian women for allegedly coercing six women into producing pornography through threatening "acts of physical violence and mental coercion." Tate is also facing charges of rape after allegedly sexually assaulting a woman in March 2022. All four have denied their culpability.
The British-American Tate starred on the reality show Big Brother in the U.K. in 2016 and became well known for his misogynistic comments.
At the height of the #MeToo movement in 2017, Tate said women "must bear some responsibility" if someone rapes them, which led to widespread backlash.
In 2013, a woman accused Tate of rape in the U.K., but police didn't charge him with a crime, according to Vice. Then another two women reportedly accused Tate of violence in 2015—one woman alleged assault and another alleged rape—according to the same Vice report. Tate denied both allegations through his lawyer.
British prosecutors decided in 2019 not to pursue charges against Tate over any of the three allegations, Vice reported.
Specialists from the Rape, Abuse, and Incest National Network (RAINN) sexual assault hotline are available 24/7 via phone (1 (800) 656-4673) and online chat. Additional support from the group is also accessible via the mobile app.