Andrew Yang Backtracks on Comments Supporting Israel, Apologizes for Failing to Acknowledge Both Sides
Andrew Yang attempted to walk back an earlier statement in support of Israel on Wednesday, after facing heavy backlash from Democrats and members of his own staff for failing to discuss violence against Palestinians in Jerusalem and the West Bank.
Yang, a 2020 New York City mayoral candidate, came under fire on Monday for a tweet in which he stated he was "standing with the people of Israel" and condemned "Hamas terrorists" amid deadly escalations occurring between Israeli and Palestinian forces.
"I'm standing with the people of Israel who are coming under bombardment attacks, and condemn the Hamas terrorists," Yang tweeted. "The people of NYC will always stand with our brothers and sisters in Israel who face down terrorism and persevere."
A number of Democratic leaders, including New York Representative Alexandria Ocasio-Cortez criticized Yang's tweet, accusing him of staying silent over Palestinian deaths after several children and civilians were killed in Israeli-led airstrikes. Others accused Yang of being single-minded and called his tweet "shameful," "disgustingly cynical," and "soul-less."
On Wednesday, Yang apologized for his previous statement, noting that the former tweet "failed to acknowledge the pain and suffering on both sides." Yang added that many of his own campaign volunteers who had been working with him for years expressed disappointment in his views.
"Many of them were upset with my recent tweet expressing solidarity with the people of Israel in conjunction with the violence in the region this week that has claimed the lives of innocents and children on both sides," he wrote.
"They felt that my tweet was overly simplistic in my treatment of a conflict that has a long and complex history full of tragedies," he said, before adding "they were, of course, correct."
"I mourn for every Palestinian life taken before its time as I do for every Israeli. Suffering and pain and violence and death suffered by anyone hurts us all," Yang continued in his statement. "Support of a people does not make one blind to the pain and suffering of others. Again, most everyone simply wants to be able to live and pray in peace."
"I join with millions around the world in praying that the current situation be resolved as quickly as possible, peacefully and with minimal suffering. For those who have spoken to me on this - thank you. Continue to believe in humanity," he said.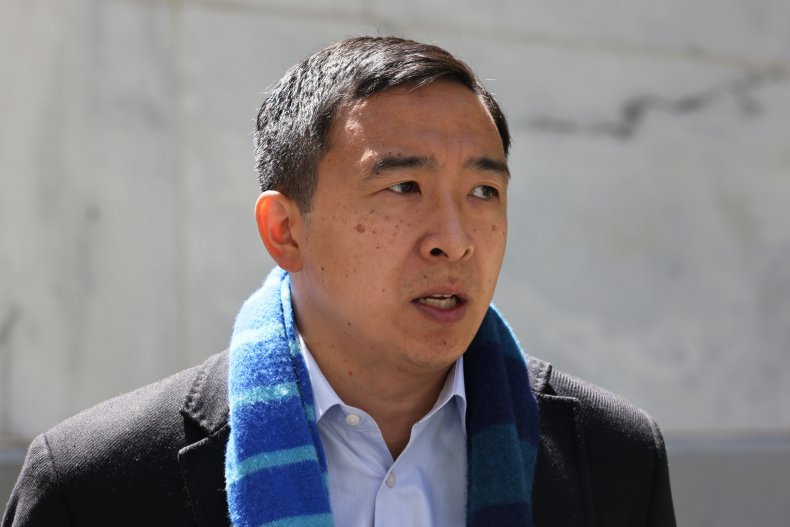 Israelis and Palestinians have been locked in conflict over land since the end of the United Kingdom's post–Ottoman Empire colonial mandate, and the establishment of the state of Israel in 1948 on territory that Palestinians have also claimed.
The latest escalation of violence occurred as Israelis attempted to evict Palestinians living in the Sheikh Jarrah neighborhood of the sacred city of Jerusalem, which both Israelis and Palestinians consider to be their capital. Violence erupted after Israeli forces cracked down on Palestinian demonstrations and violently stormed the revered Al-Aqsa Mosque during Ramadan, a move that Hamas—a militant Palestinian organization—said motivated an ongoing rocket assault.
The region has since been embroiled in deadly attacks, as Israeli forces have carried out multiple airstrikes across the Gaza Strip, while Hamas has fired a barrage of thousands of rockets.
By Wednesday, at least 53 Palestinians—including 14 children—were killed while more than 300 people were wounded in Gaza, according to reports from The New York Times. In cities across Israel, at least six people were killed and 100 injured, according to Israeli health officials.
U.S. Secretary of State Antony J. Blinken said Wednesday that a senior American diplomat is headed to the Middle East to meet with Israeli and Palestinian leaders "to urge de-escalation and to bring calm."
Newsweek contacted Yang for an additional comment, but did not hear back in time for publication.