The United States called on Israel and Palestinians to de-escalate the explosive conflict ravaging infrastructure and incurring a mounting death toll on territory held by both sides.
"We call on all sides to exercise restraint, exercise calm," State Department spokesperson Ned Price told reporters on Tuesday. "The United States will continue to remain engaged with senior Israeli officials and Palestinian leadership in the days and weeks ahead."
But he warned there may be only so much Washington could do.
"The United States is doing what we can," Price said, "knowing that...our ability in certain situations is going to be, in some cases, limited."
Price emphasized that "Israel has the right to defend itself and to respond to rocket attacks" and "the Palestinian people also have the right to safety and security, just as Israelis do."
While he referred to the rocket attacks by Palestinian movements Hamas and Palestinian Islamic Jihad as a form of "horrific terrorist attack," he declined to respond to journalists' questions on whether the U.S. considered Israeli airstrikes in Gaza to be acceptable.
The death toll, estimated by each side, is said to include 30 Palestinians, by the Gaza-based Ministry of Health, and two Israelis, according to the Israel Defense Forces. Scores more have been injured.
White House Press Secretary Jen Psaki said Tuesday that President Joe Biden's "support for Israel's security—for its legitimate right to defend itself and its people—is fundamental and will never waiver."
She also said that the U.S. leader was in talks with top officials from both sides of the deadly feud.
"[Biden] has directed his team to engage intensively with senior Israeli and Palestinian officials, as well as leaders throughout the Middle East," Psaki told reporters Tuesday. "His team is communicating a clear and consistent message in support of de-escalation, and that is our primary focus."
The White House also later released a readout of a call between national security adviser Jake Sullivan and his Israeli counterpart Meir Ben Shabbat.
Sullivan "condemned the ongoing rocket attacks by Hamas and other terrorist groups, including against Jerusalem and Tel Aviv," "conveyed the President's unwavering support for Israel's security and for its legitimate right to defend itself and its people, while protecting civilians," and "also conveyed the United States' encouragement of steps toward restoring a sustainable calm."
Secretary of State Antony Blinken also spoke with his Israeli counterpart Gabi Ashkenazi, later releasing a readout in which the top U.S. diplomat said he "expressed his concerns regarding rocket attacks on Israel and his condolences for the lives lost as a result."
The two men "also discussed the violence in Jerusalem, in particular on the Haram al-Sharif/Temple Mount and in Sheikh Jarrah," a dispute seen as the catalyst for what has spiralled into some of the worst Israeli-Palestinian violence in years. Blinken "reiterated his call on all parties to deescalate tensions and bring a halt to the violence, which has claimed the lives of Israeli and Palestinian civilians, including children" and "emphasized the need for Israelis and Palestinians to be able to live in safety and security, as well as enjoy equal measures of freedom, security, prosperity, and democracy."
Biden, for his part, has yet to issue any public remarks himself, and the two belligerents seemed set on intensifying the fight rather than cooling down.
One of the latest barrages by Hamas sent what it estimated to be 130 rockets toward the metropolitan city of Tel Aviv in response to an Israeli air raid that took down an entire apartment building. The IDF claimed the multi-story structure "housed military intelligence, research and development offices" belonging to Hamas.
This adds to some 630 rockets fired by the Palestinian fighters and over 100 airstrikes conducted by up to 80 Israeli aircraft, according to the latest IDF count provided to Newsweek.
Israeli Prime Minister Benjamin Netanyahu delivered a televised address warning that both Hamas and Palestinian Islamic Jihad would pay a "very heavy price for their belligerence" and that "their blood is on their own hands." The conflict, he said, "will take time."
Rockets sirens continue to sound regularly in Israel, especially in Ashkelon and areas close to the Gaza Strip. The IDF also continued to conduct aerial operations.
"Over the last several hours, the IDF has struck a number of significant terror targets and terror operatives across the Gaza Strip," the Israeli armed forces said in a statement sent to Newsweek. "The strikes are continuing at this time."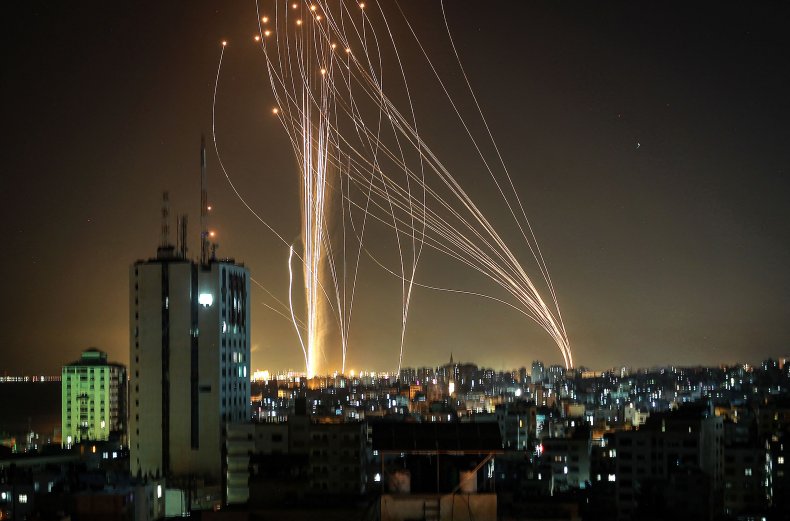 Israelis and Palestinians have been locked in an intractable conflict over territory since the end of the United Kingdom's post-Ottoman Empire colonial mandate and the establishment of the State of Israel in 1948 on land also claimed by Palestinians. In the decades since, Israel has fought with both Palestinian groups as well as other Arab forces and nations backing Palestinian claims within Israel's proclaimed borders, which have increasingly eroded Palestinian control through conflict and settlement over the years.
The latest unrest erupted as Israelis attempted to evict Palestinians living in the Sheikh Jarrah neighborhood of the sacred city of Jerusalem, which both Israelis and Palestinians consider their capital. The situation escalated rapidly with an Israeli crackdown on massive Palestinian demonstrations and a storming of the revered Al-Aqsa Mosque, a move that Hamas said motivated its ongoing rocket assault.
"The reason for the demonstrations and the firing of the rocket is trying to deter the Israeli occupation and its settlers and extremist Knesset Members who insist on desecrating Al-Aqsa Mosque, which is the third holiest place for all Muslims around the world and the holiest site for us as the Palestinians," a Hamas spokesperson recently told Newsweek. "In addition, to deter the Israeli authorities who have been working along with the settlers' organizations to expel the Palestinian families in Sheikh Jarrah from their homes and replace them with settlers."
The U.S. and Israel consider Hamas to be a terrorist organization. The group has received calls of support from Turkey and Iran, which has supplied the organization with weapons technology.
Arab countries, including the six with which Israel has diplomatic ties, have largely condemned Israel's actions in regards to the Sheikh Jarrah dispute and the raid on Al-Aqsa. On Tuesday, the 22-nation Arab League condemned Israel's airstrikes on Gaza as well.
Mayhem appeared to be extending elsewhere in Israel as well, as rival communities took to the streets. The mayor of the mixed city of Lod told The Times of Israel that there has been "a complete loss of control" around him, warning that "a civil war has erupted."
The U.S. has played a key mediating role between Israelis and Palestinians in past decades, including in the 1993 Oslo Accords that set the stage for modern relations between Israel and Palestinian leadership represented today by Palestine National Authority President Mahmoud Abbas. The accords ultimately fell apart at the turn of the century, however, and efforts to establish peace were further stymied by a 2006 rift between Abbas' leading Fatah party and Hamas, which saw widespread gains that ultimately helped to establish its control over Gaza.
The two Palestinian factions remain at odds to this day despite successive reconciliation attempts. Abbas announced late last month that he was postponing what would have been the first Palestinian elections in the nearly 15 years since the original falling out, fueling further tensions with Hamas.
U.S. relations with Palestinian leadership were severed during the administration of former President Donald Trump, who aligned himself closely with Israel by recognizing Jerusalem as the country's capital and moving the U.S. embassy despite the Palestinian counterclaims to the contested city. Biden has sought to carefully balance rebuilding ties with the Palestinian side while also maintaining the alliance with Israel.
U.S. officials have also offered some security assurances to Israel as the Biden administration pursues ongoing talks in Vienna geared toward a potential reentry into a nuclear deal reached with Iran and other major world powers in 2015 but abandoned three years ago under Trump.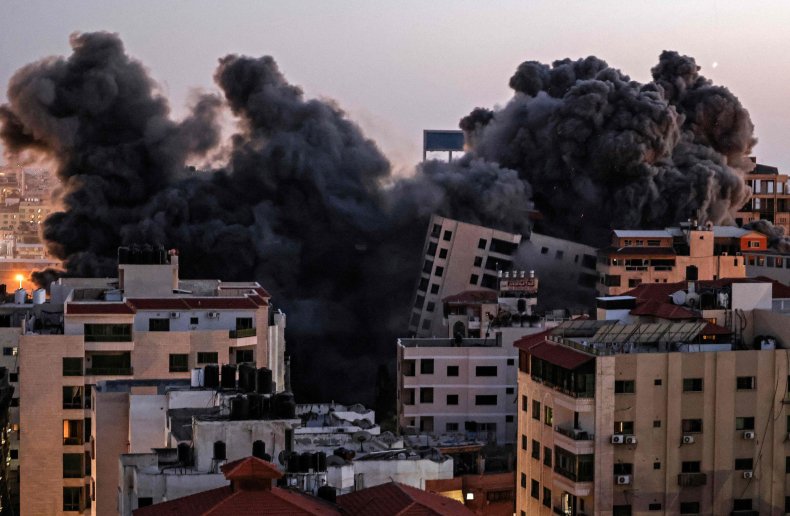 This is a developing news story. More information will be added as it becomes available.