Israel Prepares to Live with U.S.-Iran Nuclear Deal And Its Middle East Impact
With the United States set on pursuing nuclear diplomacy with Iran, Israel is assessing the potential threats it perceives may result from a renewed agreement between its top ally and its archfoe, and it is seeking security assurances in order to do so.
As President Joe Biden's administration pursues painstaking talks with the stated goal of reentering the 2015 nuclear deal abandoned by his predecessor three years ago, he has also set out on the parallel task of assuaging concerns raised by Israel, which has always opposed the agreement.
Delegations from both countries met earlier this week at Israel's embassy in Washington to discuss the ongoing conversations among the U.S. and remaining nuclear deal signatories being held in the Austrian capital of Vienna. One Israeli official familiar with the conversations described the atmosphere as "very positive," and said an understanding had been reached.
"There was an agreement on the shared goal of preventing Iran from reaching nuclear capabilities," the Israeli official told Newsweek.
But the nuclear deal itself, officially known as the Joint Comprehensive Plan of Action or JCPOA, remains a point of contention. As such, Washington has sought to offer commitments elsewhere.
"We've expressed our opinion regarding returning to the JCPOA," the Israeli official said. "But the conversation was not limited just to this issue, but included many areas of possible cooperation, such as working together to counter Iran's aggressive regional activity."
A readout released by the White House of national security adviser Jake Sullivan's meeting with Israeli counterpart Meir Ben-Shabbat noted that the U.S. side "underscored President Biden's unwavering support for Israel's right to defend itself."
In one specific development, the two nations "agreed to establish an inter-agency working group to focus particular attention on the growing threat of Unmanned Aerial Vehicles and Precision Guided Missiles produced by Iran and provided to its proxies in the Middle East Region."
Speaking to Israel's Ynet News outlet on Thursday, Israeli ambassador to the United Nations Gilad Erdan had a less optimistic assessment as the U.S.-Iran nuclear negotiations appeared to progress.
"I say it with grief, the Americans presented before us the difficulties in the negotiations with Iran, but still, the estimates in Israel are that the sides will reach an understanding in the coming weeks," Erdan said. "There may be some disagreements on how many sanctions [the U.S.] will remove and how [Iran] will return to abide by the agreement, but the Iranians have recognized that there is an overall desire to return to the old nuclear deal signed at the time of [former U.S. President Barack] Obama. We believe that returning to this bad agreement is a mistake, even a significant one."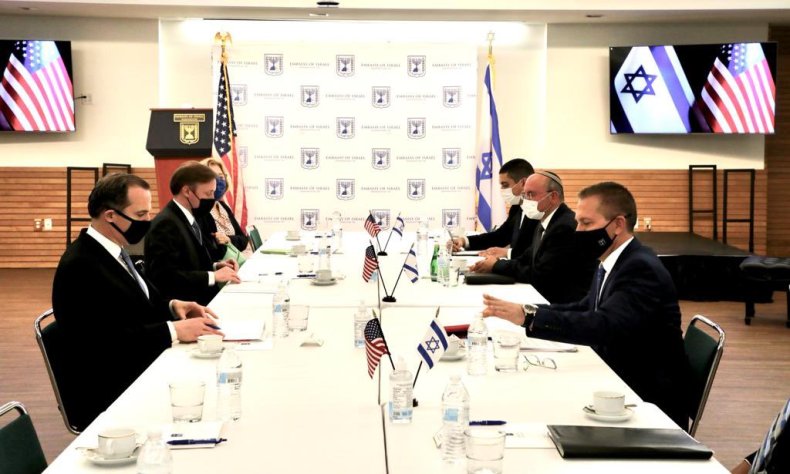 The JCPOA has been a controversial document since its inception. The accord was the product of years worth of quiet, behind-the-scenes talks between the former Obama administration and that of Iranian President Hassan Rouhani, whose second and final term is set to end with elections this June, as the fate of the nuclear deal his officials helped negotiate remains in the balance.
The deal, signed also by China, France, Germany, Russia and the United Kingdom, was widely hailed abroad as a milestone of international diplomacy between two decades-long foes. Conservatives in both the U.S. and Iran, however, have long expressed skepticism over the agreement, as have some of Washington's allies and partners in the region.
Israeli Prime Minister Benjamin Netanyahu was by far the most vocal critic of the deal at the time, famously lecturing Congress and the United Nations over what he saw as the dangers of an arrangement that he felt would ultimately ease the path for Iran to obtain nuclear weapons without the burden of international sanctions. Iran's Arab rivals, such as Saudi Arabia, also expressed grievances.
Now, as Biden strives to once again live up to the U.S. commitments made while he was vice president, his administration is looking to more carefully weigh the concerns of friendly skeptics in the region.
"We have had many discussions with various U.S. partners about the U.S. approach, including our partners in Israel and among Gulf Arab states," a State Department spokesperson told Newsweek. "We will continue consulting closely with these key partners as this process proceeds."
"We respect that there are different perspectives," the spokesperson added, "and that is why we undertake these important discussions and why we're committed to being as transparent as we can during this process."
And, in particular, these consultations have sought to temper the protests lodged by Israel, a nation that enjoys influential and bipartisan support in Washington.
"As was mentioned during the State Department briefing, we've had numerous conversations with Israeli officials before and after every round of talks," the spokesperson said. "We expect to have more."
But some in Israel felt that any U.S. return to the JCPOA would ultimately hurt their country's interests, along with the handful of Arab nations with which Israel has normalized ties over the past six months in deals overseen by Trump.
Among these critics was former Israeli ambassador to the U.N. Danny Danon, who was appointed to his post just a month after the nuclear deal's signing in June 2015 before departing five years later. He applauded the U.S. exit and now opposes its return.
"Israel's peace partners in the region, like Israel, believe that a nuclear Iran is a major regional threat," Danon told Newsweek. "Should the U.S. decide to reenter the JCPOA, especially a JCPOA with no amendments, the common threat of a fanatical Iranian regime will create far closer ties than ever before between Israel and its regional partners."
And while there was an argument that burgeoning Israeli bonds in the region may be further reinforced by a more powerful Iran, it might also force these ties back into the dark.
"It is also likely that as a result of a JCPOA revival, and therefore a simultaneous strengthening of the extremist Iranian regime, some countries that may have consented to the Abraham Accords may prefer to continue quiet cooperation with Israel rather than make a public declaration," Danon added.
In another camp is former Iranian policymaker, diplomat and nuclear negotiator Seyed Hossein Mousavian. Today, he agrees Israel has reason for concern.
"Israel has been sabotaging [the JCPOA negotiations] since Day One," Mousavian, who is currently a specialist at Princeton University's Program on Science and Global Security, told Newsweek, "because if the Iranian nuclear dilemma is resolved peacefully, Middle Eastern countries will focus on the Israeli nuclear program since Israel is the only country in the Middle East with tens of nuclear bombs."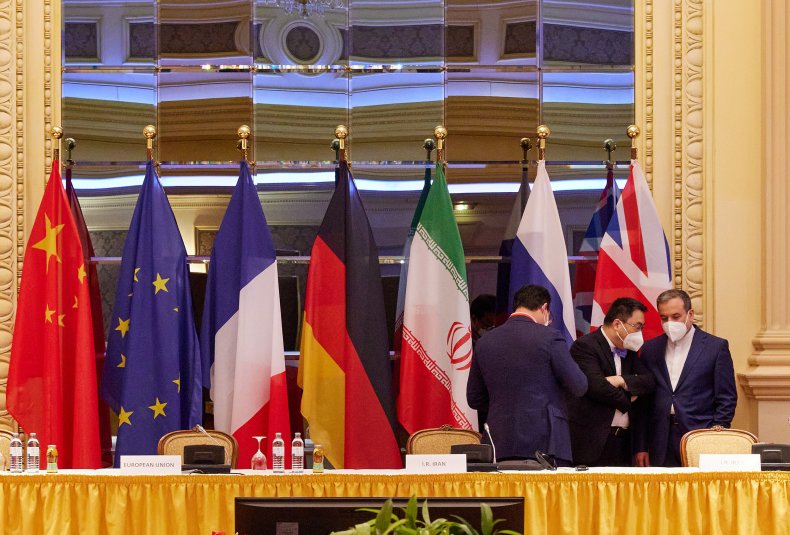 Israel has strategically neither confirmed nor denied its possession of nuclear weapons. Iran, for its part, has always rejected the idea that it sought to acquire a nuclear bomb.
Iran has, however, remained steadfast in developing non-nuclear capabilities that already constitute the largest and most advanced missile arsenal in the Middle East. The Biden administration has sought to rein this in as part of a "longer and stronger" deal.
Mousavian said Iran hasn't ruled out such an arrangement in the future, but, given the effects of Trump's "maximum pressure" approach, it wouldn't be easy.
"During nuclear talks in 2013-2015, Ayatollah [Ali] Khamenei publicly said if there is a deal and if the U.S. would comply correctly, Iran will consider talks on other disputed issues," he said. "But Trump killed this opportunity and it will take time to recover."
Iran's conventional arsenal, which Tehran argues is purely defensive in nature, along with the country's support for regional militias and movements concerns not only Israel, but a number of Arab countries as well. This common ground helped to pave the way for the Abraham Accords through which Israel managed to normalize its relations with the United Arab Emirates, Bahrain, Sudan and Morocco, defying a decades-long Arab boycott established as a result of regional support for the Palestinians in their territorial conflict with Israel since its 1948 establishment.
Only Egypt and Jordan had previously made lasting peace with Israel.
With the prospect of tensions between the U.S. and Iran subsiding, however, the mood toward Iran already appears to be changing among Arab countries across the Persian Gulf.
In past weeks alone, reports have emerged of secret talks between Saudi Arabia and Iran. The two countries severed ties in 2016, and while they have not explicitly confirmed their renewed contacts, both sides have publicly endorsed a need to improve their relationship in recent days, most notably in the form of an interview with Saudi Crown Prince Mohammed bin Salman, who said he sought a "good and distinguished relationship with Iran."
The rhetoric came in deep contrast to previous remarks made under the Trump administration, when the prince years ago likened Supreme Leader Khamenei to Nazi Germany Führer Adolf Hitler, and suggested dialogue with the Islamic Republic would prove fruitless.
The change in tone comes as Iranian Foreign Minister Mohammad Javad Zarif tours the region on a trip covering Qatar, Iraq, Oman and Kuwait.
And as Iran's top diplomat wrapped up his travels, he took note of simultaneous developments in Vienna, declaring Thursday that there have been "Indications of positive signs on horizon in both tracks."
The Biden administration has also dispatched a senior diplomat, special envoy for Yemen Tim Lenderking, who was in Saudi Arabia on Friday and was set to next travel to Oman. State Department spokesperson Ned Price said the trip was focused on advancing peace efforts in Yemen, a country in which Saudi Arabia and Iran have fallen on opposite sides of a six-year civil war.
He was careful to distance the trip from the Vienna process, but elaborated on those conversations as well, calling them "largely thoughtful, businesslike, constructive."
Price said "some progress has been made," as both Washington and Tehran had a better understanding of what each side would need to do for a mutual return to compliance. Such an outcome, he added, "remains a hypothetical; it remains an if, and big challenges remain."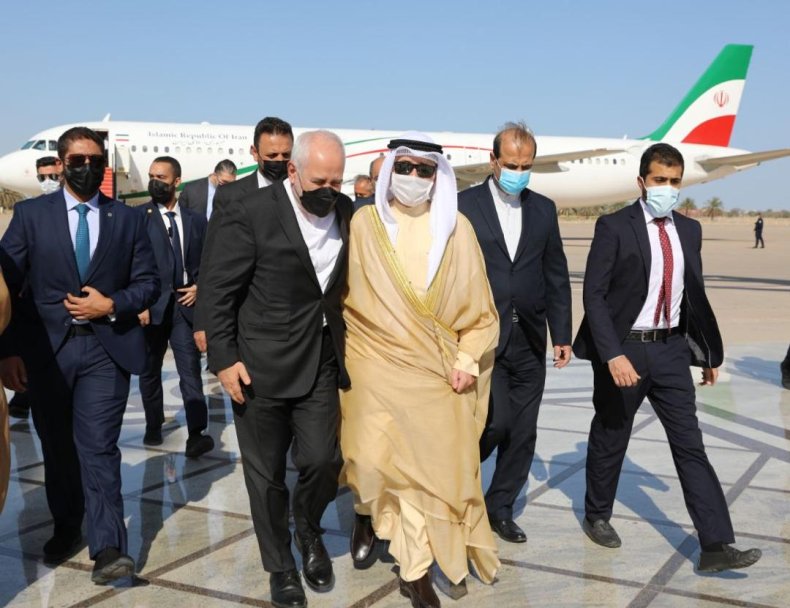 From Washington's perspective, the sticking point to an immediate lifting of economic restrictions and return to the JCPOA has been Tehran's decision to resume enriching uranium at far higher levels in retaliation to the non-compliance of the U.S. as well as European parties fearful of U.S. sanctions.
Iranian officials have said that they would return to full compliance with the initial limits set by the JCPOA once the U.S. moved first. The process in Vienna is aimed at resolving this impasse.
"If Iran were to resume its compliance with the nuclear deal, it would, of course, require Iran to significantly roll back its nuclear program and once again block every conceivable pathway to a nuclear weapon," Price said. "That is precisely what the JCPOA did."
The deal also ended a longstanding policy of Iranian containment that Israel still seeks to promote.
Trita Parsi, who serves as executive vice president of the Quincy Institute for Responsible Statecraft and founded the National Iranian American Council, felt that policy has so far been a failure and, in fact, helped fuel Iran's nuclear program ambitions. He argued the end of containment against Iran, along with Biden's signals of less military involvement in the region, are bound to cultivate better relationships between Iran and its neighbors.
"As long as the United States was playing that role of containing Iran, combined with—and I think this is really important—its commitment to the region militarily, then the incentives for countries such as Saudi Arabia were not to pursue diplomacy," Parsi said.
"When the American option no longer exists," he added, "that's when the incentives for engaging in diplomacy dramatically change."
Initially, as U.S.-Iran hostility mounted in recent years, these diplomatic efforts were geared toward Israel, which Parsi describes as serving as sort of a "junior alternative." But the formula changes if Washington and Tehran's dynamic improves, and this spells a potential strategic headache for Israel, a country that has fought several wars against Arab states since its establishment and remains defensive about its position in the region to this day.
"Israel has always had a tremendous amount of anxiety about the relations it forges in the region," Parsi said, "fearing that ultimately those relations are tactical from the perspective of the other party."
This anxiety surfaced last year shortly after the first of the Abraham Accords was reached with the UAE, whose desired purchase of advanced U.S. F-35 warplanes Netanyahu then swiftly opposed. He ultimately relented, but only after consultations aimed at Washington upgrading Israeli military capabilities.
There's been no sign so far of enmity from the likes of Saudi Arabia, the UAE or other key Arab states toward Israel, nor has the trajectory of improving ties yet changed. At the same time, these countries appeared no more willing to become frontline parties to the shadowy conflict already playing out between Iran and Israel at land, air and sea across the region.
The Israelis, Parsi said, "should be anxious, in my view, because the foundation for the Abraham Accords is extremely fragile, and I don't think that can actually change." The JCPOA, on the other hand, "is good because the opposite is based on a fantasy," he argued.
"It's based on the fantasy that you actually can have a stable and good situation in the region, while you are containing and isolating a very, very powerful country in that region and completely excluding it," Parsi said. "That doesn't work because that country is powerful enough to be a major spoiler and create problems everywhere to raise the cost of the policy of isolating it."