White House Working to Broker Deescalation of Israeli-Palestinian Tensions
President Joe Biden's administration is working to broker a deal to stop the latest eruption of violence between Israelis and Palestinian militants in the Middle East.
"[Biden] has directed his team to engage intensively with senior Israeli and Palestinian officials, as well as leaders throughout the Middle East," White House press secretary Jen Psaki told reporters Tuesday. "His team is communicating a clear and consistent message in support of deescalation and that is our primary focus."
Tensions reached new heights this week after Hamas launched a rocket attack aimed at Jerusalem—a disputed city that has normally been off limits for attacks. Israel responded with air strikes that have killed Palestinian civilians, including children.
Previously, hundreds of Palestinians were injured in clashes with Israeli police around Jerusalem's Al-Aqsa Mosque complex, one of Islam's holiest sites, as protestors took to the streets to oppose the planned eviction of Palestinian families from East Jerusalem.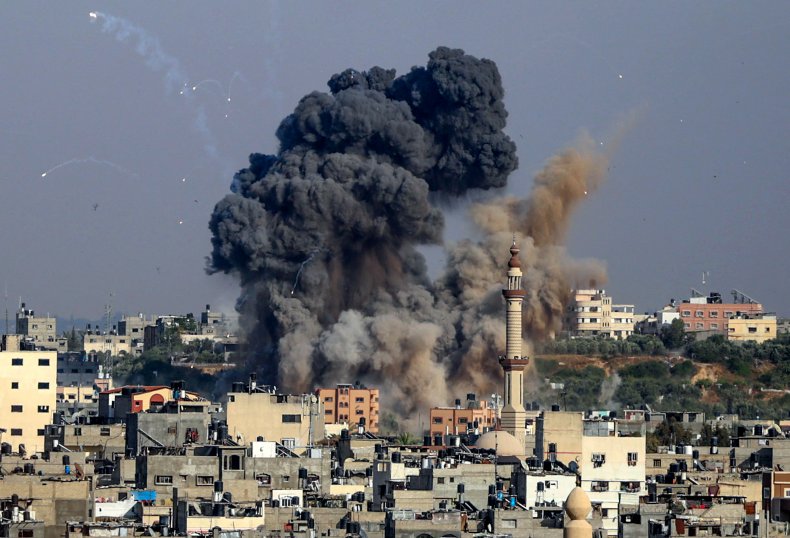 The situation continued to escalate Tuesday, with attacks on the Gaza Strip ultimately extending to Tel Aviv.
Psaki said Biden's national security team is keeping him regularly briefed on the latest developments and reaffirmed a commitment to Israel's self defense, despite criticism from some progressive Democrats directed at the Biden administration.
"The president's support for Israel's security—for its legitimate right to defend itself and its people—is fundamental and will never waiver," Psaki said.
Prime Minister Benjamin Netanyahu on Tuesday issued a statement cautioning that Israel forces "still have a way to go"—hinting at a possibly prolonged conflict—and said Israel would "further increase the force and pace of the attacks."
"I expect all public leaders, especially leaders of the Arab public, to stand up and condemn these disturbances and do everything to restore the quiet," he said.
Psaki condemned "extremism that has inflicted violence on both communities."
"Jerusalem, a city of such importance to people of faith around the world, must be a place of coexistence," Psaki said. "It is up to the officials, residents and leaders to restore [the] city to a place of calm."
Biden supports a two-state solution to the decades-running Israeli-Palestinian conflict that would allow the creation of an independent state of Palestine.
"That is the only way to ensure the just and lasting peace that two peoples have struggled to achieve," Psaki said. "We believe Palestinians and Israelis deserve equal measures of freedom, security, dignity and prosperity."
Psaki said U.S. officials have spoken "candidly" with Israeli officials about the proposed evictions of Palestinian families that has become central to the latest eruption of violence.
"The demolitions of these homes work against our common interests in achieving a solution to the conflict," she said. "In the coming days as Muslims gather with family and friends to celebrate Eid, and Jews join together to mark the beginning of Shabbat, let us affirm that all people of faith, deserve to enjoy these important celebrations, without fear of violence and work for peace and calm for all."