Andrew Yang Criticizes Democratic Party, Says People Think They Care 'More About Policing Cultural Issues' Than Improving Lives
Former Democratic presidential candidate Andrew Yang on Thursday criticized the Democratic Party and suggested that Americans think they are more focused on "policing cultural issues" than improving lives.
While appearing on CNN, Yang was asked by anchor Don Lemon what he says to arguments that the Democratic Party does not do a good job of speaking to America's working class.
Yang noted that while on the presidential campaign trail, "countless times" he experienced members of the working class, such as a truck driver or retail worker, "flinch like I'd said something really negative or I just like had like turned another color or something like that," after telling them he was running as a Democrat.
"And there's something deeply wrong when working class Americans have that response to a major party that theoretically is supposed to be fighting for them," Yang said. "So you have to ask yourself what has the Democratic Party been standing for in their minds and in their minds the Democratic Party unfortunately has taken on this role of the coastal urban elites who are more concerned about policing various cultural issues than improving their way of life that has been declining for years."
Yang's comments about the Democratic Party come as Democratic presidential candidate Joe Biden currently leads President Donald Trump in both electoral votes and the popular vote in the 2020 Election.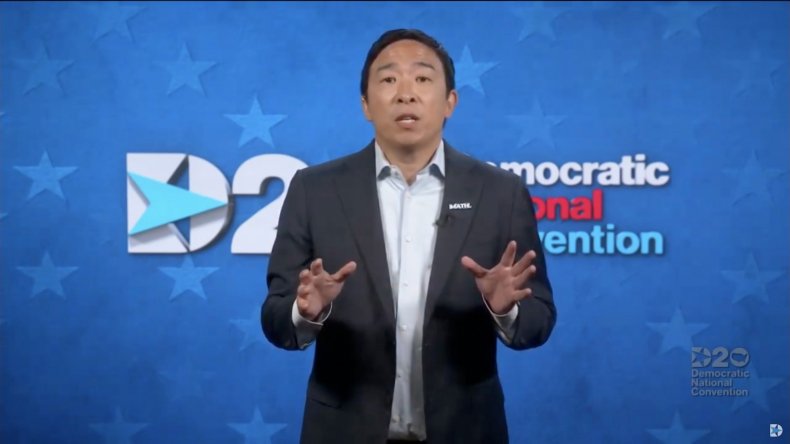 Despite Biden's lead over Trump, the Democratic Party was unable to secure the Senate majority, as several incumbent GOP senators saw victories, in their respective races.
Additionally, the GOP won several new seats in the House, with victories over incumbent Democrats in South Florida, New Mexico, South Carolina, Iowa and Minnesota.
Yang is not the only former Democratic presidential candidate to criticize the party for moving away from America's working class, as independent Vermont Senator Bernie Sanders made similar comments just last week.
While appearing on Late Night With Seth Meyers, Sanders was asked what Biden should do to "bring the Democratic Party back to serving the working people in this country?" If he wins the presidency.
"I think it is fair to say that in many ways the Democratic Party has become a party of the coastal elites, folks who have a lot of money, upper-middle-class people who are good people, who believe in social justice in many respects," Sanders said in response. "But I think for many, many years the Democratic Party has not paid the kind of attention to working-class needs that they should've."
Newsweek reached out to Yang for comment but did not receive a response in time for publication.