Democrat Contender Andrew Yang Crowd Surfs at 2020 Election Event: 'Now This is What I Call a Blue Wave'
Democrat contender for 2020, Andrew Yang has brandished his credibility among the youth vote by sharing a video of him crowd-surfing in a room of supporters.
The 44-year-old entrepreneur tweeted the video of him at the AAPI Democratic Presidential Forum in Costa Mesa, California, where he spoke on Sunday, along with his fellow 2020 candidates Rep. Tulsi Gabbard (D-Hawaii) and Tom Steyer.
With the footage of him being carried along with the crowd, he wrote the message: "Haven't crowd-surfed in a while."
He added the hashtag #YangGang, which refers to his growing group of supporters that has pushed him ahead in the polls of more seasoned Democrats such as Cory Booker and Amy Klobuchar.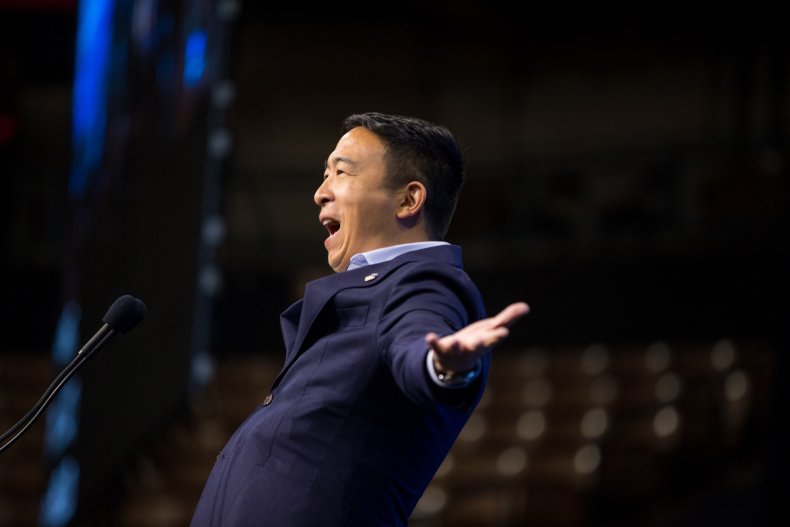 In a Real Clear Politics average of polls, he now enjoys 2.7 percent support and he has also reached the 130,000 unique donor threshold needed to qualify for the Democrat primary debates which take place this month and next.
Many reacted positively on Twitter to Yang's antics which were retweeted over 4,000 times, with one user writing: "He trusts us with his life and we shall trust him with ours!" Another, with the handle Buffalo for Yang, tweeted: "Now this is what I call a Blue Wave."
During Sunday's forum, which was aimed at encouraging voters in the Asian American and Pacific Islander communities, Yang talked about affirmative action, climate change, gender inequality, and math according to CNN.
"Math" is Yang's slogan, and refers to his comment at the Democrat primary in July, "The opposite of Donald Trump is an Asian man who likes math."
His campaign has seized upon the MATH acronym to make it stand for "Make America Think Harder," in a nod to Trump's "Make America Great Again" slogan. Yang's supporters wear blue hats with the word "MATH" across the front, a homage to Trump's MAGA hats.
Yang, is a tech entrepreneur, who was born in Schenectady, New York, the son of Taiwanese immigrants. A key plank of his agenda is the idea of a universal basic income (UBI) which would give all adults $1,000 a month in what is dubbed the "Freedom Dividend."
He says it is necessary to future-proof an economy where one out of three Americans may lose their jobs to new technologies.
The 44-year-old has positioned himself as the youthful alternative for the Democrats, and once said that voting for the frontrunner favorite Joe Biden, would be a "backwards" move towards the old administration of Barack Obama.
"An outsider making it to the top debate stage is a sign of how fed up Americans are with politics as usual," he tweeted in August.
Yang has also criticized what he believes is a lack of mainstream media coverage of his campaign. Last week, he was the victim of a racist slur by far-right radio host Jesse Lee Peterson, who said "he should go back to China or wherever he came from."