Andrew Yang Trolls First Democratic 2020 Debate, Admits His Spanish Is 'Terrible'
2020 presidential candidate Andrew Yang tweeted out some commentary and light trolling remarks throughout the first Democratic debate on Wednesday evening.
Yang, an entrepreneur from New York who is best known for his proposal to provide all Americans with a universal basic income, will be on stage sharing his vision for America during the second round of the Democratic debates on Thursday evening. During the first round, however, he weighed in with humorous commentary as well as an "inside scoop" for his Twitter followers.
"My Spanish is terrible," Yang quipped, in an apparent reference to former Representative Beto O'Rourke of Texas and Senator Cory Booker of New Jersey speaking a bit of Spanish as they responded to questions early on in the debate. Julián Castro, the former housing secretary, also spoke Spanish later during the debate, which was being broadcast on a Spanish-language outlet, Telemundo, for the first time.
Later, Yang apologized to his former Spanish teacher.
"Sorry Ms. Trovato my 9th grade Spanish teacher - not your fault," he wrote.
When technical difficulties temporarily disrupted the debate, and the moderators cut to a commercial break, Yang sarcastically pointed to a sinister culprit.
"Oh no - technical difficulties. It's the Russians," the candidate suggested.
Yang also foreshadowed how he planned to act during the second debate when he would be on stage answering questions along with nine others.
"The trickiest thing will be keeping my facial expression neutral while the person next to me is talking and I'm on camera," he wrote. The remark may have been a reference to viral posts mocking Booker's "side eye" at O'Rourke early on in the debate.
The presidential candidate also had some behind the scenes information to share with his followers.
"Inside scoop - you get an option as a candidate to have a little stage to stand on for the #DemDebate to make you look taller," he wrote.
Currently, Yang is polling at 1.3 percent, according to an average of national polls by Real Clear Politics. Although that may be far behind the commanding 32 percent enjoyed by frontrunner former Vice President Joe Biden, who will be on stage with Yang tomorrow night, the entrepreneur is currently ranked eighth among the field of more than 20 candidates, according to the polling average.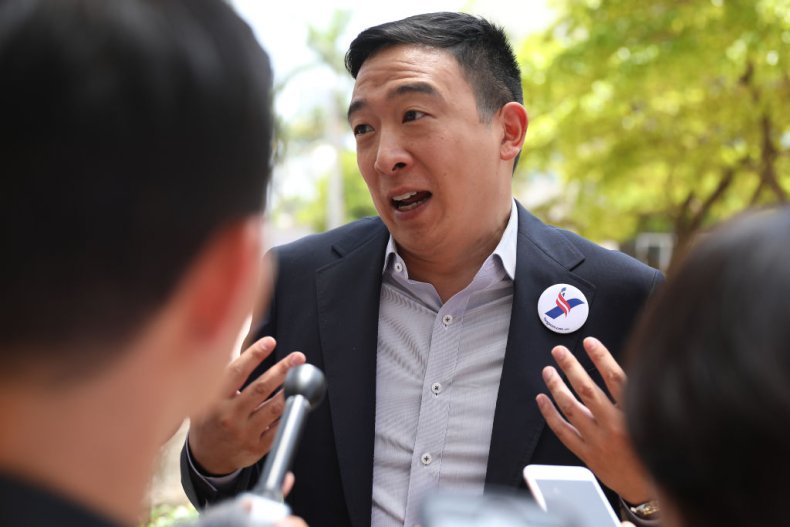 Prior to the debate, the candidate tweeted out his donor count, promising that he planned to stay in the race for the long haul.
"We are at 128,000 donors and counting - just about the 130,000 donors we need to make the Fall debates! THANK YOU for putting us in this position #YangGang," he wrote. "Translation: we are going to be in this race the whole freaking time," he added in a follow up post.
Yang has also racked up more donors than many candidates who were initially seen as more prominent contenders. For instance, Senator Kirsten Gillibrand of New York announced earlier this month that she was still short of the 65,000 individual donors required to qualify for the first round of debates. Although it's unclear how many she has now, she qualified for the debates and will be on stage with Yang and eight other candidates Thursday evening.
Andrew Yang Trolls First Democratic 2020 Debate, Admits His Spanish Is 'Terrible' | U.S.