Andrew Yang Warns Coronavirus Fallout Could 'Be Worse' Than 2008 Financial Crisis, as Support Grows for Universal Basic Income
Former Democratic presidential candidate Andrew Yang warned on Sunday that economic fallout from coronavirus (COVID-19) could "be worse" than the financial crisis of 2008, as many have begun urging for at least a temporary version of his signature proposal of universal basic income.
The stock market experienced its steepest one-day slump since 1987 last week amid growing economic uncertainty. As fears surrounding the coronavirus outbreak have spread, air lines have canceled flights, people have been urged to avoid cruises or travel in general, many large events have been canceled and people have been cautioned against going to bars and restaurants, as well as any unnecessary public outings.
"This threatens to be worse than the financial collapse of 2008. The meltdown didn't cause people to stay home, cancel mass gatherings and travel and shut down schools for weeks/months," Yang tweeted on Sunday. "There needs to be a stimulus at an economy-wide scale to avoid the real chance of a depression."
In a follow-up tweet, the entrepreneur added: "Treating this as a pandemic is one thing. Treating this as an imminent economic depression and societal catastrophe spurred by a pandemic is another. You should flood the zone with buying power and a sense of personal financial security as fast as possible."
During his presidential campaign, Yang pushed the idea that the American government should start paying every citizen $1,000 a month as a universal basic income. He argued this would help stimulate the economy, and help unemployed individuals displaced by automation in the workplace. With growing concerns about the economic fallout from the coronavirus, the idea has received new salience and support.
Democratic Representative Tulsi Gabbard of Hawaii, who is running for president, put forward legislation last week to implement Yang's plan as long as the country remains in a state of emergency due to the coronavirus outbreak.
"I've introduced a resolution that prioritizes people so our economic relief is placed directly into the hands of every American, rather than getting stuck in bureaucracy or ending up in the pockets of big corporations," Gabbard said in a statement about the new legislation.
Progressive Democratic Representative Alexandria Ocasio-Cortez also called for universal basic income and other policies that support ordinary Americans who will face economic problems as a result of the virus.
"This is not the time for half measures. We need to take dramatic action now to stave off the worst public health & economic affects [sic]," the congresswoman tweeted on Thursday. "That includes making moves on paid leave, debt relief, waiving work req's, guaranteeing healthcare, UBI, detention relief (pretrial, elderly, imm[igrants])."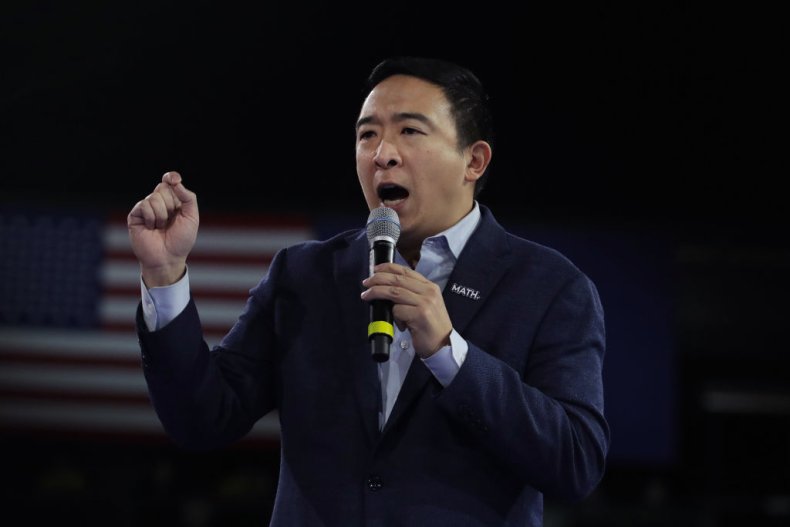 Fox News correspondent-at-large Geraldo Rivera also voiced his support for the proposal.
"[President Trump] wants this payroll tax holiday which is a great idea, I think. But it only helps people that make money, money that the payroll tax would be deducted from," Rivera told the Fox & Friends morning show.
"So why not combine [the payroll tax holiday] with the Yang-Tulsi Gabbard plan to give every adult American $1,000 in cash right now," Rivera said.
"I think if you give them the $1,000 in cash right now, plus the payroll tax holiday for however long this emergency lasts, then I think people will be celebrating from the unemployed or working folks to the middle class to the upper-middle to the high-income earners," he added.