Andrew Yang, Who's Falling in the NYC Mayoral Polls, Called 'Naive' By Opponent
New York City mayoral candidate Scott Stringer called political opponent Andrew Yang "naive" during a Thursday evening TV debate of Democratic primary candidates. Stringer's comment followed a poll finding that Yang had slipped into third place among the candidates.
Stringer criticized Yang at the end of a segment in which debate moderators asked how the candidates would maintain a good working relationship with Democratic New York Governor Andrew Cuomo. The moderators called Cuomo a "notorious micromanager" and noted the "legendary" "bad blood" between him and current New York City Mayor Bill de Blasio.
Promising to "reset" the relationship between the mayor's and governor's offices, Stringer said, "Mayor de Blasio played checkers with Andrew Cuomo when he should have been playing chess." Stringer pledged to work directly with state legislators to help the city get its necessary support. He added, "This is where training wheels end up derailing the city."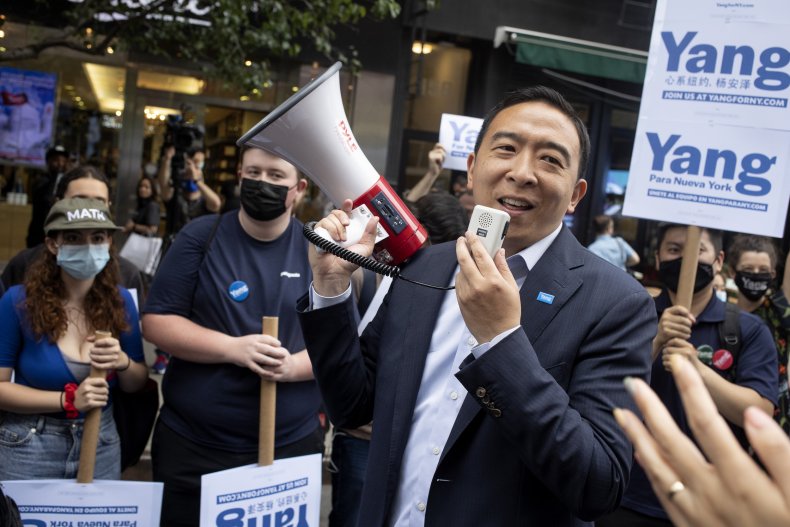 Yang said he wanted a "collaborative relationship" with Cuomo. He said that he has had "a number of calls" with Cuomo, and added, "I can work with anyone who's going to help us deliver for the people of New York. ... We have seen what happens in the city when this relationship is completely broken."
After all the candidates had answered, Stringer then said, "I just want to, I guess, say to Andrew: Your approach is naive."
"Albany will go after you. Albany will collapse you if you don't understand that the forces around the state do not want us to get the funding that we deserve," Stringer added, referring to the state capital. "It is not enough to say, we're all going to be friends—kumbaya. We need a mayor with experience."
Kumbaya is a pidgin English word meaning "Come by here." It's a word of friendship sometimes referenced in Christian and campfire sing-a-longs.
Yang rebutted by saying that voters wanted leadership that wouldn't try to "score political points." Yang called Stringer's approach "de Blasio 2.0."
A poll released at the end of May found that Yang had slipped into third place. While 16 percent of respondents supported him, 21 percent supported former sanitation commissioner Kathryn Garcia and 20 percent supported Brooklyn borough president Eric Adams. The poll was conducted by PIX11, NewsNation and Emerson College.
However, Yang was ranked second in a more recent poll from the cable TV news channel NY1 and the global polling firm Ipsos. The poll had Yang at second place with 16 percent of support. He was sandwiched between Adams' 22 percent and Garcia's 15 percent. The poll had a margin of error of plus or minus 4.5 percent.
While the official date of the city's primary election is June 22, early voting begins this weekend. City residents will use "ranked-choice voting" to choose up to five preferred candidates. The races include ones for mayor, comptroller, public advocate, city council, borough presidents and district attorneys. However, ranked-choice voting won't be available for the Manhattan district attorney race.
Due to the ongoing CVID-19 pandemic, city residents can still request an absentee ballot for voting until June 15. The early voting period ends on June 20.
Newsweek contacted Yang's office for comment.