Andy Biggs Blasts 'Illegitimate' 1/6 Committee After Being Subpoenaed
Representative Andy Biggs of Arizona refused to say whether he would comply with the "illegitimate" January 6 House committee after he and four Republican colleagues were issued subpoenas.
The committee issued subpoenas demanding testimony from Biggs, House Minority Leader Kevin McCarthy and Representatives Mo Brooks, Scott Perry and Jim Jordan on Thursday. All five GOP congressmen had previously refused to voluntarily cooperate with the committee's request for interviews related to their activities leading up to the siege on the U.S. Capitol on January 6, 2021. Biggs denounced the committee during a Fox News interview shortly after the subpoenas were announced.
"I think the committee is illegitimate, I thought it was that way when it started," Biggs said during America Reports on Thursday. "I think this is an illegitimate committee and they don't really have the authority to issue subpoenas, in my opinion."
"So, we don't want to dignify what they're doing," he added. "This has been a witch hunt from Day One; this is an attempt going after political enemies instead of trying to get at the truth."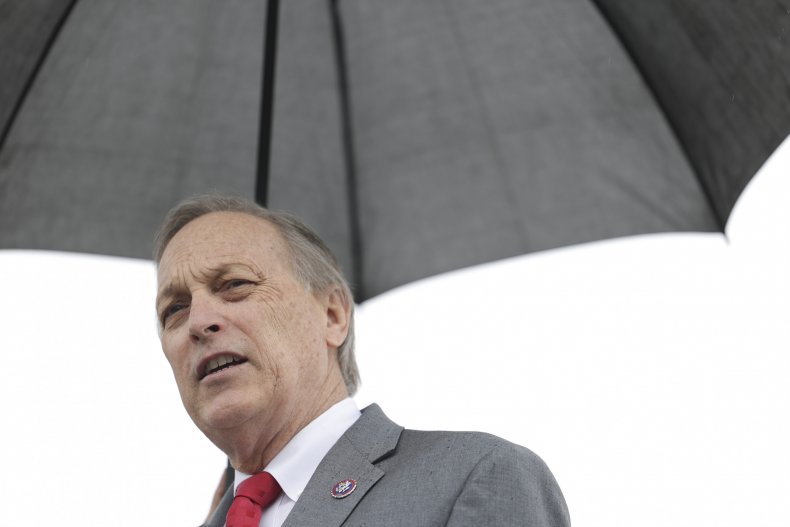 Biggs maintained that the subpoenas had been "leaked to the press" and that he had not been able to review them before the interview. Host John Roberts said that he was "not sure they were so much leaked" but instead "just released to the press."
When Roberts asked whether Biggs' argument that the committee was "illegitimate" meant that he would not comply with its subpoena, the Arizona Republican said that he had not "seen the subpoena, so I really can't tell you whether I'm going to comply or not."
"If you don't comply, you could potentially be in line for a contempt of Congress citation, or referral for criminal prosecution," Roberts said.
"Yeah, perhaps so," Biggs responded. "But like I say, I haven't even had the chance to see the subpoena."
When asked for comment later in the day on whether Biggs had reviewed the subpoena or decided how to respond to it, Matthew Tragesser, the congressman's communications director, pointed Newsweek to a series of tweets from Biggs.
"Today's actions by the illegitimate January 6 Committee are pure political theater," Biggs tweeted on Thursday afternoon. "The subpoenas and news of their issuance were leaked to the media before the impacted Members."
"The January 6 Committee's ongoing, baseless witch hunt is nothing more than an effort to distract the American people from the Democrats' and Biden's disastrous leadership," he continued.
A January 6 committee spokesperson declined comment on Biggs' remarks about the subpoena when contacted by Newsweek.
Committee Chairman Bennie Thompson, a Democrat from Mississippi, said in a press release that "the individuals receiving subpoenas today have refused" to comply voluntarily and the committee was "forced to take this step to help ensure the committee uncovers facts concerning January 6th."
The committee accused Biggs of having "participated in meetings to plan various aspects of January 6th," including bringing protesters to a rally that occurred just before supporters of former President Donald Trump stormed the Capitol while Congress was meeting to certify President Joe Biden's 2020 presidential election win.
"Mr. Biggs was involved in efforts to persuade state officials that the 2020 was stolen," the committee press release stated. "Additionally, former White House personnel identified Mr. Biggs as potentially being involved in an effort to seek a presidential pardon for activities connected with the former President's efforts to overturn the 2020 presidential election."
Arguments that the committee's subpoenas are illegitimate have so far not held up in court. Earlier this month, a Trump-appointed judge rejected a lawsuit from the Republican National Committee over a subpoena, writing that the subpoena had a "valid legislative purpose."
The committee has held multiple former Trump associates in contempt of Congress for refusing to comply with its subpoenas, including former Trump adviser Steve Bannon, who is facing criminal charges for refusing to comply.