Ivanka Trump Makes First Official Foreign Trip as Presidential Adviser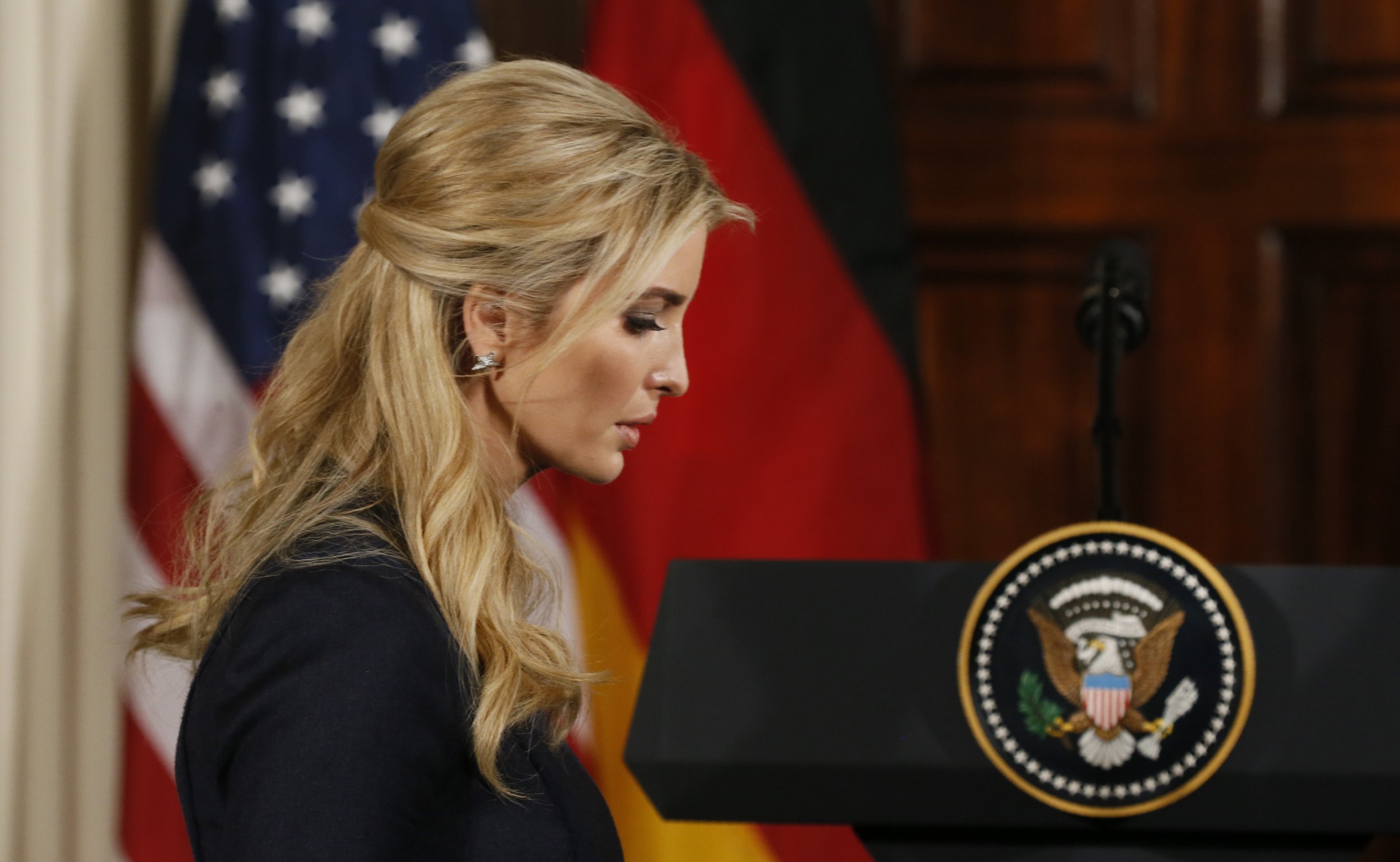 First Daughter Ivanka Trump will address the W20 Women's Summit in Germany in her first official foreign trip as an adviser to the President.
Ivanka is expected to appear on a power-studded panel titled "Inspiring women: Scaling Up Women's Entrepreneurship." The heavyweight event attendees include German Chancellor Angela Merkel, Queen Maxima of the Netherlands, IMF managing director Christine Lagarde, Canadian minister of Foreign Affairs Chrystia Freeland and Bank of America vice-chairman Anne Finucane. The panel will be livestreamed on the summit's website.
According to the White House, Trump's first official foreign trip will also take in a visit to the U.S. embassy, the Siemens Academy, a Gala dinner at Deutsche Bank, and the Holocaust Memorial to the murdered Jews of Europe.
The trip was announced after the German Chancellor met with President Donald Trump in March, in a visit marred by Trump's refusal to shake hands with Merkel in front of media cameras and Merkel's puzzlement at Trump's remarks that they have something in common as they were both—allegedly—spied upon by former President Barack Obama. The first daughter had a first chance to meet Merkel during that visit. It was not the first time she sat at the table with a world leader since her father took office. She previously sat in on meetings regarding female entrepreneurship when Canadian Prime Minister Justin Trudeau came to Washington D.C..
Read more: Ivanka Trump's accomplishments in the White House
After months of appearing by her father's side at official events, and rumours of having influenced policy decisions in no official capacity, Ivanka received the title of adviser to the President on March 29 - a position she is not being paid for.
Her commitment to women who work—a topic about which she penned a book whose proceeds will reportedly go to charities supporting empowerment of young boys, women and girls—is widely commended among Republican women and her social media followers.
But others have been critical of her involvement in an administration seeking to defund health services for women in the U.S. and around the world. Actor Scarlett Johansson, who portrayed Trump in a Saturday Night Live sketch mocking her for being "complicit" in her father's policies, expressed disappointment at the first daughter.
Speaking at the Women in the World Summit in New York on April 6, Johannson referred to an "uninspiring" interview Trump gave about making change behind closed doors. "I thought, 'Well, that's empowering.' How old-fashioned—this idea that behind every great man is a great woman. How about being in front of that person or next to that person?" Johannson asked.
"I think that powerful women often are concerned that they are going to be seen in this unforgiving light," she continued. "You know, screw that. It's just so old-fashioned, and it's so uninspired and actually, I think really cowardly. I was just so uninspired by the interview she gave yesterday."