Cologne Sex Attacks Fuel Refugee Tensions in Germany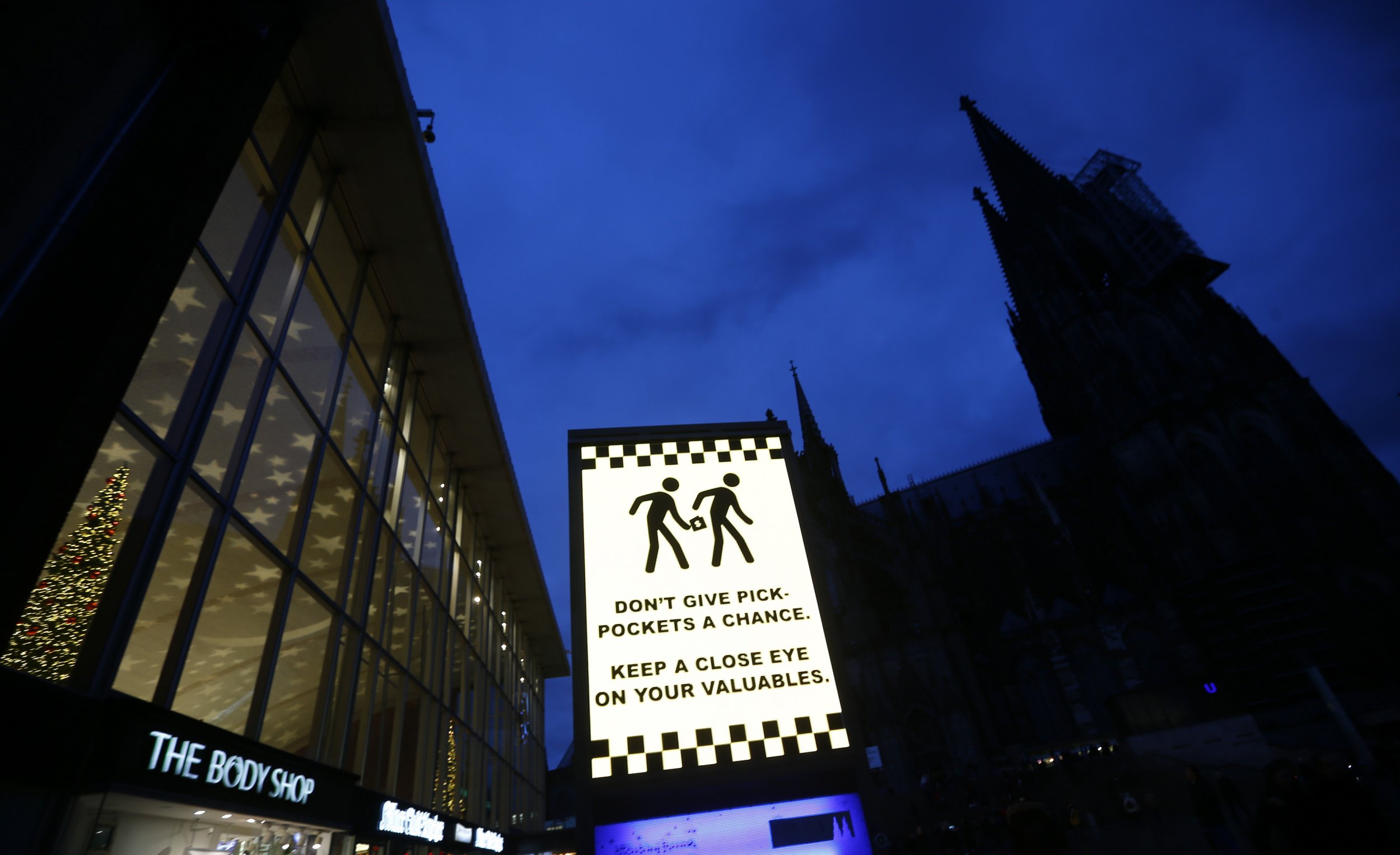 The new year in Germany has brought rising tensions between refugees and native Germans, despite Chancellor Angela Merkel's call for solidarity with those fleeing persecution.
Attacks on women on December 31, 2015, perpetrated by men described as being of Arab or North African descent have been highlighted by anti-immigrant groups and right-wing politicians. During the attacks in the German city of Cologne groups of drunk and aggressive men reportedly groped and stole from some of the revelers. Women made at least 90 criminal complaints to police about harassment. Two women in Cologne have told police they were raped and many were groped, including a volunteer policewoman, the BBC reported. About 1,000 men were reportedly involved.
"I've been in scary and even life-threatening situations and I've never experienced anything like that," one woman told the BBC.
In a New Year's address before the alleged incidents, Merkel warned Germans not to turn against newcomers, saying: "It is important not to follow those who, with coldness or even hate in their hearts, want to claim Germanness solely for themselves and exclude others," Bloomberg reported.
But Stephan Mayer, interior affairs spokesman for Merkel's ally party the Christian Social Union (CSU), said on Tuesday that it would be "fatal" to remain silent when such crimes came from those people "to whom we have granted a generous welcome in our country," the Financial Times reported. Anti-Islam protest movement Pegida has arranged a protest in Cologne this Saturday, to take place outside the city's Hauptbahnhof station, where many of the attacks allegedly happened.
The group is vague about its motive for the demonstration, but comments on its Facebook page under the event expressed discontent about immigrants and refugees. "If I am a guest in another country, I have to obey its laws, otherwise I get in trouble," wrote one.
Authorities are urging people not to assume the attackers are part of the influx of more than 1 million refugees who have arrived in Germany over the course of last year. The mayor of Cologne, Henriette Reker, told reporters: "It's completely improper...to link a group that appeared to come from North Africa with the refugees," the BBC reported. Interior Minister Thomas de Maiziere supported Reker's statement, saying there should not be suspicions towards refugees "at this stage of the investigation."
The furor comes days after a shooting at a refugee center near Frankfurt. On Monday, a man was injured when an unknown assailant allegedly fired shots into the shelter in the town of Dreieich, International Business Times reported. Some 30 people were inside at the time, according to Euronews. Police said today that they are still looking for any information about the incident.
At the end of last year, Pegida leader Lutz Bachmann seized on police warnings of a potential New Year's Eve bomb in Munich. Urging those who welcomed refugees to head straight for the site of the supposed threat, he tweeted: "All welcome-clappers should arrive immediately at Munich's main train station." In the event, no attack took place, but police are hunting for those behind the plot, according to the Guardian.
Cologne's Mayor Reker has promised heightened security ahead of the city's carnival in February, which draws hundreds of thousands of revelers to the city. Three suspects have now been identified, but German Interior Minister Thomas de Maiziere has strongly criticized police handling of the investigation, according to the BBC, saying that "The police shouldn't work like this."
This year, the refugee debate promises to dominate German political discourse, with Merkel already forced to reject a call for a cap on the number of incoming asylum seekers from the CSU. Sweden and Denmark have introduced border controls for refugees, and the question of whether Germany can sustain its liberal approach looms large.