Will Angela Merkel Fall? Trump's German Sparring Partner Is Struggling to Form a Government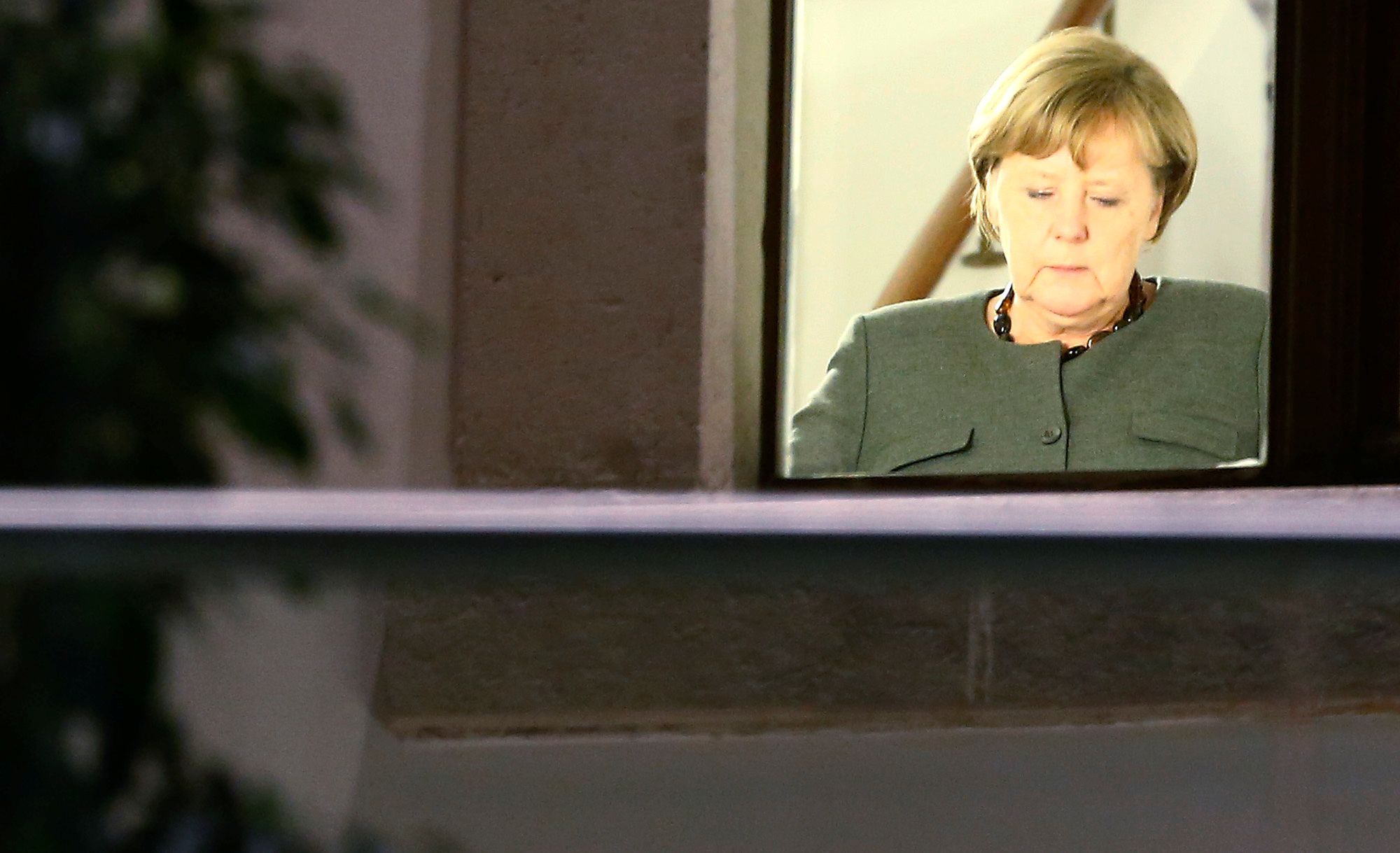 Angela Merkel inspires strong feelings depending on your political persuasion. She has repeatedly clashed with Donald Trump, but many other western leaders of a more centrist bent see her as a bastion of stability and internationalist values.
Whatever your view of her, the conventional wisdom has been that this seemingly unsinkable leader—who has helmed Europe's most powerful country since 2005—is here to stay.
On Sunday night, however, a small centrist party threw German politics into disarray.
So what happened?
After the German election back in September, no party won a majority of seats in parliament (that's normal in the country).
To stay in power, Merkel had to try and figure out a deal with other parties that will let her center-right Christian Democratic Union (CDU) stay in government.
She has ruled out working with the far-right Alternative for Germany (AfD), and the center-left Social Democrats (SDP) said they didn't want to govern alongside her.
That means her best shot at a government is to join forces with the environmentalist Green Party, and the centrist Free Democrats (FDP).
Merkel's party is also in a long-term alliance with the more conservative Christian Social Union (CSU), which is part of the talks.
On Sunday night around midnight, the FDP's leader Christian Lindner said he was pulling out of the talks. He claimed not enough was being done to accommodate his party's wishes and concerns. "[It] is better not to rule than to rule badly," he said, "Goodbye!"
German broadcaster Deutsche Welle said that while the three parties had made much progress toward a coalition deal on many policy areas, immigration and asylum remained one of several sources of discord.
The Greens are more liberal on this issue—a hot topic in Germany where more than a million people have sought asylum since the start of 2015—than their negotiating partners.
For example, the environmentalist party reportedly wants to reintroduce a policy of allowing family members to join asylum seekers in Germany, while the FDP will only agree to this under strict limitations, and the CSU looks unlikely to agree to it at all.
What next?
Unlike in the United States, the German president, Frank-Walter Steinmeier, mostly has a ceremonial role. But in a constitutional crisis like this, the office comes into play. Merkel's fate may rest in his hands.
Under Article 63 of the German constitution, Steinmeier can now propose Merkel as chancellor to the German parliament. If she doesn't secure a majority of lawmakers, then the parliament has 14 days to decide on a new chancellor.
If Merkel runs again within those 14 days and wins a majority, she's back in office. But if not, the parliament votes again. When it does, Merkel would likely win the most votes. But without a majority, it's up to the president to decide what to do next.
He can still appoint Merkel chancellor, to try and govern without majority support, perhaps via less formal deals with other parties, or he can dissolve the parliament and call another general election.
Whatever happens, the crisis is unprecedented in modern Germany, and leaves one of Europe's strongest leaders looking less stable than ever before.