Angelina Jolie and Brad Pitt Locked in Bitter Battle Over $164M French Estate
Angelina Jolie and Brad Pitt's bitter divorce has a fresh battleground, over their $164 million French estate and winery, Chateau Miraval.
In court documents filed in Luxembourg and obtained by Entertainment Tonight, Pitt has accused Jolie of cutting him out of a lucrative deal on the sprawling property in Correns, which they co-owned during their relationship.
According to the filing, Pitt has claimed that Jolie attempted to sell off her 50 percent stake in the property without giving him the first option to buy her out.
Pitt's company Mondo Bongo is subsequently suing Jolie's Nouvel in a bid to annul the transfer of Quimicum shares from Mondo Bongo to Nouvel.
The filing states that Quimicum is the company that currently owns and controls the 1,000-acre Chateau Miraval, where the former couple secretly wed in August 2014.
Pitt and Jolie bought shares in Quimicum back in 2008, with Mondo Bongo having a majority stake in a 60-40 split of ownership.
Oscar-winner Pitt eventually authorized for Mondo Bongo to transfer some of its shares to Jolie's Nouvel, which balanced their stakes in Quimicum at 50-50.
The documents accuse Jolie of "systemic obstruction," stating: "It is worth mentioning that, for the last four years, Nouvel [Jolie's company] did not act in the best interest of Quimicum by systematically delaying the approval of the annual accounts and the renewal of the manager.
"We understand that behind this systematic obstruction, the real purpose of Nouvel and its shareholder [Jolie] is to sell its stake in Chateau Miraval SA in a way that would circumvent Mondo Bongo's right of first refusal (as provided in Quimicum's articles of approval), taking, as a result, a capital gain raised thanks to Mondo Bongo's investment and to which Nouvel did not contribute."
Pitt's company is now seeking to annul the transfer of Quimicum shares and revert the ownership balance of the company back to 60-40.
Newsweek has contacted representatives of Jolie and Pitt for comment.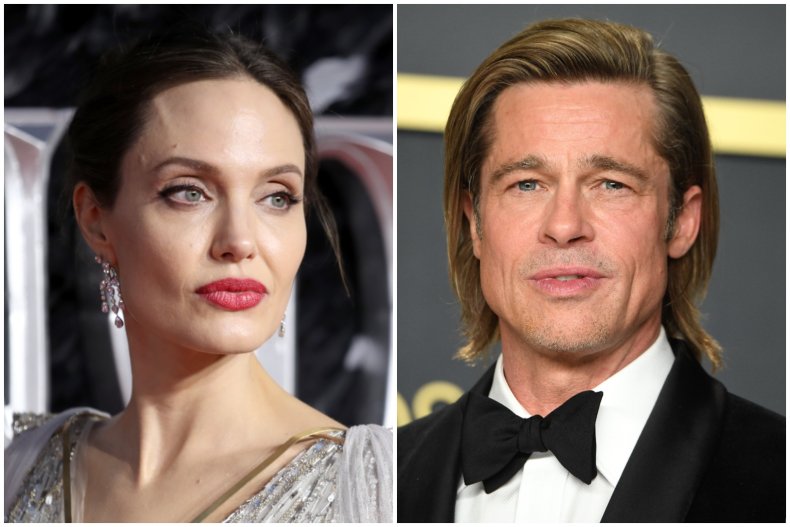 The news comes weeks after Pitt petitioned the California Supreme Court to review its previous ruling that saw him stripped of a 50-50 custody agreement with Jolie.
In July, the California 2nd District Court of Appeals called a private judge's behavior an "ethical breach" in the former couple's divorce case.
The appeals court sided with Jolie in the case, stating that Judge John W. Ouderkirk didn't sufficiently disclose business relationships with Pitt's attorneys.
Pitt has since sought a review of the ruling, which his legal team told Newsweek at the time only serves to harm the five minor children he's seeking joint custody of.
"We are seeking review in the California Supreme Court because the temporary judge, who had been appointed and repeatedly renewed by both sides, was improperly disqualified after providing a detailed, fact-based custodial decision, following a lengthy legal process with multiple witnesses and experts," Pitt's lawyer, Theodore J. Boutrous Jr., told Newsweek in a statement.
The statement continued: "The lower court's ruling will reward parties who are losing child custody cases, and condone their gamesmanship, by allowing them to wait and see about the likely direction of the case before seeking the disqualification of the judge.
"Condoning the use of this type of strategic 'lie in wait' disqualification challenge will cause irreparable harm to both the children and families involved in this case, and other families in other cases, by unnecessarily prolonging the resolution of these disputes in an already overburdened court system.
"Allowing this kind of crafty litigation strategy will deprive parents of irreplaceable time with their children as judges are disqualified for minor reasons in the midst of their cases.
"The lower court's ruling is bad for children and bad for California's overburdened judicial system."
Mr. & Mrs. Smith co-stars Jolie and Pitt announced the end of their marriage in September 2016, with Jolie citing "irreconcilable differences" in her divorce filing. They were subsequently declared divorced in 2019.
Since their split, Jolie and Pitt have been locked in an ongoing custody battle over their minor children, son Pax,17; daughters Zahara, 16, Shiloh, 15, and 13-year-old fraternal twins Vivienne and Knox. Their eldest son, Maddox, is now aged 20.