'Angels in America' Returns to Broadway: The Very Relevant Revival Stars Nathan Lane and Andrew Garfield
After receiving stellar reviews in London, the revival of Tony Kushner's Pulitzer Prize–winning drama Angels in America descends on Broadway. Opening March 25, Part One: Millennium Approaches and Part Two: Perestroika will run on consecutive nights. For the strong of heart, both parts will be performed in one day twice a week.
Through several plot lines, Kushner manages to integrate political and social discourse, personal stories and more than a little bit of fantasy. Rereading the script recently, I was surprised to find that there are only nine major characters.
Related: 'Angels in America' Review: Andrew Garfield leads strong cast in the British National Theatre's revival
In their fascinating collection of interviews on the show, The World Only Spins Forward: The Ascent of Angels in America,Isaac Butler and Dan Kois chronicle the history of the show, from a staged reading at San Francisco's Eureka Theatre through the recent West End production. Along the way there were even discussions of adapting it as a movie for Robert Altman, who was famous for many characters and themes and overlapping dialog. Ultimately, an HBO TV miniseries directed by Mike Nichols aired in 2003.
While Nathan Lane, who has won acclaim as a comedic actor, might not have been an obvious choice to play the nasty Roy Cohn—even he says that he was more than a little surprised when the producers wanted him for the role—he has taken on more serious roles of late, most notably as Hickey in Eugene O'Neill's The Iceman Cometh, in 2012. Also, Angels is a much funnier play than it is usually given credit for, and Cohn is funnier here than he ever was in real life.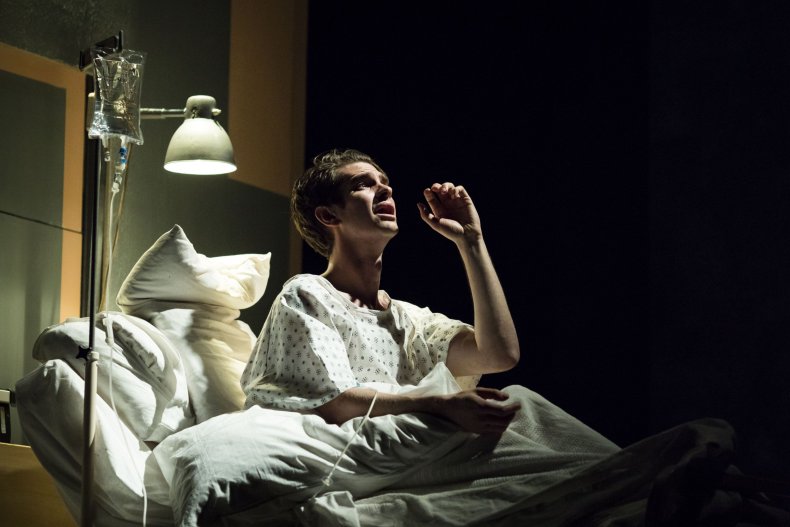 Andrew Garfield stars as Prior Walter, the central character who has been recently diagnosed with AIDS. Garfield is probably best known for his work in such films as The Amazing Spider-Man and The Social Network. He returns to Broadway, having played Biff in the 2012 production of Death of a Salesman. In Angels the story of Prior's post-diagnosis life, fantasies and revelations are interwoven with those of Cohn's.
Lane is not the only odd pairing here. Angels is directed by Tony award-winning director Marianne Elliott, whose The Curious Incident of the Dog in the Night-Time and War Horse were wonders of staging, featuring giant puppets and light shows. Angels is a change of pace, as Kushner's stage directions call for simple sets and no blackouts between its many scenes—though there is one very impressive angel.
In addition to Garfield and Lane, Angels will feature Susan Brown, Denise Gough, Amanda Lawrence, James McArdle, Lee Pace and Nathan Stewart-Jarrett, and its sets are designed by another Tony winner, Ian MacNeil (An Inspector Calls).
But the big question in 2018 is, "Is the show still relevant?" When it debuted on Broadway in 1993, Angels was labeled an AIDS play, a gay play and a play about the Reagan era. It would have been hard to imagine it resonating in the era of Donald Trump. Then Trump asked, "Where's my Roy Cohn?" Well, sir, he is at the Neil Simon Theatre on West 52nd Street.
The vile, profane and privileged Cohn uses his power and influence to secure AZT—the experimental medication used to treat AIDS—which at the time is unavailable to Prior and almost anyone without connections and/or money. That rich-poor divide, which was certainly acknowledged in the 1990s, is even more obvious now.
And an exchange between Prior and Harper does not sound as alien these days as it should:
Harper: I'm a Mormon.
Prior: I'm a homosexual.
Harper: Oh, in my church we don't believe in homosexuals.
Prior: In my church we don't believe in Mormons.
Actually, the show was always more than Roy Cohn, Mormons or any of above labels. It is about the early years in the AIDS epidemic, and about gay people surviving a hostile world in the 1980s. But the themes of intolerance and hypocrisy have never resonated more. Like George Bernard Shaw, Kushner fuses political arguments with characters who are so fleshed out that their personal and political problems become everyone's problems. As such what could have been just an excellent message play, is much more than that.
In 1993, Angels had the feeling of a play that had to be written. In 2018, thanks in no small part to Trump, it feels like a play that has to be seen.
Angels in America is in previews now at the Neil Simon Theatre 250 West 52nd Street, New York, and will officially open March 25. For more information, visit AngelsBroadway.com.