Anger as Woman Denied 'Abortifacient' Medication After Roe v. Wade Ruling
A woman has expressed her shock at being denied medication after Roe v. Wade was overturned, as it's considered an "abortifacient."
Becky Schwarz penned a tweet Friday about her condition, lupus, and the challenges she now faces as her "access to healthcare has changed" in light of the Supreme Court of the United States (SCOTUS) ruling.
Her post, which has been liked nearly 40,000 times, said: "I've never had an abortion but my access to healthcare has changed because Roe was overturned."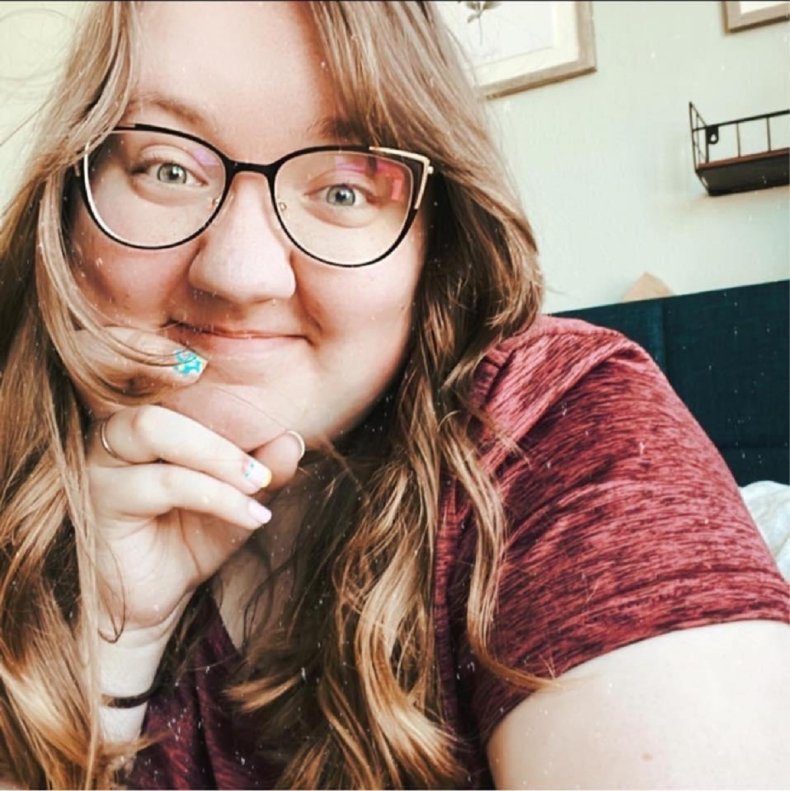 "I have #Lupus which is an inflammatory autoimmune disease that causes my immune system to attack my organs, joints, skin, and muscles. I take #Methotrexate as one of my treatments."
After the tweet blew up, the 27-year-old, from northern Virginia, shared further updates, saying: "I received an email from my rheumatologist today that they are stopping all refills of methotrexate because it is considered an abortifacient. Methotrexate is a form of chemotherapy. But in reduced quantities it can be taken long term to help with many autoimmune diseases...
"Roe was overturned 6 days ago. In less than one week I lost access to healthcare that I need because the drug could be used to induce abortions.
"It took 144 hours for me to have less safe healthcare because Roe was overturned. Don't tell me you're pro-life."
Speaking to Newsweek, she said: "I was shocked to hear that the methotrexate is no longer an option as I live in a state with no trigger laws and while abortion isn't a protected right—it also isn't illegal."
She explained she was diagnosed with lupus in 2020, and started taking methotrexate in August that year.
"I've been having a lot of joint and bone pain issues that have been pretty debilitating. I am unable to walk for long at all and I often need to use a shower chair and take breaks as I get ready for the day," she said.
After being weaned off the drug in December 2020, she was put back on it last October following an "active flare up" and has been "on it steadily since then."
She explained how it helps her, saying: "It helps suppress my immune system and has significantly increased my ability to move and stamina in my joints. I can go more consecutive days without pain than before and on the days I am in pain it isn't as severe as it was."
Schwarz, who is in the process of transitioning to a new medication, said she now expects "increased disease activity," explaining: "Sudden medication changes can cause flares of the disease so a lot of what I'm doing now is preparing for that to happen."
She shared hopes her new medication would be effective, saying: "I am hoping this new treatment will work and I don't need to go back on methotrexate but if it doesn't I don't know what I will do as it is very, very hard for me to function without it."
Her dismay at the medication being withdrawn was echoed by the Arthritis Foundation, with arthritis being one of the conditions methotrexate was prescribed for.
"Unfortunately, arthritis patients who rely on methotrexate are reporting difficulty accessing it. That's because in addition to treating arthritis and—in much higher doses—cancer, methotrexate may be used after a miscarriage or to end an ectopic pregnancy—a nonviable, sometimes life-threatening pregnancy that occurs when a fertilized egg implants outside the uterus," they said.
They stated the doses prescribed for a rheumatoid arthritis patient would be a maximum of 25mg a week, whereas the dosage required for an abortion would be three times as much.
"At least one state—Texas—allows pharmacists to refuse to fill prescriptions for misoprostol and methotrexate, which together can be used for medical abortions. Already there are reports that people in Texas who miscarry or take methotrexate for arthritis have trouble getting their prescriptions filled," the site noted.
Schwarz's situation is one that millions of women find themselves in, in light of the landmark overruling of Roe v. Wade, the near 50-year precedent which guaranteed the right to abortion.
Her tweet sparked outrage online, as @getinformed23 asked: "Are they denying men the same drug? Post menopausal women? Because if not, this seems like discrimination and a lawsuit. If your doctor writes you a script that has worked for years and it's only denied to women of child bearing age, then that's denial of equal protection."
Andrew W McLeod wrote: "Reading this literally makes me sick. The USA would be hell to live. I have Rheumatoid Arthritis, being told I couldn't access my medication would utterly freak me out. Auto-immune disorders don't go away and can be aggressive, destroying parts of your body. I'm so sorry..."
"Simply because the POSSIBILITY of a pregnancy exists. Insane. Women are more than incubators!" @CWillyWally fumed.
Susie commented: "That's ridiculous. Methotrexate is a low-priced drug that helps many people. Now no one can use it? Not even men or cancer patients? Oops."
The American College of Rheumatology tweeted confirming they're assembling a "task force" to help safeguard continued access to medication.
"The ACR is aware of the emerging concerns surrounding access to needed treatments such as #MTX after the recent decision in Dobbs v. Jackson Women's Health Organization.
"In the meantime, we are asking members & patients who have experienced challenges accessing #MTX to email advocacy@rheumatology.org with details," they tweeted.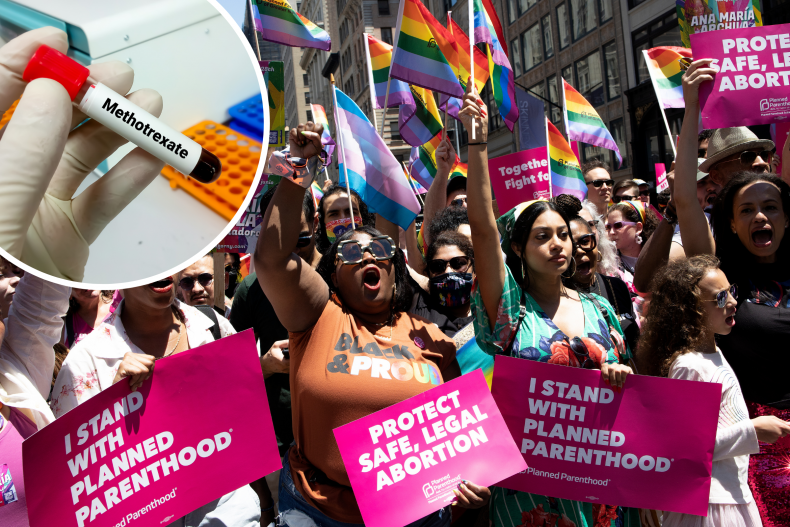 That was echoed by Arthritis Foundations' Twitter account, as they shared a toll-free helpline.
The SCOTUS ruling on June 24 declared abortions were "egregiously wrong from the start," handing power to states to regulate terminations as they saw fit.
Each state's response has varied, with some "trigger laws" coming into effect, making abortions illegal.
The ruling saw numerous protests take place across the U.S., as further legal challenges were mounted in various states.
The chart below, provided by Statista, shows abortion laws across America.