A distraught farmer is beseeching customers not to blame agriculturalists for the rapidly rising prices of food.
Holly Weilnau, who operates the family-run JH Weilnau farm in Milan, Ohio, took to the internet to explain why farmers can see the dark horizon ahead of shoppers in grocery stores.
"There are things that we have to buy," Weilnau said in a TikTok video on May 29, amassing 239,000 views. "There's something we have to buy that two years ago cost us $24, last year was about $46, this year it is costing us $96."
Another local farmer was drowning in the cost to feed his cattle—$8,000 a month, Weilnau said.
"Please understand, food prices are going to go up," she pleaded. "You wanna act like it's the farmers' fault—it is not the farmers' fault. We are barely making it to grow the stuff so you guys are able to get it in August, September, October."
With increasing desperation, she added, "Guys, this is not going away. Stop sticking your head in the sand and thinking, 'Oh, it's going to be okay.' It's not gonna f**king be okay."
In another video on June 11, Weilnau shared the story of a farmer who said he was unable to lock in a diesel price for the fall. He was told that he could not secure a price because of how rapidly diesel costs were rising, Weilnau claimed.
"That alone, guys—to fill the tractors and the equipment needed to get the product out of the field—is going to be astronomically bad all the way around," she warned in the clip. "So understand, people are like, 'Oh, plan ahead'—we're trying. They're not letting us."
The cost of food in the United States increased 10.1 percent over the 12-month period ending in May, the first increase of over 10 percent since the period ending March 1981, according to the Bureau of Labor Statistics. The annual inflation rate rose to 8.6 percent in May.
However, prices for certain farm inputs are outpacing even the inflation rate, a University of Illinois study reported in April. A general index for farm input prices increased 15.6 percent over the past 12 months, more than double the general inflation rate.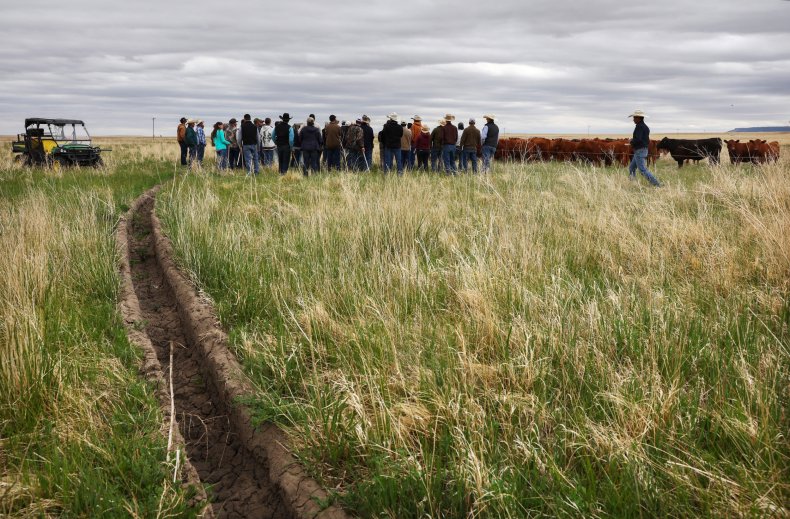 Increases in the cost of energy and fertilizer products were particularly large, with diesel prices shooting up 47 percent and fertilizer prices surging between 51 and 179 percent, the researchers said.
Russia's invasion of Ukraine, long considered the "breadbasket" of Europe, has massively disrupted global food supply chains. Ukraine is one of the world's top four suppliers of grain and the largest producer of sunflower oil. The Food and Agriculture Organization of the United Nations (FAO) has estimated that between 20 and 30 percent of wheat, corn and sunflower seeds will not be planted or harvested in the 2022-2023 growing season.
As a result, the U.S. Department of Agriculture (USDA) has forecast that farm-level wheat prices will rise between 20 and 23 percent this year.
Newsweek reached out to Weilnau for comment.