Animal Control Responds to 'Out of Control' Hoarding Situation, Rescues 133 Cats
Some people are dog people, some prefer cats, but one home in Baltimore was housing a few too many felines under one roof.
A neighbor called Baltimore City Animal Control expressing concern about the welfare of their neighbor's pets, The Baltimore Sun reported.
Baltimore Animal Rescue and Care Shelter (BARCS) described what was discovered as an "out of control" hoarding situation, The Sun said.
They were expecting to find 90 cats but once on the scene discovered 133 cats living in a single home.
"It was a very overwhelming situation," Bailey Deacon, director of community engagement for BARCS, told CBS Baltimore. "The state of the house was overwhelming. The owners were overwhelmed."
Animal Control told the owners they'd have to remove the felines for their health to which the owners complied.
The Sun reported that, according to the shelter, upon arriving at the residence, "it was clear the situation had been out of control for quite some time."
"Trying to maintain enough litter boxes and clean space for 133 cats is impossible in a space as small as the row home was," Deacon told CBS Baltimore.
Many of the cats will require extensive medical care, the station reported.
Though the shelter was already caring for 247 cats before the rescue, they have made room for the additional 133 and are asking the public for donations to help make it possible.
As previously reported by Newsweek, this summer there were numerous reports of abandoned cats being found and rescued throughout the United States.
In May, 63 cats were found abandoned in an apartment in Rhode Island. The tenant had moved out and left dozens of cats behind. Police said six of the abandoned cats were pregnant and later had kittens.
Just last month, also in Rhode Island, Providence Animal Control found 18 cats in an abandoned camper in what they described as the worst case of animal hoarding seen to date, Newsweek reported. According to a Facebook post from Animal Control, all of the cats were flea-ridden, filled with worms, thin and some even emaciated.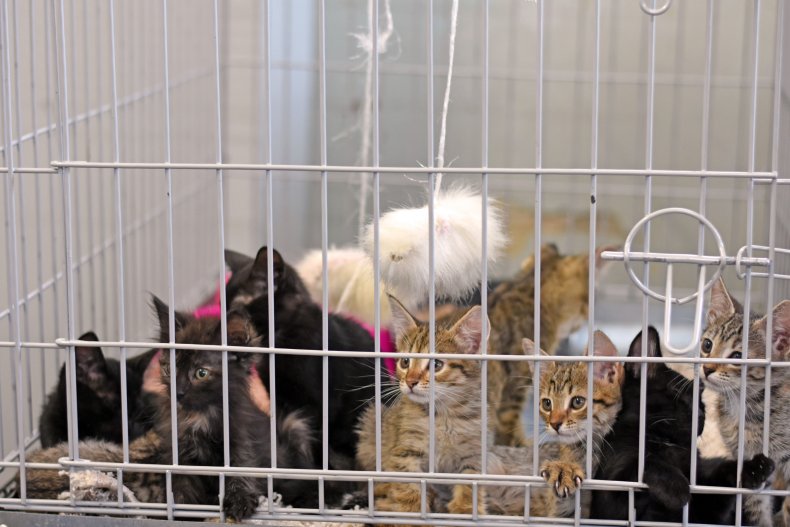 BARCS operates the largest shelter in all of Maryland and has an open admission policy in which they will take in every abandoned, abused or surrendered animal that comes their way, according to their website. Thirty or more animals are surrendered to BARCS each day, the website said, all of which they provide food, shelter and any needed medical care. According to their 2020 annual report, 7,845 animals entered their care last year.
Newsweek contacted BARCS but they did not respond in time for publication