'Animal Crossing: New Horizons' Amiibo: How They Work and Where to Buy Online
One of the biggest reveals from the Animal Crossing: New Horizons Nintendo Direct was that the highly anticipated Switch title will have amiibo compatibility.
Fans of the Animal Crossing franchise know how integrated its amiibo figures are with the games - there was a whole game based on them - and now New Horizons looks to feature that compatibility to give players more for their future island.
New Horizons is set to release March 20, giving players plenty of chances to get familiar with how amiibo compatibility works and to find some of these amiibo at your favorite store.
We've compiled all the information on how amiibo work in New Horizons and where to find them online.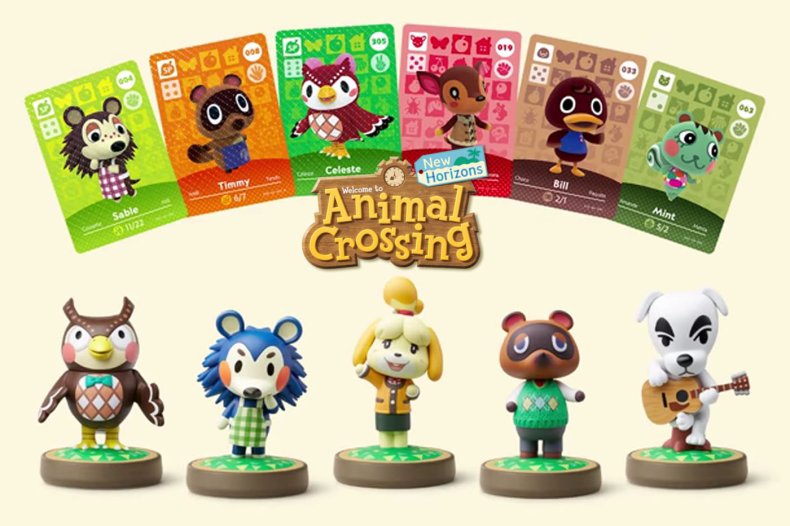 HOW AMIIBO WORK IN ANIMAL CROSSING: NEW HORIZONS
According to the Nintendo Direct, amiibo figures and cards bring visitors to your island in New Horizons.
By tapping them into the game, the character the figure or card is based on will appear on your island. You can then invite them to Photopia, an island where you can model and have creative photo shoots with them.
There is a bit of a catch with regard to the amiibo in New Horizons, though. Not every figure is supported at launch, but there will be future updates to allow them into the game eventually.
WHERE TO GET ANIMAL CROSSING AMIIBO FIGURES & CARDS
There are various retailers - physical and online - that sell the Animal Crossing figures and cards compatible with New Horizons. While shopping online may get you guaranteed results, some retailers, such as Best Buy, don't have any of the Animal Crossing amiibo figures or cards in stock online. Going to your physical store may be your best bet.
Here is a list of the retailers and what amiibo they offer.
Nintendo
The official Nintendo site only carries the three-pack that contains KK, Cyrus and Reese.
Walmart
Walmart carries pretty much all of the Animal Crossing amiibo and amiibo cards. You can find them here.
Here's a list of the confirmed amiibo figures Walmart has in stock online:
KK, Cyrus, Reese three-pack
Tom Nook
Tim and Tommy Nook
Celeste
Mabel
Kapp'n
Lottie
Rover
Kicks
Blathers
Mr. Resetti
Digby
Amazon
Nintendo's Amazon store carries quite a few Animal Crossing figures and cards, which you can view here.
Gamestop
GameStop's site has the following Animal Crossing amiibo figures in stock:
Celeste
Mr. Resetti
Kapp'n
Blathers
Kicks
Tom Nook
Mabel
KK, Cyrus, Reese three-pack
Rover
Isabelle (Winter Outfit)
Animal Crossing: New Horizons is scheduled to release March 20 on Nintendo Switch.
Do you have your Animal Crossing amiibo ready? Which is your favorite character from the series? Let us know in the comments section.