'Animal Crossing: New Horizons' Online Guide - How to Connect with Friends and Visit Islands
Plenty of Nintendo Switch games allow for players to play together online and Animal Crossing: New Horizons is no different.
With each player having their own private island, New Horizon allows for plenty of opportunities for travel and adventure between friends and even strangers. If you want to learn how to connect online and visit your friend's island—or have them visit you—read along for our guide on Animal Crossing: New Horizons online capabilities.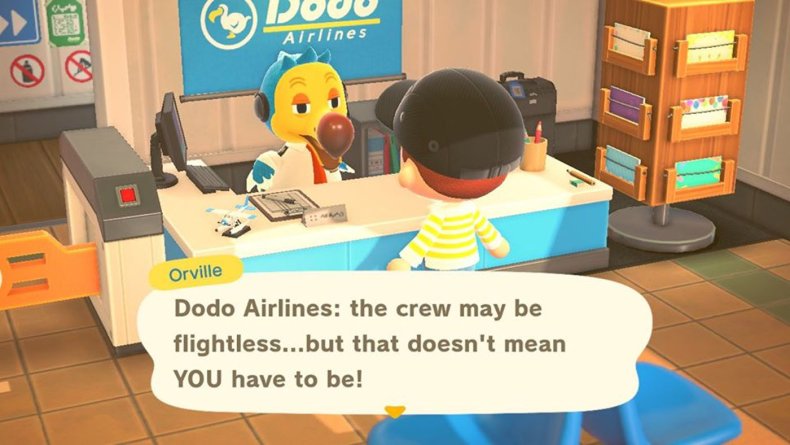 HOW TO CONNECT WITH FRIENDS IN ANIMAL CROSSING: NEW HORIZONS
First and foremost, players looking to go online and interact with their friends will need a subscription to Nintendo Switch Online. This will allow for each player to hop onto a server and interact.
Secondly, the Dodo Airline airport needs to be ready for your island. This is normally up and running on your second or third day on your island. This will give you plenty of time to learn the ins and outs of life on a private island.
Once the Dodo Airline is ready, you can talk to Orville, who will give you a rundown of how online connection works.
In short, you can either go visit someone's island or invite others to yours. In this section we'll talk about visiting other player's islands. To do so, talk with Orville and tell them you want to visit an island.
He will ask you if you want to connect with someone via local multiplayer or online. If you select local, simply be on the same wifi as the person you want to visit. Animal Crossing will connect with that user and you'll be able to travel to it.
If you select "search for a friend" you can use a Dodo Code to connect with a friend from anywhere in the world. A Dodo Code is a five-digit code that will allow access to an island. Your friend will have to generate their own Dodo Code—how to do this will be covered in the next section—and you need to input it. Once completed, you'll be able to travel to that island.
Otherwise, you can just "search for a friend" to visit. If that friend is online playing Animal Crossing, you can visit their island if they have their gate open. If not, then you'll be told that there is no island you can travel to right now.
INVITING FRIENDS TO YOUR ISLAND
If you want to invite people to your island, you'll need to talk to Orville and say you want to have visitors.
You'll need to specify if you want to invite via local play or online play.
If you select online play, you'll be connected to the server and have the option to invite "all your friends" or "invite via dodo code"
A Dodo Code is a five-number code that anybody you want to invite will need to use to access your island. It's only good for this visit. From there, you have to choose whether to select "only friends" or "the more the merrier" which is essentially anyone.
Once you've selected, a Dodo Code will be issued. Give this code to your friends to input on their end to visit your island.
If you select "all your friends," Orville opens the gates and allows any friend who is online to travel to your island. Then comes the waiting game as you'll be notified if a visitor arrives on your island.
SENDING CARDS
On the card rack to the left of Orville, players will have an opportunity to purchase cards for 200 Bells. You can send these cards to a resident on your island or to your "future self."
Certain card styles are available for a limited time. Once you purchase, you can write or design anything on it to send to the recipient.
A resident or your future self will receive the card after some time has passed. It's a neat little way to communicate with others in Animal Crossing: New Horizons.
Animal Crossing: New Horizons is available now for Nintendo Switch.
Have you had trouble connecting with a friend? Any tips we missed? Let us know in the comments section.