Animal Rescue Saves Pig Reportedly Abandoned on Side of Road in Crate Zip-Tied to Tarp
A pig was abandoned on the side of a Tennessee road in a crate that had been covered by a blue tarp and secured with zip ties, according to Heaven Sent Farm & Rescue.
The animal rescue organization is working with police to investigate the act of animal cruelty, the local news outlet WKRN reports.
Under Tennessee law, "abandon[ing] unreasonably an animal in the person's custody" is classified as a Class E felony. If a first offense, the crime is punishable by a ban on "having custody of any companion animal...for a period of at least two (2) years from the date of conviction" and potentially for life, according to Michigan State University's Animal Legal and Historical Center.
On Saturday, Heaven Sent Farm & Rescue received an "SOS call" about a pig that had been dumped in Lewisburg, Tennessee, the organization wrote in a Facebook post that day. When the pig was released from the crate, which was sitting in a puddle of water, she "collapsed," Heaven Sent wrote. She is now reportedly doing well.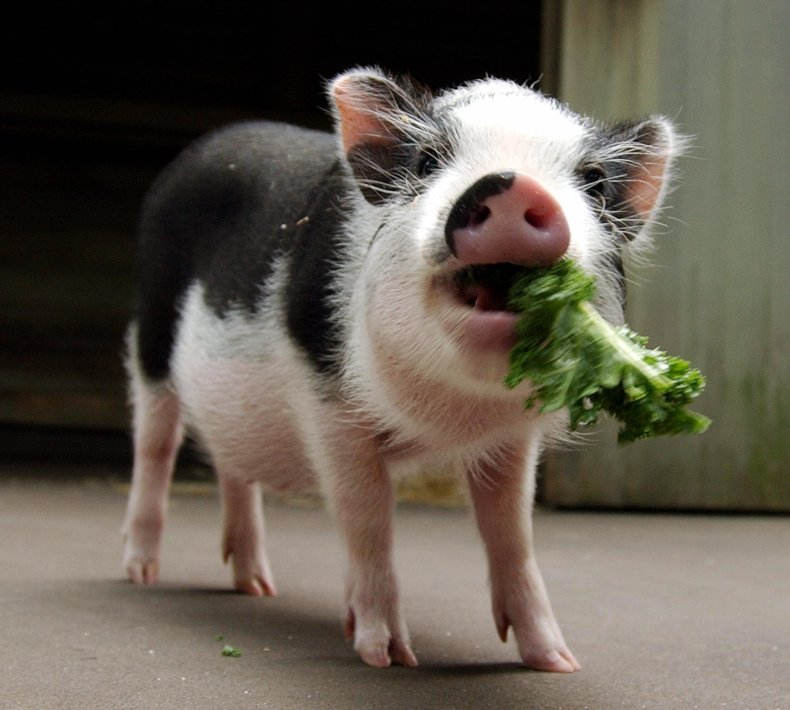 Commenters were appalled by the animal's plight.
"Breaks my heart," one person wrote.
"I'm so happy you helped her but it hurts my heart knowing that someone did this," another commented.
"Thank you for saving this baby. For the life of me I can't understand someone being so cruel and uncaring. Pigs are literally one of the best pets," a third commenter wrote.
Based on her friendliness toward humans, the pig appears to have been kept as a pet, the organization wrote. In a brief video clip shared to Facebook on Saturday, the pig receives a flurry of belly rubs with apparent pleasure. "She's obviously used to human energy," one of her rescuers says, describing her as "sweet." In addition to pats, the pig has been treated to plenty of lettuce.
While the nephew of a rescuer initially dubbed the pig Madison, Heaven Sent subsequently discovered that her name was Binky. The organization managed to track down her most recent recorded owners, only to find that they had rehomed her about a year ago, according to WKRN. Now, they are "working on getting names of people she was homes [sic] to," the organization wrote in a Facebook post yesterday.
"Please continue to share until we have Justice," the post concluded.
Every year, some 6.5 million companion animals, mostly dogs and cats, are admitted to animal shelters in the United States, according to the American Society for the Prevention of Cruelty to Animals. Some, like Binky the pig herself, are abandoned in particularly cruel ways. On June 20, a man allegedly stranded his roommates' 10-month-old puppy in the Arizona desert. Just days later in Arizona, a husky named Koda sniffed out a black cat that had been abandoned in a cooler bag.