Ann Coulter Berkeley Speech Will Happen No Matter What, Republican Student Leader Vows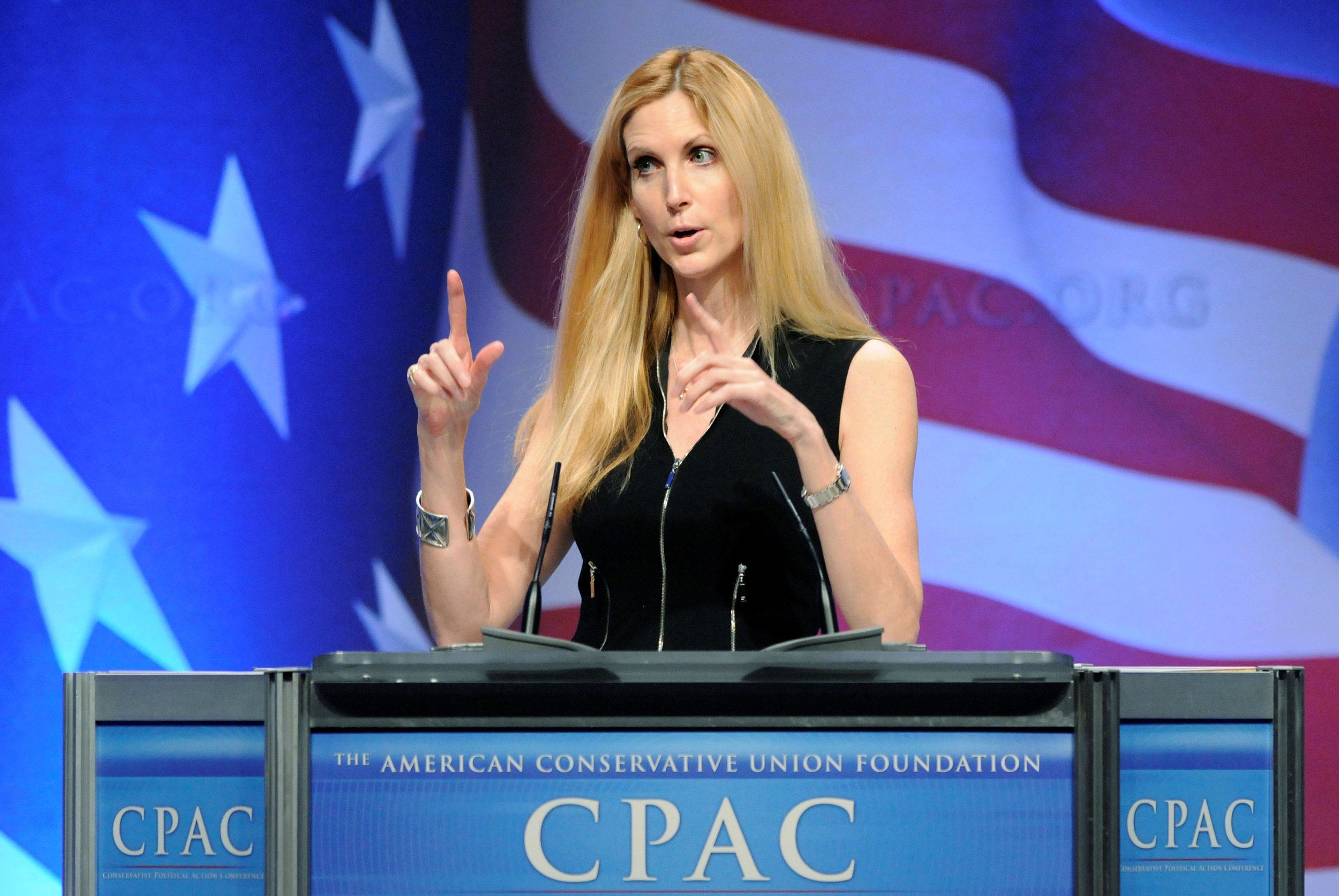 The University of California, Berkeley may have canceled conservative pundit Ann Coulter's Thursday appearance on campus, but event organizers are pressing ahead anyway. In the wake of a free-speech lawsuit filed Monday against administrators, the Berkeley College Republicans' external vice president, Naweed Tahmas, tells Newsweek he still plans to see Coulter very soon.
"Whether it's by microphone or megaphone, she will be speaking in Berkeley," Tahmas says.
Tahmas, 20, worked with Bridge USA and the Young America's Foundation earlier this year to invite Coulter, a commentator and best-selling author who's caused controversy with her remarks on topics like immigration and President Donald Trump, to campus. The event was initially scheduled for Thursday, but the school called off the speech last week because it said it didn't have any sufficiently secure venues available.
The decision came after a February protest in which black bloc protesters caused $100,000 worth of damage, setting fires and smashing windows, as ex-Breitbart editor Milo Yiannopoulos prepared to speak on campus. A separate, off-campus anti-Trump rally turned violent and led to 20 arrests on April 15.
The university offered to reschedule Coulter's talk for this fall or May 2, but organizers like Tahmas rejected the delay. In their lawsuit, student leaders argue that Berkeley is attempting to "restrict and stifle speech of conservative students whose voices fall beyond the campus political orthodoxy."
"Of course we expected there to be some resistance," Tahmas, a political science junior, tells Newsweek. "[What] is deeply troubling is the resistance isn't just coming from students, it's coming from the administration."
The plan for Coulter to visit campus formed earlier this year, when Tahmas learned about an upcoming speaker series centered around immigration. It was set to feature people like Maria Echaveste, the deputy chief of staff for former President Bill Clinton, but he felt there wasn't anyone representing a conservative perspective. Tahmas says he was particularly impressed by Coulter's book "Adios, America: The Left's Plan to Turn Our Country Into a Third World Hellhole," which is rumored to have influenced Trump's policies.
The censorship claims surrounding Coulter's speech could hit particularly hard at Berkeley, a mostly liberal campus where the Free Speech Movement enabling students' political self-expression was founded. In December 1964, about 800 people, inspired by the civil rights movement and protesting a school ban on political activity on campus, were arrested after a sit-in at Sproul Hall. Administrators ultimately reversed course.
Although the school said in a statement it was "working to accommodate a mutually agreeable time for Ms. Coulter's visit," Coulter herself has continued to hint that she'll be there Thursday. She even retweeted a weather forecast and wrote "Nice day for an outdoor speech at Berkeley."
Tahmas confirms his group is looking into various venues and communicating with the university about whether they have a place for Coulter and her audience.
"We're seriously holding the administration's feet to the fire to make sure this event goes through safely in an adequate location," he says. "If they do not provide a room, for all we know, Ann Coulter will be speaking on the Sproul steps where the Free Speech Movement started."
Separately, the school has seen Facebook posts and received police intelligence that indicate "groups from both side of the political spectrum intend to come to the campus to either protest Coulter's appearance or support it," Berkeley spokesman Dan Mogulof says. He adds that the university is preparing accordingly because of its commitment to safety.
"We're an open, public university in the middle of an urban setting. We don't have gates that we can close," Mogulof says. "We're open and porous to the world around us."