Ann Coulter Doesn't Scare These Student Protest Leaders From Berkeley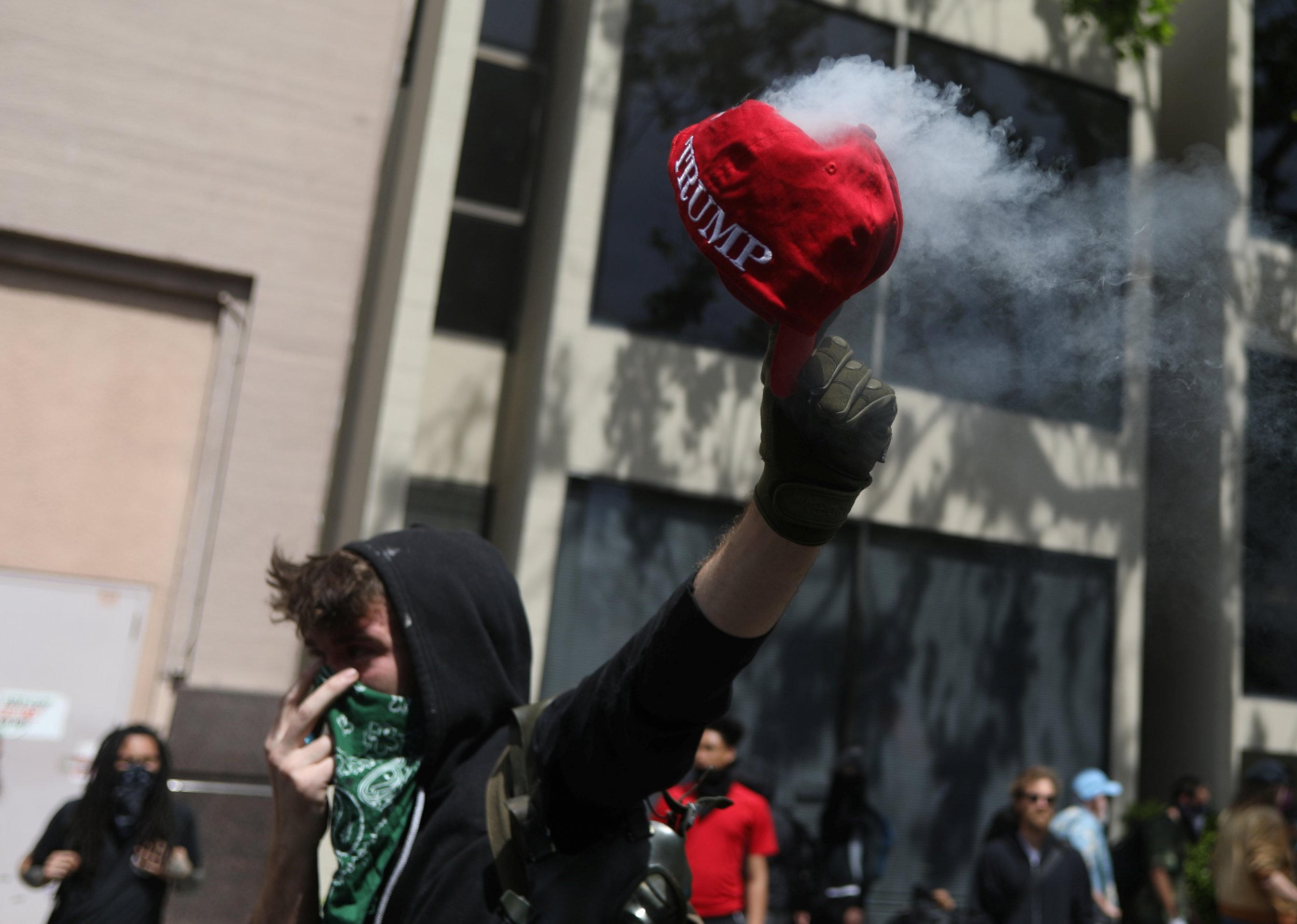 About 52 years ago, Jack Radey tucked a sleeping bag under his arm and plopped down in Sproul Hall, a student center at the University of California at Berkeley. Covered with buttons and glowering at bemused administrators, Radey was the first person at the Free Speech Movement's famous sit-in protesting the university's decision to ban political activity on its grounds.
As the night wore on and the police got fed up, Radey and nearly 800 of his peers would be arrested. And although he went to jail, that 1964 night left him elated: He helped secure the future of student expression at not only Berkeley but also college campuses across the country.
That's why he's so disappointed in what's happening at his alma mater now.
After riots sparked by a canceled event featuring ex-Breitbart editor Milo Yiannopoulos and a violent rally against President Donald Trump, a controversy is brewing around conservative commentator Ann Coulter, whose upcoming speech on campus was recently canceled and then rescheduled by the school. As Berkeley braces for possible backlash and legal fallout, two Free Speech Movement alumni tell Newsweek they think Coulter should be allowed to speak—and activists should respect the First Amendment.
"The way to counter bad ideas is not violence and it's not administrative bans, it's with better ideas," Radey says. "We think these people the Republicans have been bringing out are abhorrent, but we don't deny their right to speak. And we don't deny ours to oppose them, either."
The Young America's Foundation and Berkeley College Republicans filed a lawsuit Monday over Coulter's upcoming speech at the college, which was originally scheduled for Thursday but was canceled by the school last week due to security threats. The suit details "efforts by one of California's leading public universities, UC Berkeley—once known as the 'birthplace of the Free Speech Movement'—to restrict and stifle speech of conservative students whose voices fall beyond the campus political orthodoxy."
It claims that certain speakers have gotten different treatment than others in the wake of Yiannopoulos-inspired February riot that caused $100,000 worth of damage after a group of people in black clothes and face coverings used black bloc tactics to start fires and break windows as they opposed the speaker.
The school said it couldn't safely accommodate Coulter Thursday night but could either this fall or the afternoon of May 2, when there were campus venues and sufficient security available. The College Republicans and Coulter rejected the May 2 offer because that falls during finals week. The pundit herself has vowed to appear at Berkeley on Thursday regardless.
"UC Berkeley has been working to accommodate a mutually agreeable time for Ms. Coulter's visit—which has not yet been scheduled—and remains committed to doing so," a spokesperson for the University of California wrote in a statement responding to the lawsuit Monday. "The campus seeks to ensure that all members of the Berkeley and larger community – including Ms. Coulter herself—remain safe during such an event."
With tensions high, a number of groups have begun organizing events for and against Coulter, who supports Trump, has proposed a poll tax as a prerequisite to voting and recently demanded the U.S. stop immigrants who "rip off government programs."
But preventing Coulter from speaking isn't the way to go about opposing her stances, according to Radey, now 69 years old. He says that while he may completely reject Coulter's "awful" views, out-of-control protests are treacherous and don't accomplish anything.
"The primary danger is coming from the kind of ideas that Yiannopoulos and Coulter are spreading, but the other danger is a small group of people wearing bandanas coming out and breaking windows," Radey tells Newsweek. "What they are doing is potentially making it impossible for nonviolent demonstrations to take place. They are giving the right-wing and neofascist types all the copy they need."
Anita Medal, who also participated in the Free Speech Movement, says she and her friends fought for Berkeley to be a forum for discussion during the civil rights movement. If the school thinks it needs additional security for Coulter's event, then the organizers should foot the bill—not scrap the speech entirely, she said.
As for the protesters, 74-year-old Medal suggests teach-ins, lectures or Q-and-A sessions. She remains focused on peaceful, respectful debate, just like she did while facing off with the police at Berkeley five decades ago.
"The ground was rumbling and we were terrified and we did nothing, even when we were arrested and they were beating us with sticks and kicking our heads in and dragging us down stairs," Medal adds. "We didn't get violent."