Ann Coulter Rips Trump for Focusing on Space Force Over Border Wall: 'Maybe We'll Be Able to Go Settle a New Planet'
Conservative pundit Ann Coulter took to Twitter to bash President Donald Trump for seeking Space Force funding instead of focusing on building a wall along the Mexican border.
The Pentagon announced a proposed 2021 budget of $15.4 billion for the Space Force on Monday. Coulter took exception to the announcement, bemoaning that the money wasn't being used for the wall while jokingly suggesting that the U.S. could colonize another planet as an alternative to the wall.
"Instead of building a wall to protect this country, at least maybe we'll be able to go settle a new planet," Coulter tweeted.
Although space-focused programs have existed in the Air Force for many years, Trump called for the creation of the Space Force as a separate military branch in 2018. The proposed budget was described by the administration as "a critical first step to combat emerging space threats."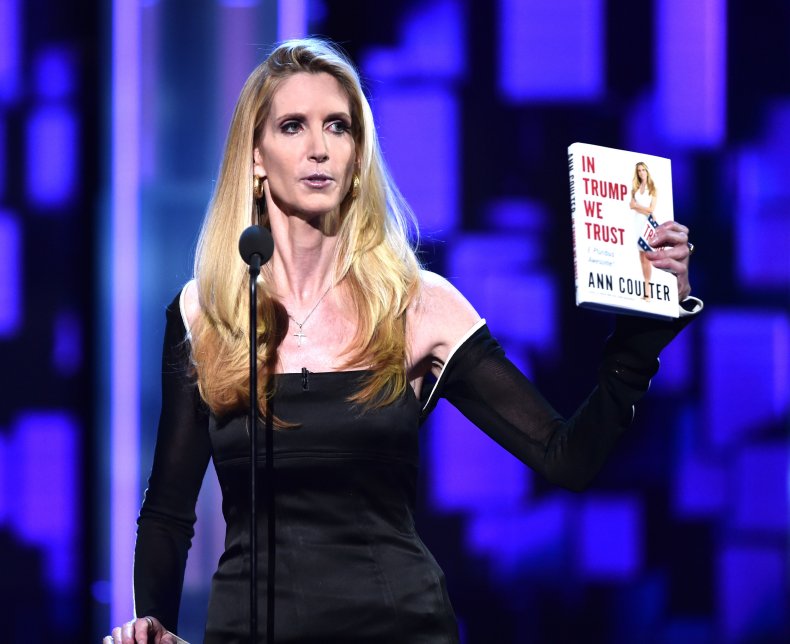 While building the wall was one of Trump's key campaign promises, it remains far from completed, but Trump frequently touts the relatively small amount of construction that has been done.
The president's pledge of completing at least 500 miles of new construction by early 2021 looks likely to fall well short, according to a report from The Washington Post on Thursday.
One of the writers of the Washington Post article suggested on Twitter Monday that there were "indications" Trump may be able to use Pentagon money to eventually complete the wall. Coulter responded dismissively, shortly before her Space Force tweet.
"9 months until the election & we're still looking for 'indications' that @realDonaldTrump plans to build a wall," tweeted Coulter.
Coulter was once one of Trump's biggest supporters, authoring the book In Trump We Trust: E Pluribus Awesome! in 2016. However, she has been highly critical of Trump in recent times on issues of immigration, with the incomplete status of the wall a frequent topic of consternation for the conservative commentator.
A Trump tweet touting that the stock market had reached an "all time high" recently led to a response from Coulter suggesting the failure of the wall could lead to defeat for Trump in November.
"That's exactly what the first President Bush said 3 years into his presidency," Coulter tweeted on January 9. "Then voters remembered he didn't keep his campaign promise -- and we got President Clinton."
The relationship between the president and Coulter has been icy since at least early 2017, when she is said to have tussled with Trump after comparing him to his former rival Jeb Bush during a meeting at the Oval Office.
Newsweek reached out to the White House for comment but did not receive a response in time for publication.