Ann Coulter Slams Trump as 'Profoundly Stupid'
Right-wing pundit and commentator Ann Coulter voiced her disapproval of former President Donald Trump once again on Friday, this time calling him "narcissistic" and "profoundly stupid."
In a video that was posted to Twitter by PatriotTakes on Saturday, Coulter made an appearance on the podcast Timcast IRL where she spoke about the former president.
"The one thing I didn't know when I wrote In Trump We Trust is how profoundly stupid he is. I made very clear in the book the only thing he could do; we will forgive him for anything, and I defended him the day after the Access Hollywood *****grabbing tape came out," she said. "...I was pedal-to-the-metal defending him. I said we'll forgive him for anything unless you betray us on immigration. Guess what? He did."
Coulter, previously a loyal supporter of Trump, has readily criticized the former president since he was still serving in the White House. Meanwhile, the right-wing pundit's criticism has continued in the wake of the 2022 midterm elections.
After the lack of a "red wave" that Republicans predicted ahead of the midterms, Coulter took to Twitter speaking directly to Trump.
"To Trump: You had your chance, with a Republican House and Senate. You handed domestic policy to your son-in-law and Gary Cohn. You handed foreign policy to your son-in-law and a country that gave your son-in-law $2 billion. Shut the **** up, forever," Coulter said.
Political analyst Craig Agranoff told Newsweek on Saturday, "Former President Trump has a dedicated base of supporters who have remained fiercely loyal to him even after he left office. This loyalty can be attributed to several factors such as his political positions, his promises to his supporters, and his 'charismatic' personality."
Agranoff continued: "It is not unusual for some people to remain loyal to a political leader, even when they disagree with some of their actions or statements. In the case of Ann Coulter, she has been a longtime supporter of Trump, but has also been critical of some of his decisions and statements."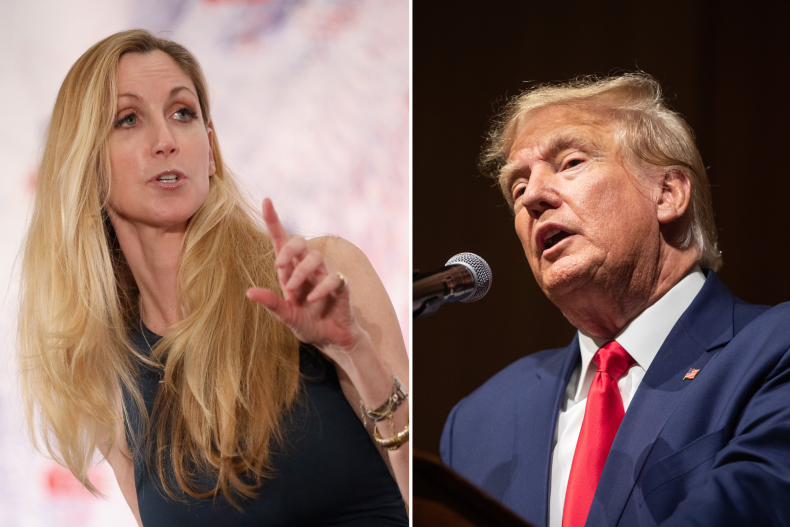 "This is not an uncommon stance, as many people may have disagreements with a leader's specific policies or actions but still support them overall. We tend to not always agree with those we love the most," Agranoff added.
In her interview on Friday, Coulter concluded that Americans were correct in voting for Trump in 2016 "no matter how much of a despicable, moronic, grifting human being he was."
"He promised us a wall and that's why people voted for him," she added.
When asked if she thinks Florida Governor Ron DeSantis, who has not announced plans to run for president in 2024, would deliver a wall on the U.S.-Mexico border, Coulter responded: "I think so...What I like about DeSantis is, Trump was all talk no action. DeSantis is no talk, action."