Trump's 2019 Immigration Record By The Numbers
Since taking office in 2017, President Donald Trump has made good on his promise to oversee a widespread crackdown on immigration across the country and at the U.S.-Mexico border.
In the past year, however, those efforts were fortified with sweeping policy changes, including the introduction of the president's widely-condemned "Remain in Mexico" rule. The policy has forced tens of thousands of asylum seekers to wait in Mexican border towns while their immigration cases in the U.S. are processed.
Meanwhile, the Trump administration has also struck "safe third country" agreements with Guatemala, Honduras and El Salvador, which will allow U.S. immigration officials to turn asylum seekers back to those countries, even if they did not begin their journeys there.
The Trump administration's message to migrants and asylum seekers is clear: if you come to the U.S. border, you can expect to be turned away, whether it be to Mexico to await the outcome of your case or to the Northern Triangle, the same region that thousands have fled.
While it would be impossible to quantify the full impact of the Trump administration's policy changes over the past year, the numbers do speak volumes when it comes to the president's immigration record.
Here is a look at what Trump administration's 2019 record looks like in numbers:
977,509 stopped at the U.S.-Mexico border
In fiscal year 2019, which ended on September 30, the number of those apprehended or deemed inadmissible at the U.S.-Mexico border nearly doubled compared to the year prior.
A total of 977,509 people were apprehended or deemed inadmissible in fiscal year 2019, compared to just 521,090 who were stopped at the border in fiscal year 2018.
Of course, it should come as no surprise that fiscal year 2019 saw such high numbers, with immigration officials sounding the alarm of a "crisis" at the border before seeing arrivals rise to record-breaking numbers in May.
During that month alone, a total of 144,116 people were stopped at the border, with the two months prior seeing numbers also swell past 100,000.
In November, acting CBP Commissioner Mark Morgan noted that since then, the numbers have dropped significantly, with just 42,649 people apprehended or deemed inadmissible at the U.S.-Mexico border in that same month.
"If you recall, earlier this year we sounded an alarm—actually, quite a bit—with respect to the border crisis and asking Congress repeatedly to act to fix the loopholes in our broken immigration system, and close the gaps driving this crisis," Morgan said during a press conference.
"Unfortunately, not a single piece of meaningful legislation has been brought forward," he lamented.
"As a result," Morgan said, "this country stood by and watched as the crisis worsened, as we reached our peak in May of over 140,000 apprehensions in a single month."
Noting that since then, the numbers have dropped by almost 70 percent, Morgan credited the Trump administration's immigration policies as the driving force behind the decline.
"The headlines—got it: The numbers are low; the numbers are down," he said.
57,000 forced to Remain in Mexico
During his press conference, Morgan credited "engagement with the government of Mexico and the Northern Triangle countries" for helping to "stem the flow of migration."
Under the Remain in Mexico policy, formally known as the Migrant Protection Protocols, more than 57,000 people are estimated to have been forced to wait in Mexican border towns and other cities across the country while they wait for their asylum cases in the U.S. to be processed, according to the American Bar Association.
Many of those asylum seekers have been forced to wait in border towns like Matamoros in the state of Tamaulipas, a region that the U.S. government explicitly warns its citizens not to travel to due to "crime and kidnapping."
Immigration advocates and human rights groups have repeatedly urged the Trump administration to end its Remain in Mexico policy, questioning how the state can be considered safe for already vulnerable asylum seekers when it is considered too dangerous for American citizens.
101,716 immigrants arrested in the first half of FY 2019
While the Trump administration has focused largely on the U.S.-Mexico border this past year, it has also overseen widespread targeted enforcement operations within the U.S.
In the first two quarters of fiscal year 2019 alone, the U.S. Immigration and Customs Enforcement agency saw more than 101,000 people arrested through its Enforcement and Removal Operations team.
Towards the end of the year, arrests appeared to slow down, with ICE reporting a total of 143,099 ERO administrative arrests in a report outlining FY 2019 numbers.
According to ICE's data, of those arrested, 92,108 had criminal histories, with a large portion of offenses being traffic-related, while others were related to more serious crimes.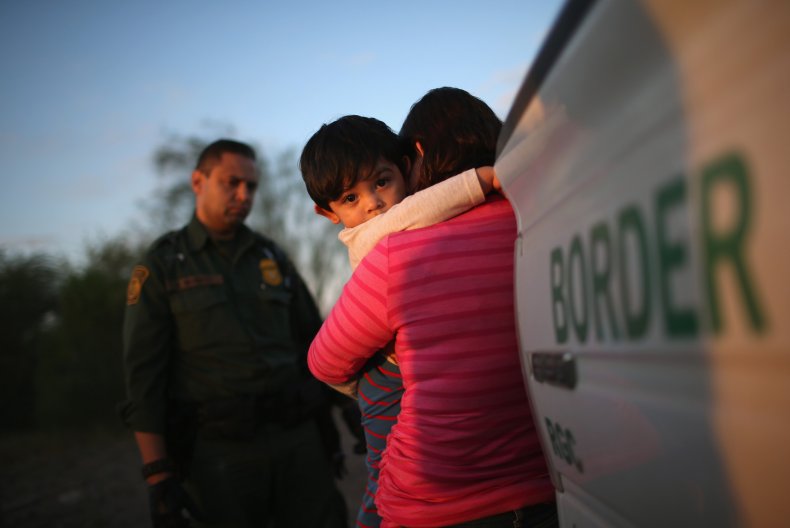 Removals exceeded 265,000
In fiscal year 2019, ICE surpassed deportation numbers for the prior year, with removals exceeding 265,000.
By the end of the first half of fiscal year 2019 alone, which began in October of last year, ICE was already on track to deport more immigrants than it saw removed from the country in the year prior.
In the first two quarters of FY 2019 alone, ICE saw 129,517 people deported from the country. In the first quarter of FY 2019, which lasted from October to December 2018, ICE said it deported a total of 66,549 people, while in the second quarter, January to March, the agency saw 62,968 people removed.
Overall, the agency saw 267,258, according to its data.
Deaths in ICE and CBP Custody
Over the past year, both ICE and CBP have faced widespread scrutiny over the deaths that have occurred under immigration officials' watch.
In 2019 alone, the Southern Border Communities Coalition documented at least 15 cases in which migrants and asylum seekers died after encountering U.S. Border Patrol agents up until November 6.
That number therefore does not include the two deaths in CBP custody that occurred in the last 10 days, with a 41-year-old national from the Democratic Republic of the Congo who had come to the U.S. with her family falling fatally ill just days after a 42-year-old Mexican national died after being arrested and processed for expedited removal.
Meanwhile, according to ICE's "detainee death report," which is maintained online, at least seven people have died under the agency's custody in 2019, with two people passing away in the month of October.
Both agencies have faced pressure to do more to ensure the safety and health of the migrants and asylum seekers they detain, with CBP facing growing scrutiny over a string of child deaths that unfolded during the 2018 flu season.
The agency has repeatedly rebuffed efforts from medical health professionals seeking to provide asylum seekers with free flu shots, asserting that it is not part of the agency's job to deliver flu vaccinations.
Correction (01/03/2020): This article previously stated that ICE had not yet published enforcement and removal data from the final two quarters of fiscal year 2019. ICE published the data in December. This article has been updated to reflect that information.