Ann Coulter Still Not Happy With Donald Trump, Even After He Promised to Deport Millions of Undocumented Immigrants
Right-wing pundit Ann Coulter, who has become one of Donald Trump's harshest critics, lit into the president with an angry Tuesday morning tweet after he announced that his government would begin deporting millions of undocumented migrants.
"Drudge Report: TRUMP VOWS TO DEPORT 'MILLIONS' STARTING NEXT WEEK! (Right after he signs that executive order on anchor babies and 'shuts down' the border.)," Coulter, who was once one of Trump's biggest fans, wrote in a sarcastic post.
Coulter's criticism came after Trump tweeted a vague warning on Monday night that his administration would "begin the process of removing the millions of illegal aliens who have illicitly found their way into the United States." He insisted that "they will be removed as fast as they come in."
Although Coulter even wrote a book entitled In Trump We Trust, which was published just ahead of the 2016 presidential election, she has become increasingly frustrated with the president's inability to fulfill his signature campaign promise and "build the wall" along the southern border of the U.S. with Mexico. The conservative commentator has transformed from an ardent Trump supporter into a staunch critic, often using her social media presence to troll the president.
In January, Coulter admitted on Real Time with Bill Maher that she was a "very stupid girl" to ever trust Trump. "It's crazy that I expect a president to keep the promise he made every day for 18 months," she said, referring to the long-touted border wall.
In April, Coulter said during a PBS interview that a Democratic president would do a better job of handling undocumented immigration at the southern border.
"More illegal aliens pouring in than they would be under President Hillary Clinton, definitely under President Bill Clinton. We know, if you can go back to that time," Coulter said. "Definitely under Obama. There were surges under Obama but Obama knew, 'Uh oh, I better do something about this.'"
Trump has struggled to garner support to build his promised border wall, despite it being one of the signature promises of his presidential campaign. Even with Republican control of the House of Representatives and the Senate for the first two years of his administration, he was unable to secure funding for the barrier. From December to January, the president forced the longest partial government shutdown in U.S. history when Congress presented him with a stop-gap budget without funding for the wall.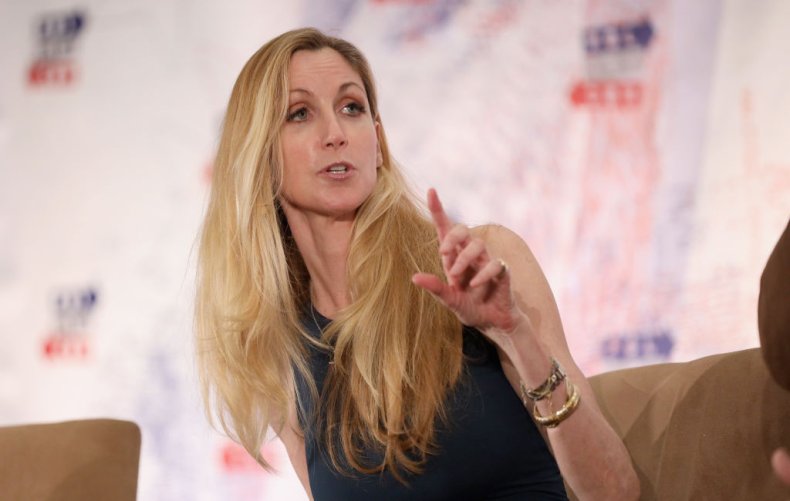 As the shutdown took a noticeable toll on the economy, with flights being delayed or canceled, Trump inevitably gave in to lawmakers and signed a budget that was essentially the same as the one he'd refused to sign just before Christmas. After that stand-off, Trump declared a national emergency and has attempted to reallocate Pentagon funding previously approved by Congress to build the structure on the southern border.
But many Republicans and Democrats have been highly critical of this decision, which they argue represents presidential overreach, as Congress is tasked with managing the country's budget. The president's efforts to reallocate the funds are currently being challenged in the courts.
Most Democrats and Republicans agree that undocumented immigration is an issue that should be addressed. However, Democrats and many analysts argue that a wall would not only be exorbitantly costly, but also an ineffective remedy to the issue.