Neil Gorsuch's Late Mother Almost Annihilated the EPA. Is History Repeating Itself?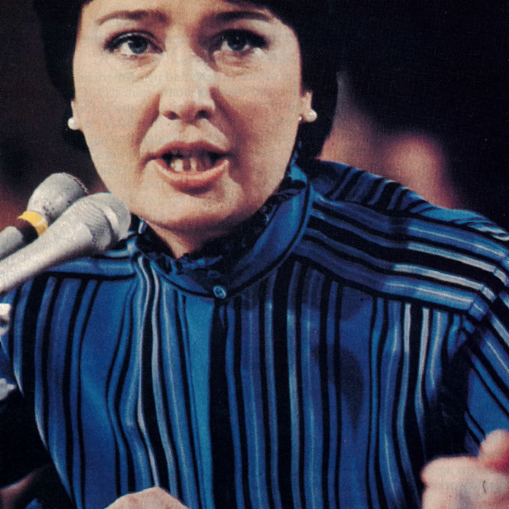 It has been just 12 days since Donald Trump has assumed the U.S. presidency, and the Environmental Protection Agency (EPA) has already had all its grants and contracts frozen and its employees have been banned from talking to the press. If history is any indication, though, things could get a whole lot worse for the agency.
On Tuesday night, Trump nominated federal Judge Neil Gorsuch of the 10th Circuit Court of Appeals to the U.S. Supreme Court, and he's notably conservative—just like his late mother, Anne, who in 1983 all but tried to dismantle the EPA when she was its administrator under President Ronald Reagan.
Anne Gorsuch served as the first-ever female EPA administrator, from 1981 to 1983, and was seen by some "as a dictatorial 'Ice Queen' who wants to roll back Federal environmental regulations," according to a July 26, 1982 article in Newsweek. In addition to her surly disposition and budget slashing, Gorsuch was involved in a nasty scandal involving political manipulation, fund mismanagement, perjury and destruction of subpoenaed documents, among other things.
The center of the controversy was the EPA's Superfund, a five-year, $1.6 billion program established by Congress to help facilitate cleanups of hazardous-waste dumps. At the time, the EPA had identified about 14,000 potentially hazardous dump sites and 418 "worst" sites for possible Superfund allocations. But the cleanup work had only been completed at five sites. When Gorsuch refused to turn over subpoenaed documents on some of the cleanup sites, the House voted to cite her for contempt of Congress. An article in the February 21, 1983 issue of Newsweek referred to the controversy and its domino effect of consequences as having "eerie overtones of Watergate, or 'Sewergate,' as one lawmaker dubbed it."
A second article in that issue under the headline "'Ice Queen' Under Fire" paints an even more acidic picture of the embattled EPA head:
The career of Anne Gorsuch as head of the Environmental Protection Agency is proof, in the eyes of her critics, that bad intentions alone are never enough: it takes incompetence and arrogance as well to seriously weaken in two years what it took a decade to build. Behind the public demeanor—the forceful intelligence even her enemies have come to respect, the "Ice Queen" stare as cold as a faceful of acid rain—there is, at bottom, a two-term Colorado legislator with virtually no environmental experience at the head of one of the most sensitive agencies in the federal government. The result is not merely that she has, in the opinion of former EPA assistant administrator William Drayton, "demolish[ed] the nation's environmental management capacity"; it is, in the words of a key administration official, who has watched the Superfund scandal spread like dioxin from a leaky barrel, "a bleeping disaster."
Like Reagan, Gorsuch viewed the federal government as too big, and she slashed the EPA's budget and even may have moved to get rid of the Clean Air Act. As the article recalls,
With the Clean Air Act due to be renewed, for example, Gorsuch recently took the draconian step of imposing sanctions on states in technical violation of air-pollution standards, raising what California Lt. Gov. Leo McCarthy calls "a real suspicion [of] an effort by Gorsuch to create such an outcry about harsh enforcement that the Clean Air Act will be gutted." Endless reorganizations and reassignments have led many longtime employees to leave in disgust. The Office of Legal and Enforcement Counsel has been reorganized no fewer than six times since Gorsuch took over, according to a group called "Save EPA," and there have been three assistant administrators for enforcement.
As a result of Gorsuch's actions, the number of EPA cases referred to the Justice Department for prosecution from declined from 255 in 1979 to 97 in 1981.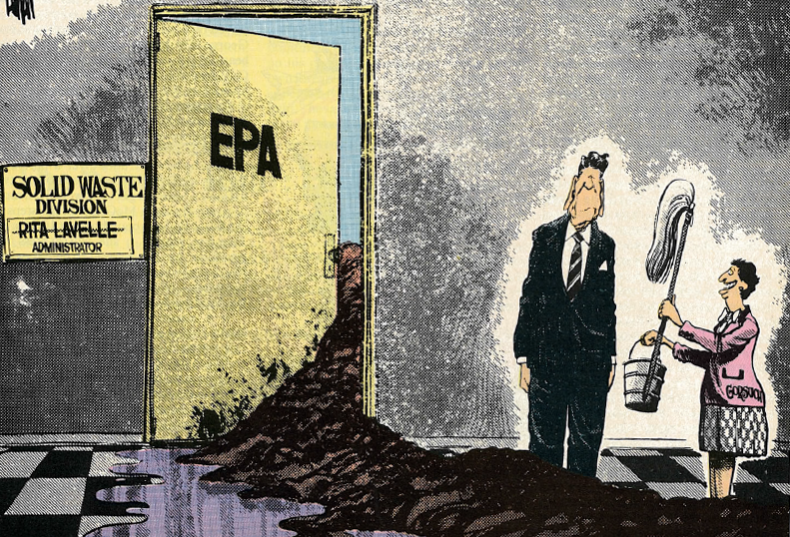 Fast-forward to the present day, when, in addition to the disdain Trump has shown for the EPA and all things climate science, freshman Florida Representative Matt Gaetz has drafted a bill to "abolish" the EPA, according to an employee at his office. "He believes it's up to the states to regulate environmental issues," his office said. The bill will be made public on Friday.
In an email obtained by The Huffington Post, Gaetz wrote, "Our small businesses cannot afford to cover the costs associated with compliance, too often leading to closed doors and unemployed Americans. It is time to take back our legislative power from the EPA and abolish it permanently."
The EPA's lifeline could be quickly diminishing. And if son is indeed like mother, it's very unlikely Neil Gorsuch will do a thing to stop it if he becomes a member of the country's highest court.
Jessica Wapner contributed reporting to this article.