With Gorsuch, Trump Leans Right, But Stays Mainstream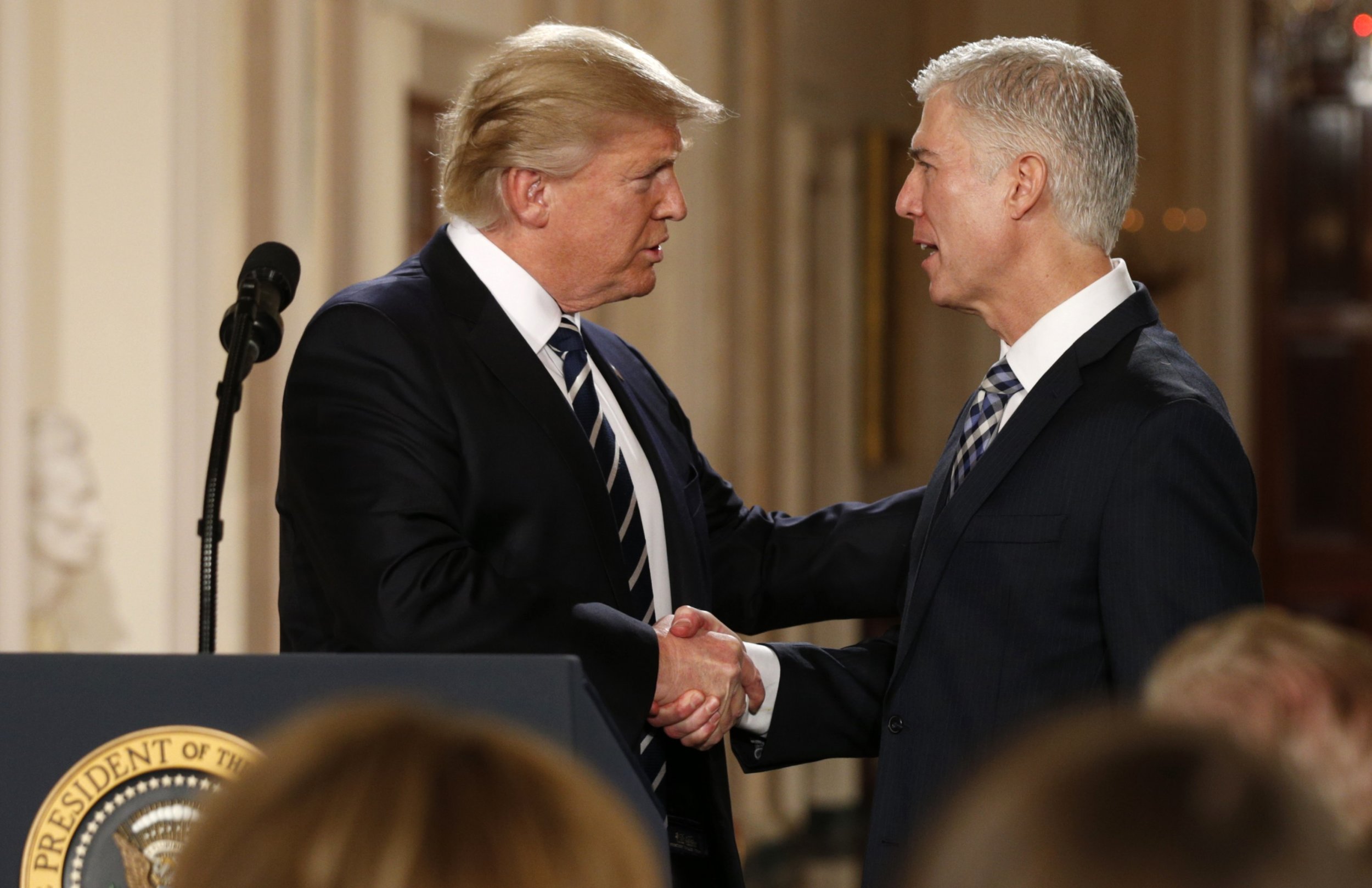 The great tension in the Donald Trump presidency is whether he'll appoint widely accepted conservatives or outliers like hardcore nationalist counselor Steve Bannon or conspiracy-minded National Security Adviser Mike Flynn. Neil Gorsuch, his nominee for the Supreme Court—much like Vice President Mike Pence—falls into the former category: He's very, very conservative but not a total oddball.
Gorsuch is very likely to be confirmed despite the inevitable Democratic opposition. The Democrats won't be able to keep the seat vacant for four or eight years. Either the Republicans will blow up the filibuster or some Dems will flip. Either way, it seems likely that Gorsuch, a physically fit 49-year-old federal appeals court judge from Colorado, will serve for decades to come.
Related: Neil Gorsuch Named Trump's Supreme Court Nominee
In making his decision, Trump was moved by two forces: the need to placate the religious right, his most loyal supporters according to polls, and his affection for academic credentials. Trump constantly touts his grades from his undergraduate days at the Wharton School of Business. And Gorsuch's Columbia-Harvard-Oxford pedigree clearly impressed the president.
The Christian community got what it wants in Trump's nominee. Ralph Reed, perhaps the preeminent figure at the synapse between politics and conservative Christians in America, was prominently seated during the Gorsuch ceremony. Other prominent conservative figures who were in the crowd include former Attorney General Ed Meese who served under former President Ronald Reagan.
Yet Gorsuch isn't a complete hardliner. Senator Lindsey Graham, who opposed the George W. Bush administration on enhanced interrogation like waterboarding, told NBC's Hallie Jackson that Trump's nominee was reasonable on those issues, a fair broker, when the Coloradan served in the Justice Department. For what it's worth, Gorsuch, who attended Columbia College a few years before me, and founded a conservative magazine, ran for the university's senate on a moderate platform including protecting the rights of HIV patients.
Though Gorsuch is a mainstream conservative, the announcement was a reminder that Trump is still very much an outlier in the GOP. The president's sons attended the event on Tuesday despite the optics; they supposedly have nothing to do with governing and instead are in charge of running the family business. Meanwhile, Maryanne Trump Barry, the president's sister, didn't seem to be in the crowd. A Clinton-appointed federal judge, she's a moderate liberal, probably more representative of Trump's pre-political thinking. But that was then. Trump is now on track to be the most conservative president in American history. "I'm a man of my word," he said when he told the assembled crowd in the East Room of the White House, referring to his promise to appoint a jurist like Antonin Scalia, the Supreme Court justice who died last year. Scalia's widow and his son, a priest who led his funeral service, sat prominently in the room offering a blessing of the new nominee.
Gorsuch will not only carry on Scalia's legacy, in all likelihood, he'll bind Trump to religious conservatives who are his unlikely base given his libertine bachelorhood.