Neil Gorsuch Named Trump's Supreme Court Nominee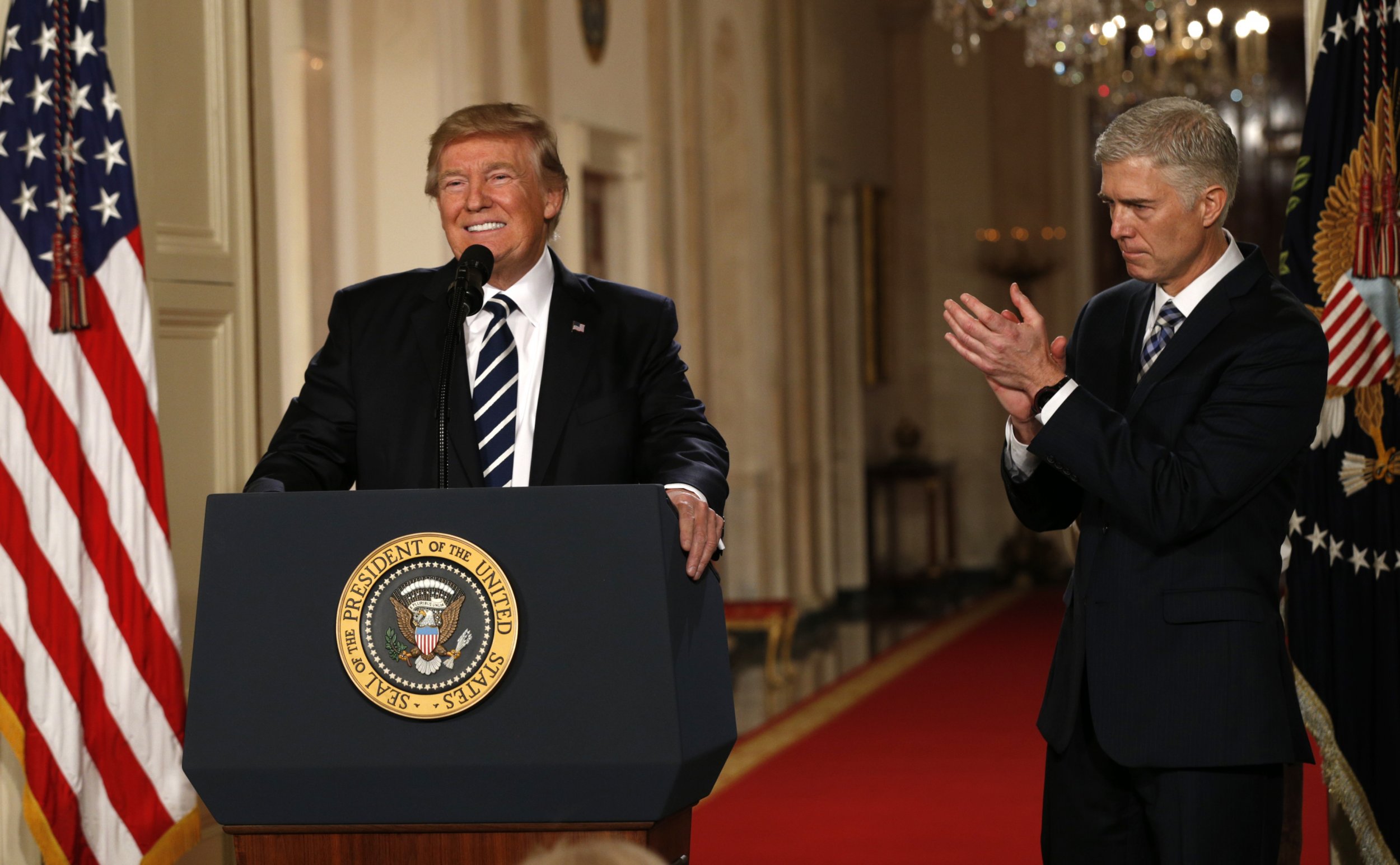 Updated | At the White House Tuesday night, President Donald Trump nominated federal Judge Neil Gorsuch of the 10th Circuit Court of Appeals to the U.S. Supreme Court. His much-anticipated decision comes nearly a year after Justice Antonin Scalia's unexpected death left vacant a seat on the high court.
"I have selected an individual whose qualities define, really and I mean closely define, what we're looking for," Trump said in a primetime address from the East Room. "Judge Gorsuch has outstanding legal skills, a brilliant mind, tremendous discipline and has earned bipartisan support."
Standing alongside his wife, Gorsuch called his nomination a "most solemn assignment."
"I pledge that if I am confirmed, I will do all in my powers to permit to be a faithful server to the constitutional laws of this great country," he said. "In our legal order it is for Congress and not the courts to write new laws. It is the role of judges to apply—not alter the work—of the people's representatives."
Over the course of his four-year term, Trump will appoint hundreds of federal judges. But his first step was his nomination to restore the Scalia-era balance to the nine-justice court, which currently is evenly divided between four conservatives and four liberals. This nomination won't necessarily shift the ideological balance of the Supreme Court, though Trump might even have other opportunities, as three sitting justices are in their late 70s and early 80s.
Many analysts say Gorsuch, 49, holds a strict originalist interpretation of the U.S. Constitution—much like Scalia. He has sided with religious employers seeking to limit their employees' rights to birth control and with a Colorado police department after an officer killed a 22-year-old man with his stun gun. He has also supported challenging the so-called Chevron Doctrine, which the Supreme Court established for determining whether to grant deference to an agency's interpretation of statutory language. In a concurring opinion he wrote in August 2016, for Gutierrez-Brizuela v. Lynch, he called the doctrine the "elephant in the room" and suggested it allows "executive bureaucracies to swallow huge amounts of core judicial and legislative power and concentrate federal power in a way that seems more than a little difficult to square with the Constitution of the framers' design. Maybe the time has come to face the behemoth."
Among other issues, the country's high court soon will face cases pertaining to abortion, immigration and refugees, voter identification legislation and environmental laws. Critics argue that Gorsuch's decisions support the interests of corporations over Americans. Tiffany Muller, executive director of End Citizens United, a political action committee dedicated to reforming the U.S. campaign finance system, says the group's more than 3 million members are prepared to contact their senators to urge them to vote against Gorsuch's nomination.
"Our concern is that we have seen with this nominee a continuation of the same type of precedent that we saw in Citizens United, and dark money groups are already announcing that they're going to do big ad buys to prop up this nominee," Muller tells Newsweek, referencing the 2010 Citizens United Supreme Court decision that allowed super PACs to spend unlimited money to support or oppose candidates. "Our grassroots members are prepared to take on any of those groups."
Former President George W. Bush nominated Gorsuch to the Colorado-based 10th Circuit in May 2006, and the Senate later confirmed his appointment by unanimous vote. His mother, the late Anne Gorsuch, was the first female director of the U.S. Environmental Protection Agency under then-President Ronald Reagan.
Gorsuch is a native of Denver, and has degrees from the University of Oxford, Harvard Law School and Columbia University. He began his legal career in the early 1990s, as a law clerk to Supreme Court Justices Byron White and Anthony Kennedy, as well as to Judge David Sentelle of the U.S. Court of Appeals for the D.C. Circuit. He is married, has two daughters and lives in Boulder, where he is an adjunct law professor at the University of Colorado. In 2009, he wrote a book that argues against the legalization of assisted suicide and euthanasia.
Timothy Head, executive director of the Faith & Freedom Coalition, says Gorsuch is in line with the conservative group's concerns on faith, life and religious liberty, and how those issues relate to health care and small-business practices. "Gorsuch is not a bomb thrower. He's a measured jurist, and that's all that we really hope for," Head tells Newsweek.
A month after Scalia's death, President Barack Obama nominated Merrick Garland, an appeals court judge, to the Supreme Court. But Republicans refused to give Garland a hearing during an election year, with the hope that one of their own party members would become president.
Under the Constitution, a Supreme Court nominee can't be appointed until senators confirm him or her, which requires 60 votes. Ahead of the announcement, many Democrats had promised to filibuster any Trump nominee. Chuck Schumer, the Senate's leading Democrat, has threatened to hold open the vacant seat, as the GOP did for 10 months in reaction to Obama's pick. Just an hour after Trump's announcement, activists planned to protest Gorsuch at the Supreme Court in Washington, D.C.
Last year, in an unusual move for a presidential candidate, Trump released the names of 21 potential Supreme Court picks ahead of the November presidential election. He reassured his fellow Republicans that he wouldn't nominate a liberal or moderate to the high court. Instead, he had promised to draw only from that group to replace Scalia—a staunch conservative remembered for his vivid prose—and had narrowed the list to three top contenders: Gorsuch, Thomas Hardiman of the 3rd Circuit and William Pryor of the 11th Circuit.
Head says Gorsuch likely won't be argumentative in his confirmation hearing because he doesn't have controversial rulings that he'll need to defend. "His arguments are based in civility and construction, so I think that an outrageous partisan attack, and for that matter a personal attack, on someone who really is very serene is actually going to end up looking petty," he says.
As Trump prepared to announce his nomination, which came less than two weeks into his presidency, Democrats seemed adamant about pushing back against the president. Trump's Supreme Court announcement comes in the wake of his firing and replacing acting Attorney General Sally Yates—an Obama appointee—for instructing the Justice Department not to defend his controversial executive order temporarily blocking immigration from seven predominantly Muslim nations. And earlier Tuesday, Democrats boycotted votes on two of Trump's Cabinet picks.
Trump on Tuesday night urged both political parties to come together to appoint Gorsuch to the Supreme Court. "The qualifications of Judge Gorsuch," he said, "are beyond dispute."
This article has been updated to include remarks from Trump and Gorsuch.