A Look at Thomas Hardiman, Possible Trump SCOTUS Nominee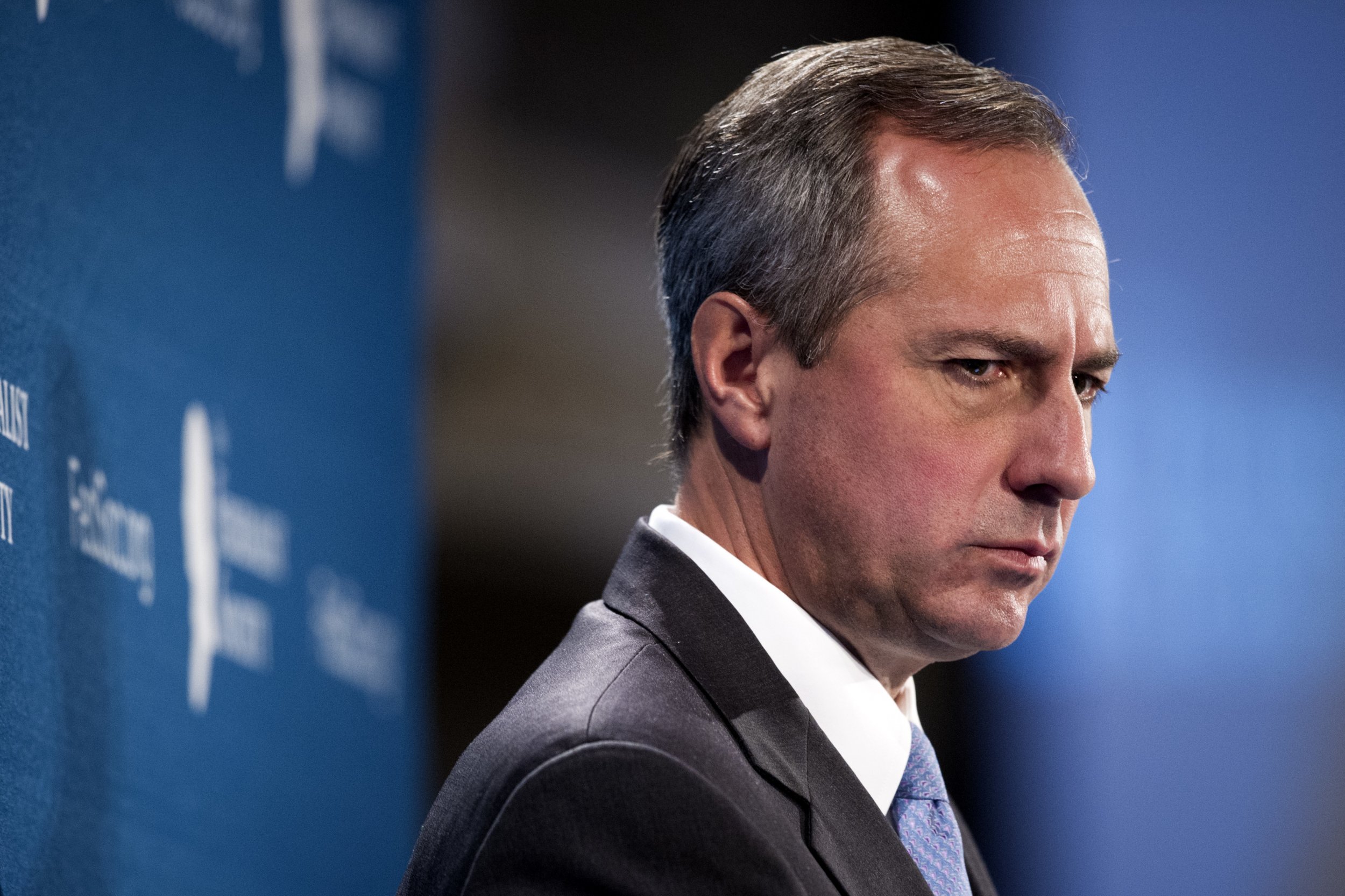 President-elect Donald Trump has the opportunity to put his signature on the U.S. judicial system, and particularly the Supreme Court, after he takes office in January. During his term, he is expected to nominate hundreds of federal judges, beginning with filling the high court seat left vacant in February 2016 after the sudden death of Justice Antonin Scalia, a staunch conservative. Over the next four years, Trump could also have other opportunities, as three sitting Supreme Court justices are in their late 70s and early 80s.
Related: A look at Diane Sykes, a possible Trump SCOTUS nominee
Following Scalia's death, President Barack Obama nominated Merrick Garland, an appeals court judge, for the open seat, but Republicans refused to give him a hearing and instead called for the next president to fill the seat. During the election campaign, Trump told Americans that the Supreme Court's future rested on their votes and reassured those in his party that he wouldn't appoint a liberal or moderate to the high court. In an unusual move for a presidential candidate, he released the names of 21 potential Supreme Court picks ahead of the election. He has promised to draw only from that group to replace Scalia; after all, his supporters are counting on him to nominate someone who would restore the Scalia-era balance to the nine-justice court, which currently is evenly divided between four conservative and four liberal justices.
Since Trump won the election, his team reportedly has narrowed down that list to a handful of finalists, which in no particular order include William Pryor of the 11th U.S. Circuit Court of Appeals; Diane Sykes of the 7th Circuit; and Thomas Hardiman of the 3rd Circuit. Chuck Schumer, the Senate's leading Democrat, has vowed to confirm a Trump high court nominee only if he or she appeals to both Republicans and Democrats; otherwise, he says, he will hold the vacant seat open, as Republicans did in reaction to Obama's pick. The Senate's threshold for Supreme Court appointments is 60 votes.
In this multipart series, Newsweek looks at the résumés of potential Trump Supreme Court nominees and focuses on some of the decisions and comments they've made about key issues facing the country.
Thomas Hardiman
3rd Circuit Court of Appeals
Age: 51
District Court Judge
In 2003, President George W. Bush appointed Hardiman, a Massachusetts native, as a trial judge on the U.S. District Court for the Western District of Pennsylvania. Before becoming a judge, he worked in private law practice for several years in Pittsburgh and Washington, D.C.
"As a district judge, I view my role quite differently than the role of legislators," Hardiman said at a confirmation hearing for his nomination to the 3rd Circuit. "In the legislative branch, you make the laws…and our role as judges is to interpret the law, not to inject our own policy preferences. So our task is to give an honest construction to what laws are passed by the Legislature."
Hardiman also is an adjunct professor at the Duquesne University School of Law. He has political ties to both Democrats and Republicans: His wife, Lori Zappala (they have three children), is the cousin of Allegheny County District Attorney Stephen Zappala Jr., who ran in the Democratic primary for attorney general, The Morning Call reported. Hardiman has been an active fundraiser and organizer for Republicans, and he was co-chairman of the transition team for now-former Allegheny County Republican Chairman James Roddey, according to the Pittsburgh Tribune-Review. Trump's sister, Judge Maryanne Trump Barry, serves on the same appeals court as Hardiman.
Hardiman did not respond to Newsweek's request for comment.
Confirmation
Bush nominated Hardiman to the Philadelphia-based 3rd Circuit, which has jurisdiction over areas in Delaware, New Jersey, Pennsylvania and the U.S. Virgin Islands. The Senate later confirmed his nomination, and he joined the court in 2007. He has chambers in Pittsburgh.
During the November 2006 confirmation hearing, a senator asked Hardiman whether he would take issue with applying a principle of law even if he has profound differences with the rule articulated by the higher courts. "I have no hesitation in applying a law regardless of what I might think about it," Hardiman said, according to C-SPAN footage. "I think any good judge recognizes his or her place in our constitutional government, and that place is not to upset the will of the people as expressed through their elected representatives."
In one of his most well-known authored decisions on the 3rd Circuit, Hardiman held that a Pennsylvania jail's policy of strip-searching all detainees—who have been arrested for any crime—wasn't a violation of the Fourth Amendment restriction on unreasonable searches and seizures. In 2012, the Supreme Court affirmed the decision in a 5-4 vote. The country's high court also reviewed another Hardiman decision, which favored the strengthening of criminals' mandatory minimum sentences.
Hardiman also has ruled in favor of prisoners: Last year, he said an inmate could take his civil rights case directly to the federal court, after the Pennsylvania Department of Corrections didn't respond to the man's grievances.
While on the 3rd Circuit, Hardiman heard a case that involved football players who wanted to join a concussion settlement with the NFL. He agreed with the opinion that rejected several players' claims. "So now the settlement is going to be watered down by every field-goal kicker who is depressed," Hardiman said, referring to the inclusion of the players in the settlement, according to The New York Times. The Supreme Court later denied review of the settlement.
First Amendment
In 2010, Hardiman favored a ruling that said there was no clearly established First Amendment right to videotape police officers at traffic stops.
Second Amendment
Gun rights groups praised Hardiman for his argument in a 2013 case. A plaintiff who said he needed to carry a gun because of his job restocking ATM machines was denied a permit and joined a lawsuit supported by gun advocacy groups and 19 states. His attorneys argued that New Jersey laws limiting handgun-carry permits to those who show "justifiable need" blocked residents from their Second Amendment rights, according to NJ.com. In a 2-1 decision, the 3rd Circuit upheld New Jersey's requirement. Court filings from the case relied on the Supreme Court's landmark 2008 Heller decision, penned by Scalia, which recognized for the first time the individual right of average citizens to own handguns for self-protection. In a dissent, though, Hardiman argued the Supreme Court recognized in its District of Columbia v. Heller decision that the Second Amendment extends beyond the home and "protects an inherent right to self-defense," according to NJ.com.
In 2016, Hardiman authored an opinion to allow two people convicted of nonviolent felonies to carry weapons, saying that only violent felons can be denied their Second Amendment right to bear arms. "[A] law that burdens persons, arms, or conduct protected by the Second Amendment and that does so with the effect that the core of the right is eviscerated is unconstitutional," Hardiman wrote, according to the Courthouse News Service.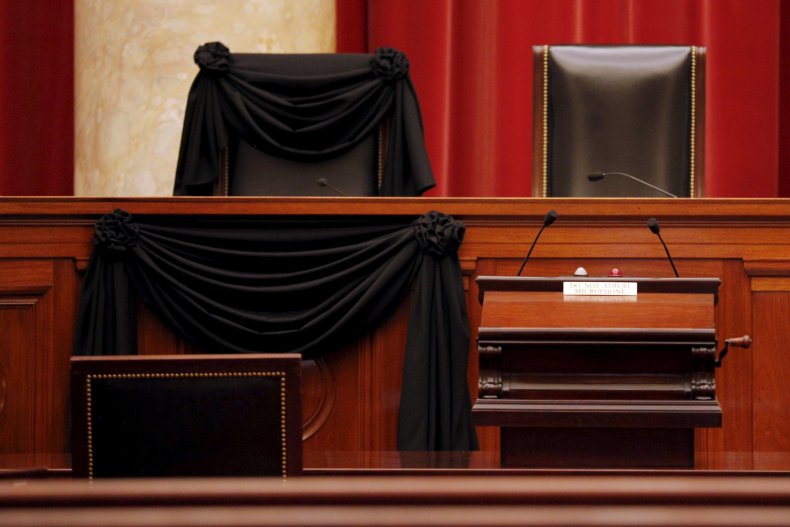 What the Right Is Saying
Tom Fitton, president of the conservative group Judicial Watch, tells Newsweek that Hardiman "seems to be a bright, capable, conservative jurist" with a "compelling backstory" and a "great reputation." Even with Hardiman's connections to both political parties, though, Fitton says Democrats likely won't approve of any Trump nominee. "There will be some Democrats who will vote for a nominee of President Trump," he says. "[But] the majority of Democrats are evidently going to take the stance that there will be no acceptable nominee."
What the Left Is Saying
Marge Baker, executive vice president of People for the American Way, says Hardiman's record "contains some red flags." She adds, "Hardiman has addressed the Federalist Society four times, and Trump picked the judges for his list based on recommendations from the Federalist Society and Heritage Foundation. The organization has played a key role in the decades-long right-wing campaign to move the federal judiciary far to the right."