Anne Hathaway Beating Kelly Clarkson in Singing Video Viewed 4M Times
Anne Hathaway's appearance on The Kelly Clarkson Show has caused a huge stir as the actress beat the singer at a game of "Name That Tune" with one of Clarkson's biggest hits.
A clip of Clarkson collapsing in shame after the Interstellar star—who was on the show to promote her new AppleTV+ series WeCrashed—managed to guess and perform a rendition of Clarkson's seminal hit "Since U Been Gone" has racked up millions of views on social media this week.
Hathaway managed to beat Clarkson—who won the inaugural season of the reality television series American Idol in 2002—at four consecutive rounds of the game.
"Can y'all play a frickin' song I'll know?!" Clarkson demanded and although the band obliged her, she still failed to react quick enough to beat her guest in what has resonated as an incredibly relatable moment of embarrassment.
Co-host Matt Iseman then went on to taunt Clarkson by saying: "And may I remind you, Kelly Clarkson just missed her own song."
The Kelly Clarkson Show's Twitter account shared the clip on Tuesday with the caption: "MIC. DROP. Today Anne Hathaway and Kelly are going head-to-head in a game of Sing That Name That Tune with @mattiseman—tune in to see who takes the crown!"
The clip has since amassed 4.2 million views at the time of publishing and prompted thousands of likes, retweets and comments.
One popular tweet came from Twitter user Alex Abads of Vox, who shared the clip with the caption: "anne hathaway is a theater kid, you will never beat a theater kid at these types of games (even if you are the untouchable kelly clarkson)" and received more than 170,000 likes.
Another tweet reads: "not kelly clarkson deeply underestimating the impact that song had on damn near an entire generation."
"Since U Been Gone" is one of Clarkson's biggest hits from her 2004 album, Breakaway. It is undoubtedly one of the most famous pop songs of the last two decades with Rolling Stone ranking it number 482 of the 500 Greatest Songs of All Time in 2010.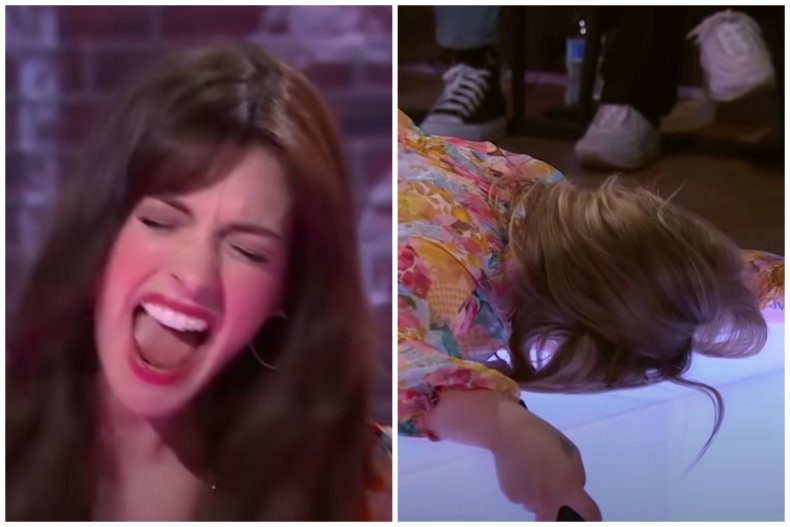 Speaking to Newsweek about her new series last week, Hathaway revealed that she "had actually never heard of a WeWork."
WeCrashed follows the founders of WeWork and the company's spectacular rise and fall.
"I was actually a little annoyed with myself. I mean, it's such a huge story, it's a little strange that I completely missed it," Hathaway said.