Anne Heche, Emmy-Winning Actress, Legally Dead One Week After Car Crash
Actress Anne Heche died Friday following her August 5 car crash. She was 53.
"Today we lost a bright light, a kind and most joyful soul, a loving mother, and a loyal friend," Heche's representatives said in a statement obtained by Newsweek. "Anne will be deeply missed but she lives on through her beautiful sons, her iconic body of work, and her passionate advocacy. Her bravery for always standing in her truth, spreading her message of love and acceptance, will continue to have a lasting impact."
Her son Homer shared his own words of grief, in another statement obtained by Newsweek.

"My brother Atlas and I lost our Mom. After six days of almost unbelievable emotional swings, I am left with a deep, wordless sadness. Hopefully my mom is free from pain and beginning to explore what I like to imagine as her eternal freedom. Over those six days, thousands of friends, family, and fans made their hearts known to me. I am grateful for their love, as I am for the support of my Dad, Coley, and my stepmom Alexi who continue to be my rock during this time. Rest In Peace Mom, I love you, Homer," he said.
While Heche's heart is still beating, in California, a person is legally dead when their brain ceases function. She will be kept alive, according to People, in order for the actress' organs to be donated. Heche's reps said that she could be taken off life support later on Friday "or as late as Tuesday." OneLegacy is working to match organs to those who need them.
Though on the day after the crash Heche's representatives had said she was in stable condition, on August 8, it was revealed that she was in critical condition and had been unconscious since the crash. Recent reports said she was being kept on life support to determine if her organs were viable for donation.
"Despite previous reports that Heche was stable, shortly after the accident, Anne Heche became unconscious, slipping into a coma and is in critical condition," her representative told ABC News on Thursday. "She has a significant pulmonary injury requiring mechanical ventilation and burns that require surgical intervention."
On August 5, Heche crashed her Mini Cooper into the garage of an apartment complex in the Los Angeles neighborhood of Mar Vista, before driving into a home, causing a fire. Doorbell camera footage from the scene appeared to show Heche's vehicle moving at a high rate of speed before the accident. The Los Angeles Fire Department declared the home "uninhabitable" after the crash.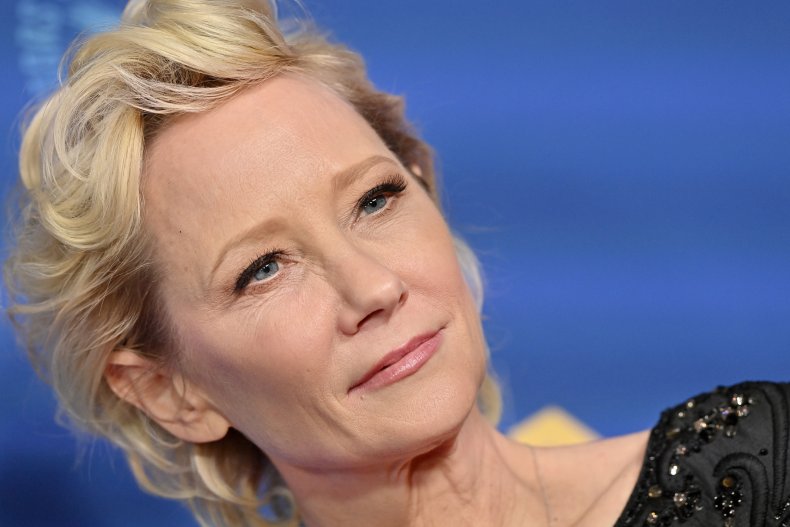 Lynne Mishele, the occupant of the home, told KCBS-TV, "I'm a mess. We're alive, but that's about as far as it goes." Mishele lost everything she owned in the fire, according to the GoFundMe that was launched by John and Jennifer Durand, the owners of the destroyed house, to help Mishele.
Heche was the only person in the car at the time of the crash, the Los Angeles Police Department said. No other people were injured.
Celebrities spoke out about the incident shortly afterward, with Rosie O'Donnell saying she regretted jokes she made about Heche in the early 2000s. Alec Baldwin shared his support for her, but was criticized online for doing so.
Heche launched her career in 1987, playing Vicky Hudson and Marley Love in the popular NBC soap opera Another World, for which she won a Daytime Emmy in 1991. Her early soap success launched her into high-profile roles throughout the 1990s, including performances in Donnie Brasco and I Know What You Did Last Summer. She also played Marion Crane in the controversial 1998 shot-for-shot remake of Psycho by Gus Van Sant.
Heche worked regularly up until her death, appearing in film, television and on Broadway—receiving a Tony nomination for Twentieth Century in 2004. She had many critically acclaimed roles, including her recent portrayal of Joyce Dahmer in the 2017 adaptation of My Friend Dahmer. She was lead actress in the 2017 NBC series The Brave.
Heche had been open about her struggles with mental illness, titling her 2001 memoir Call Me Crazy. That year, she told interviewers including Larry King and Barbara Walters that she would sometimes take refuge in a fantasy world called the "Fourth Dimension" in order to feel safe. She also said she had an alter ego, Celestia, the daughter of God and half-sister of Jesus Christ. Celestia, she said, had contacts with aliens—though, in the same interviews, she said she no longer used Celestia.
Heche was previously married to cameraman Coley Laffoon from 2001 to 2009, and had relationships with comedian Ellen DeGeneres and actor James Tupper. She is survived by two children, her estranged mother Nancy and sister Abigail.
Update 8/12/2022, 6 p.m.: This article has been updated to include a statement from Heche's son Homer and more information about her medical status.